Hopkins County United Way recognized lead donors to the 2019-2020 fundraising campaign at a special luncheon hosted Wednesday, Sept. 30.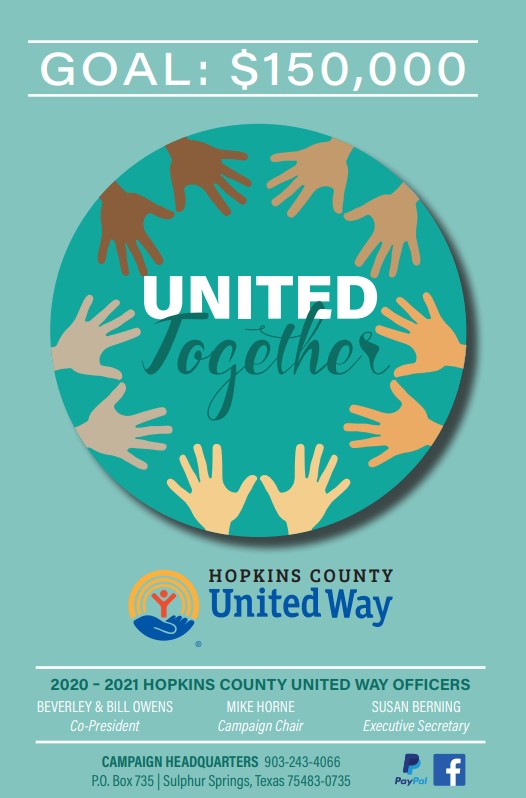 Representatives from the top contributors were invited to the kickoff luncheon, sponsored by Alliance Bank and hosted at Sulphur Springs Country Club.
The top 15 contributors to the campaign include:
Flowserve
CHRISTUS Mother Frances
Sulphur Springs ISD
GSC Enterprises
UPS
City National Bank
Ocean Spray Cranberries, Inc.
Alliance Bank
Holt CAT
Jay Hodge Chevrolet
City of Sulphur Springs
Hopkins County Hospital District EMS/Communications.
Sulta Manufacturing, Inc.
Clayton Homes and
Oncor.
Officers also recognized the contribution of the Zahn Family Charitable Trust.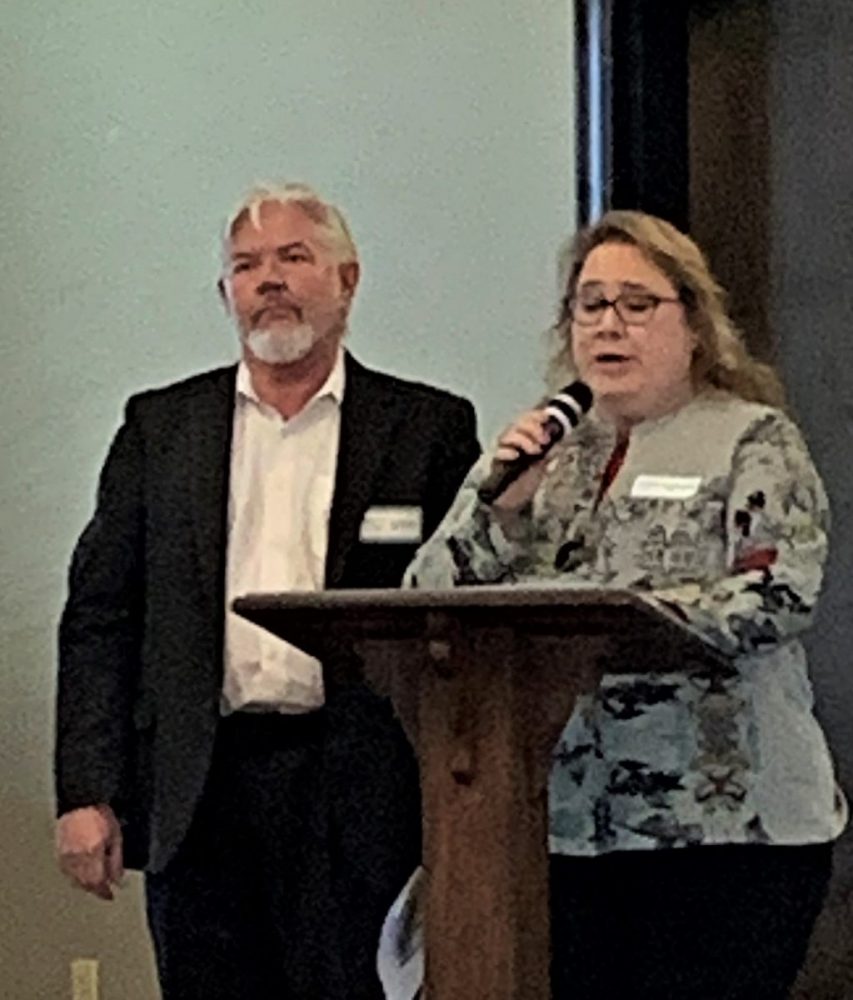 Thanks to the generosity of these and many other businesses, individuals and organizations, the 2019-2020 campaign exceeded the goal by more $24,410, with a little over $189,410 collected.
HCUW Co-Presidents Bill and Beverley Owens offered thanks to "anyone who has helped out," no matter the size of their gift to HCUW, for making a difference to the individual served by the organizations that benefit from the campaign.
"Anyone that helps us out, helps our community out — especially in a year like this — is so appreciated. It doesn't matter so much how much it is, it's what it is. Your gift is appreciated so much," Bill Owens said.
"Each of you were a hero. We appreciate each business, employees and individual donations that stood in the gap to help others. We know that this year has been a little different, but God has not given us a spirit of fear, but of power and love. With each of us united together with your continued support we can meet and exceed this year's Hopkins County United Way goal again," Beverley Owens said.
Many in attendance at Wednesday's luncheon, in addition to contributing to the annual campaign, taken on active roles in HCUW and have continued to faithfully serve for many years. Others are new to HCUW but are committed to continuing the organization's tradition of service and fundraising to benefit county residents of all ages through nonprofit organizations allocated funding in the annual campaign.
Acknowledged as members of HCUW Board of Directors were Chuck Askins, Larry Crowson, Debra Evans, Markeda Fisher, Charlotte Henderson, Mike Horne, Mike Jumper, Sherry McGRaw, Kristy Moseley, Beverley Owens, Bill Owens and Larry Willis.
Recognized for service on the 2020-21 HCUW Budget and Allocations Committee were Lezley Bown, Markeda Fisher, Charlotte Henderson, Mike Horne, Beverley Owens and Bill Owens.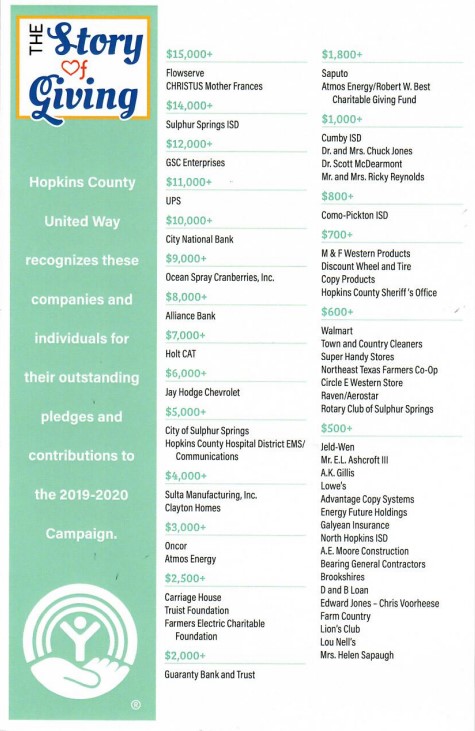 Due to the economic impact of the pandemic on many, HCUW this year decided to lower the campaign goal to $150,000. Seeing an even greater need among the nonprofit organization that benefit from the campaign the agency scaled back but this year has allocated funding to assist 19 community organizations.
HCUW 2020-21 Campaign Chair Mike Horne said in a time of social distancing and social injustices, the goal of HCUW is to all come together to help the community.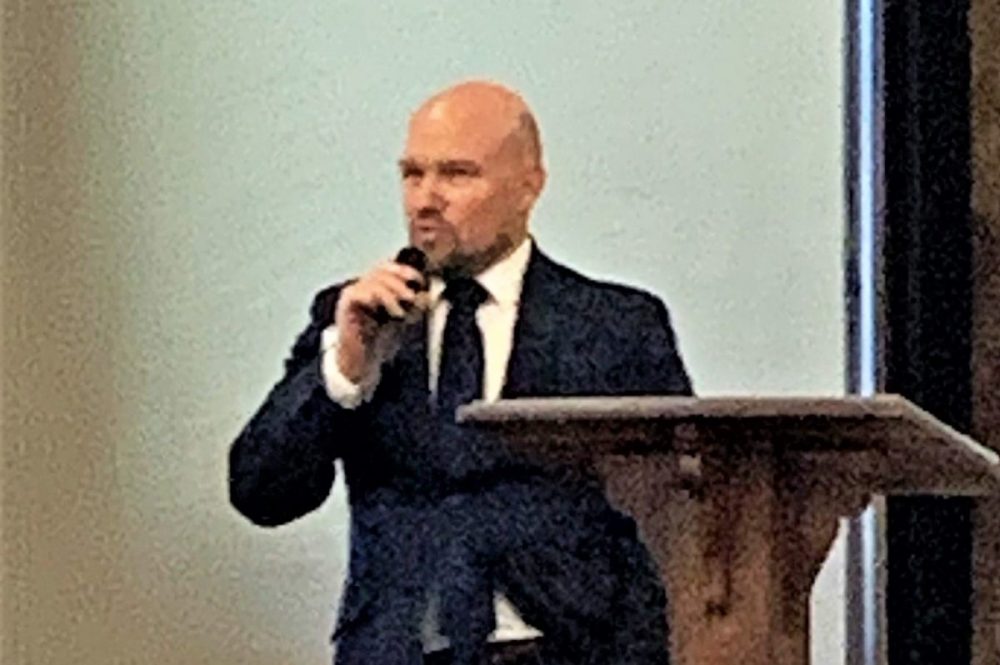 "This is a very loving and giving community. I am grateful to be the chair," Horne said. "We live in a wonderful community. Most here are blessed to not need these agencies personally. I'm glad they are here to help, glad there is help for less fortunate in the community."
"You are the bridge. Your donations and organizations help serve the people of Hopkins County. You can be assured your contributions will be used wisely. We hope you will continue to support United Way in some capacity. We appreciate your past support and appreciate everything you are able to give," HCUW Executive Secretary Susan Berning said.
Horne will be available during the upcoming weeks of the campaign if any business or organization would like him to visit in person or via Zoom or other conferencing platform to talk about HCUW and this year's campaign. He can be reached at Latson's or contact Berning at 903-243-4066.
Donations may also be mailed to HCUW Campaign Headquarters, PO Box 735, Sulphur Springs, Texas 75482-0735; or may also be made via the HCUW Facebook page, where information about the 19 agencies allocated funding this year will also be featured.