Hopkins County Sheriff's Posse and Hopkins County Sheriff's Office, in conjunction with the Drug Enforcement Administration, will be hosting a Drug Take Back event next Saturday.
People are invited to bring their leftover unused prescription or over-the-counter medications from 10 a.m. to 2 p.m. Oct. 24, to Atwood's parking lot, located at 817 Gilmer St. in Sulphur Springs, for proper disposal.
The Drug Take Back Event is for medications that are not needed or that are out of date so that officials can have them properly destroyed. This could also be a good way to get rid of remaining medication from a family member who has passed away or may have left them behind.
In a 2018 national survey on drug use and health, 9.9 million American were reported to have misused controlled prescription drugs; the majority of abused prescription drugs obtained from family and friends, often from home medicine cabinets.
The Drug Take Back events help keep these drugs out of water systems and the trash, and helps prevent the medications from being available for potential use by anyone other than the person they were prescribed to or intended from, including children. That in turn could help prevent drug addition and overdose deaths, according to the DEA's event web page.
HCSO and Posse members said while all pills will be accepted, needles and inhalers will not be accepted at the takeback event. Not sure where a medication from? Provided the drug is not an inhaler or needle it will be accepted. Just drop it off for disposal. No questions will be asked.
This will be the 19th year the DEA has partnered with law enforcement agencies across the country to host take back events. Typically, they are offered twice a year, one in April and another in October, at various locations.
The DEA reports that through the partnership of 4,896 law enforcement agencies a total of 882,919 pounds (441.5 tons) of medications were collected from the 6,174 sites participating in the October 2019 National Take Back event.
For additional information about the DEA's 19th National Drug Take Back event, go online to DEATakeBack.com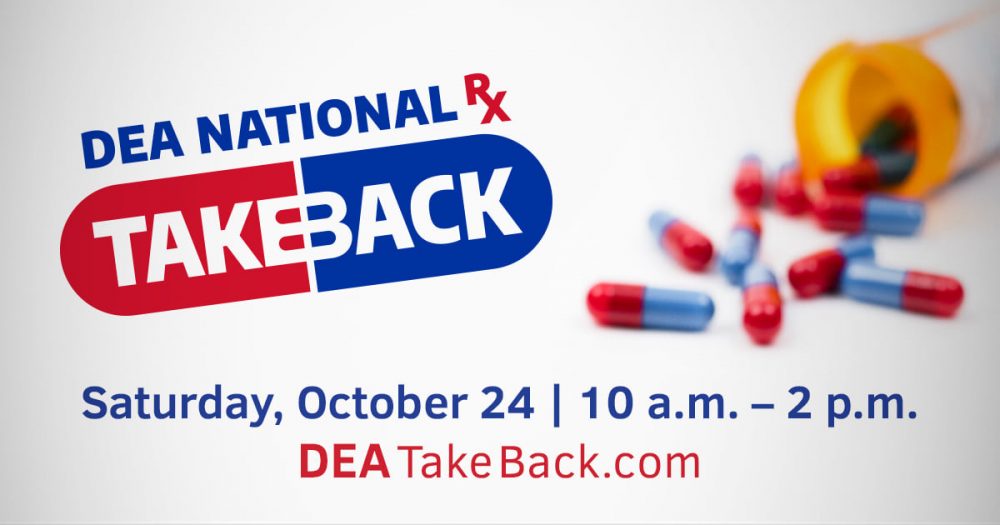 If you have an emergency, dial 9-1-1
The Hopkins County Sheriff's Office is located at 298 Rosemont Sulphur Springs, TX 75482. You can reach them for non-emergency matters at (903) 438-4040.