More than 20 percent of registered Hopkins County voters had cast ballots during the first 4 days of early voting in the Nov. 3 elections, according to the Secretary of State's Office.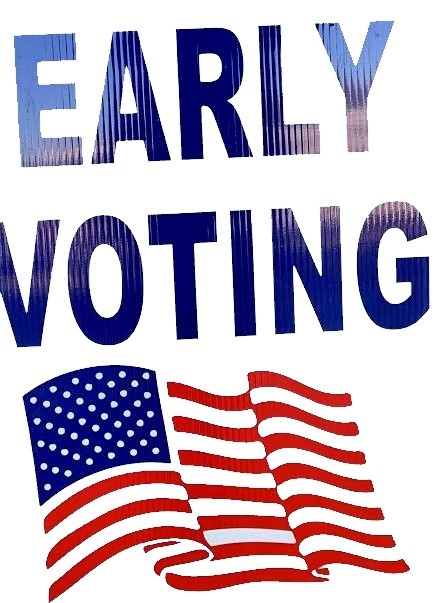 That's 4,885 of the 23,954 registered voters in Hopkins County casting ballots by the close of business on Friday, Oct. 16. This number includes 4,208 in person voters (17.57 percent) and 677 voters (2.82 percent) submitting ballots by mail.
Early voting got off to a brisk start with 1,020 voters, 4.26 percent of registered voters, visiting The ROC on Oct. 13 to vote in person, and another 254 voters had submitted mail ballots, for a total of 5.32 percent of Hopkins County voters selecting their choice of candidates on the first day of early voting. That's the least number of ballots cast so far.
Eight more voters turned out in person on Oct. 14 to vote in Hopkins County and another 319 mail ballots were received, increasing the overall early vote total to 2,621 or 10.94 percent on the second day of early voting.
Only 2 fewer county residents showed up in person to vote on the third day of early voting than the 1,028 who cast in-person ballots on Oct. 14. Another 153 mail ballots came in as well. That increased the cumulative early voting total to 15.54 percent, with a total of 3,750 early votes.
On Friday, Oct. 16, a whopping 1,134 Hopkins County residents visited the early voting center and 1 more mail ballot came in, increasing the overall total of early ballots cast to 4,885, which is 20.39 percent.

That's more ballots cast during the first 4 days of early voting in 2020 than during the entire early voting period in 2010, when only 4,002 early votes were cast during the full early voting period (18.48 percent) and only 8,797 votes were cast during the the entire election (40.62 percent of the 21,657 residents voters), according to Texas Secretary of State's Office.
In 2014, only 3,569 ballots were cast during the early voting period and 7,633 of the 21,234 registered voters (35.54 percent cast ballots.
During the 2018 election, 11,901 of the 22,842 registered voters (52 percent) cast ballots, including 6,681 (29 percent) early voters.
Voter turn out is traditionally higher during Presidential Elections. In 2016, 13,533 of the county's 22,495 registered voters (60.16 percent) voted, including 8,696 during early voting (38.66 percent.
In 2012, early voting accounted for 34.75 percent (7,378 voters) of the overall 60.04 percent (12,749 voters) of votes cast during the election.