Sulphur Springs Time Capsule Extraction to Take Place Oct. 3 in Heritage Park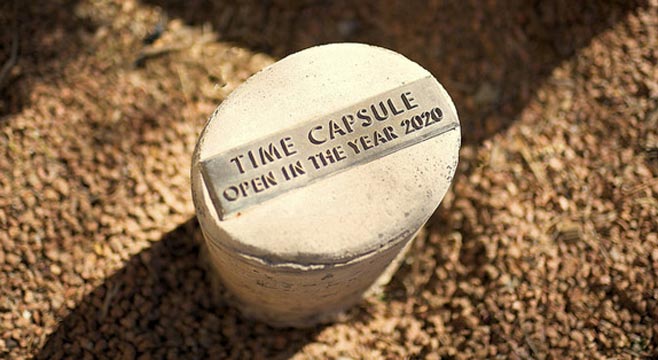 Lyndsey Palmer, a member of the SSHS Class of 2000, tells KSST that an intermediate-age school project is about to come to completion, when a Time Capsule is unearthed in Sulphur Springs Heritage Park.
From a press release, we learned that "at 10AM on Saturday October 3, 2020, the Sulphur Springs class of 2000 plans to unearth a time capsule placed in Heritage Park in 1993. During our fifth grade year, we were at Douglas Intermediate School, and several teachers helped us students place pictures, relics, and even a VCR tape recording into the time capsule to be buried in Heritage Park. Honestly, no one really seems to remember what all is inside!" Lyndsey and fellow students are anxious to find out, and share some memories about the time capsule and the ways in which the world has changed since they graduated in 2000.
Back in their fifth grade classroom, the students voted to exhume the capsule in the year of their 20th Class Reunion. That year has arrived! But, due to Covid-19, the reunion has been postponed. However, the contents of the time capsule will be displayed at Heritage Park over the next few months where students and the public may come and view the items.
"After this, we will still take the capsule to our reunion once it's rescheduled, but we thought that displaying at the museum during on October 3 on Indian Summer Day 2020 would allow others to see the contents as well," Palmer said. She also hopes that one or more of the Douglas teachers will attend the unearthing event, so they can explain a bit more about how and why this happened back in 1993.
The late Bill Bradford of KSST attended the burial of the Time Capsule and even placed something inside it, to be re-discovered by a future generation. Bradford, a radio pioneer, was manager/owner of KSST for 68 years, and embraced new technology and the coming of the "Information Highway" or Internet, which changed the world for most of it's inhabitants.