Approximately 60 law enforcement officials, firefighters and fire academy recruits, and emergency services personnel were joined by a number of community members at Hopkins County Fire Department's Station 20 Friday morning at Hopkins County' third annual 9/11 tribute, held to remember all who died in the terrorist attacks on Sept. 11, 2001.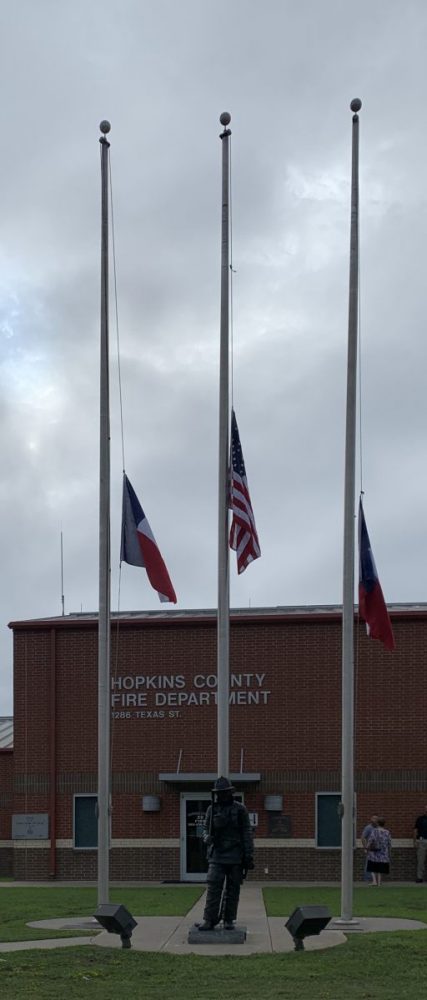 All law enforcement and emergency responders lined one side of the drive in front of the station. Fire in Texas academy recruits line the other side. Emergency personnel also lined the sidewalk around the flag poles. Sulphur Springs Fire Department raise the ladder on their tour truck to fly an US flag from it.
The collaborative effort, coordinated by Rodney Caudle, included bagpipe music.
The Way Bible Church Pastor Joel Tiemeyer offered prayer for healing for the state and nation, thanks for all who have given their lives to keep others safe and acknowledgement of the sacrifice made 19 years ago.
The Texas and US flags were raised, the Pledge of Allegiance to the United States flag recited.
The Fire In Texas academy recruits joined others across the country and state who have lowered the US and state flag to half-staff on Sept. 11, designated Patriots Day, to honor those killed in the 9/11 attacks, including first responders who entered the Twin Towers after the planes crashed, those who responded at Ground Zero and elsewhere to try to help, knowing the risk.
As is tradition for fire and law enforcement, a radio announcement was made. The bell on the county's fire engine rang, three sets of five, an indication that a firefighter has not returned home. This honors the courage, commitment and sacrifice of the 412 emergency responders, including 343 New York City firefighters, 16 police officers, 8 emergency medical technicians with private EMS services and 1 fire patrol personnel who did not make it home to their families on Sept. 11, 2001, but instead paid the ultimate sacrifice giving their lives in the line of duty.
Tiemeyer closed the tribute offering thanks to and prayer for the safety of the many first responders who put their lives on the line daily answering the call to serve their community.