Four new positive COVID-19 cases were reported in Hopkins County by the Hopkins County/Sulphur Springs Emergency Management officials in their Sept. 24 COVID-19 Update.
That 41 Hopkins County residents who have been lab-confirmed to have COVID-19 this week and 94 during the first 24 days of September. That increases the active cases count to 89 and the cumulative case count for Hopkins County to 337.

Although there have been no recoveries reported in the last three days, 25 Hopkins County residents recovered over the weekend. So far this month, 52 county residents have recovered from COVID-19. Cumulatively since March, 248 county residents have recovered from the virus, according to the Hopkins County Sept. 24 COVID-19 update.
HC/SSEM also reported a dozen patients in the COVID-19 unit at CHRISTUS Mother Frances Hospital-Sulphur Springs. That's four fewer patients than the 16 reported to be in the unit on Sept. 23.
Texas Health and Human Services reported 5 active COVID-19 cases among employees of Carriage House Manor and 2 active resident cases on Sept. 9, according to the Sept. 24 HHS nursing home report.
There were no active cases among either employees or residents of Sulphur Springs assisted living facilities on Sept. 10, according to HHS. No active employee or child cases were reported Sept. 22 at Hopkins County child care facilities, the Sept. 24 HHS report stated.
Texas Department of State Health Services reported no new COVID-19 deaths for Hopkins County on Sept. 24. Therefore, the total number of deaths assigned to Hopkins County based on a death certificate cause of death ruling of novel coronavirus 2019 remains at 8.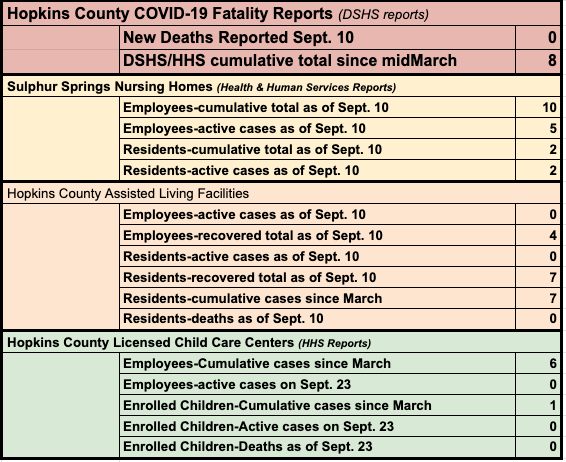 ---