Funeral service for Wanda Lou Williams Bonnette, age 77, of Winnsboro, will be held at 2:00 p.m., Wednesday, August 19, 2020 at Black Oak Baptist Church with Bro. Ricky Self and Chris Taylor officiating.
Visitation will be held prior to the service beginning at 12 noon. Interment will be held at 4:00 p.m. at Rockford Cemetery in Lamar County with James Morris, Ricky Self Jr, Eddie Wood, Kody Williams, Anthony Gonzalez, and Gary Hudson serving as pallbearers. Honorary pallbearers will be Landan Jones, Steven Ross Jr, Otto Self, Oliver Self, Bo Morris, Bud Self, JJ Brink, Timothy Jones, and Marty Simpson.
Wanda passed away on Sunday, August 16, 2020 at her residence. She was born on February 23, 1943 in Paris, Texas, the daughter of Thurman Clenny and Ethel Irene Roach Wood. She worked as a nurse for 40 years and was a member of Black Oak Baptist Church. She is survived by husband: Lawson Bonnette; children: Vicki Parker; Sandi Self and husband Ricky; Lisa Hudson and husband Gary; Tracy Williams; Jay Williams and wife Kathy; Kristi Ross and husband Steve; Melissa Self and Jeff Sherwood; Joel Williams and wife Julie; Jeffrey De Los Santos; step-children: Carla McCain and husband Venson; Marla Sawyer; Dorain Hudson and husband Wayne; Lawson Bonnette Jr; grandchildren: Jackie and Rhonda Parker; Casey, Rickey, Arron, and Derick Self; James Morris; Samantha Brink; KeElyn "Kee" and Jaydan "Bubbie" Williams; Timothy and Landan Jones; Kody and Jaylee Williams; Chasity Winchester; Steven Ross Jr.; Anna Ross; Dakota McPherson; Rowdy and Dustin Self; Christa Odham; step-grandchildren: Mathew McCain; Tanner and Nickolas Sawyer; great-grandchildren: Adeline Rhexford; Oliver and Otto Self; Kayson Gaige; Kason "Bubba" Daniel; Keyden; Ricky Don Self III; Kenleigh Self; Twitch Self; MaKensa Morris; Cali Morris; James Michael "Bo" Morris III; Anthony Gonzalez; JJ Brink; Logan, Cambre, Hadli, Kalvin, Alivia, Trenton, Tegan, and one on the way; brothers: Thurman Wood and wife Jackie; Eddie Wood and wife LaWanda; and sisters: Mary Joe Newman; Barbra Campbell and husband William; and Terri Aguilar. Wanda was preceded in death by Calvin Williams, Al, Cleopus, Peggy, Joy, Thurman and Ethel Wood, and SaFronia and Belton Roach.
Arrangements are under the direction of West Oaks Funeral Home. www.westoaksfuneralhome.com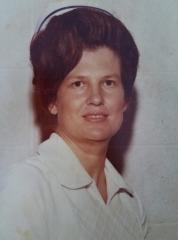 ---