North Hopkins ISD teachers and staff have been working hard to ensure everything is ready for the start of classes on Aug. 19, with numerous safety measures in place. A virtual Meet the Teacher night and training for families who have selected At-Home Learning for their students.
Both events are schedule to be held simultaneously Monday, Aug. 17.
Meet the Teacher
Students who will be attending classes on campus this year have the opportunity to get a small taste of online communication between the school and home during a virtual Meet the Teacher night.
Although the event is scheduled from 5:30 p.m. to 7 p.m. as "come and go" activity, parents should check information provided by their child's teacher to access the Zoom meeting.
Elementary teachers started calling families Aug. 13 to help ease the back-to-school process. Students' teachers are to post Zoom links on their NHISD webpages for the Meet the Teacher event, to allow families to connect remotely to their class teacher. Elementary teachers will also post links on their class Facebook pages. Elementary class lists were posted by the elementary building; families can drive by to see who their children's teachers are.
A list of secondary teachers can be found on main page of the NHISD webpage, https://www.northhopkins.net/.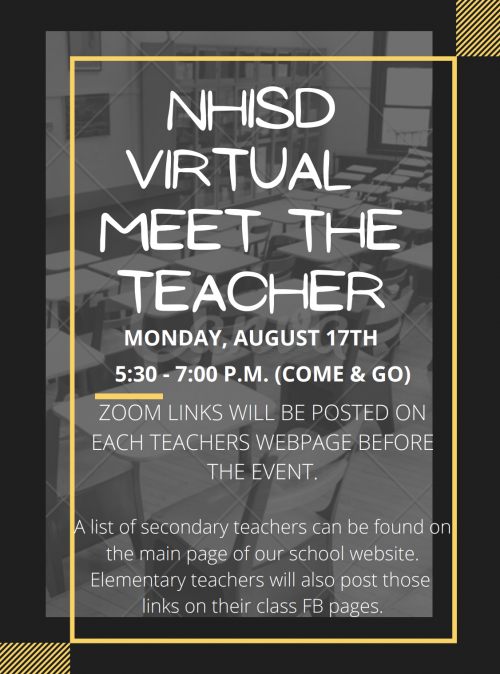 At-Home Learning Parent Training
All parents who have selected at-home learning for their students (approximately 15 percent of enrolled NHISD students) should plan to attend a parent training session from 5:30 p.m. to 7 p.m. Aug. 17, in North Hopkins ISD cafeteria.
Parents will be asked to wear a mask and social distancing will be enforced. At-home learning contracts must be signed.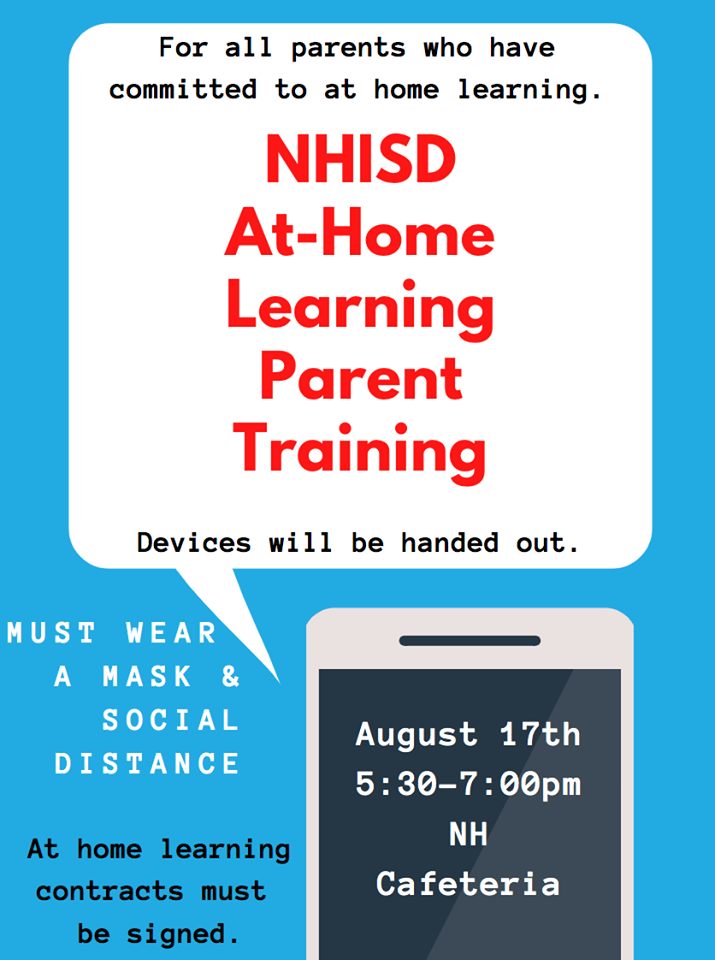 NHISD Classrooms in 2020-21
The district has invested over the summer in significant technology upgrades including upgraded fiber optics and hotspots to allow for synchronous learning, with at-home learners actively participating in class with their peers as it will be live-streamed from the school classroom. Laptops are available for those who need them.
"Our approach is relationship focused. We saw options for remote learning, and are trying to package ours in a way that focuses on the teacher-student relationship. I can't think of a better way than synchronous learning. If students are not on-site we think this is the best way to do that," NHISD Superintendent Darin Jolly said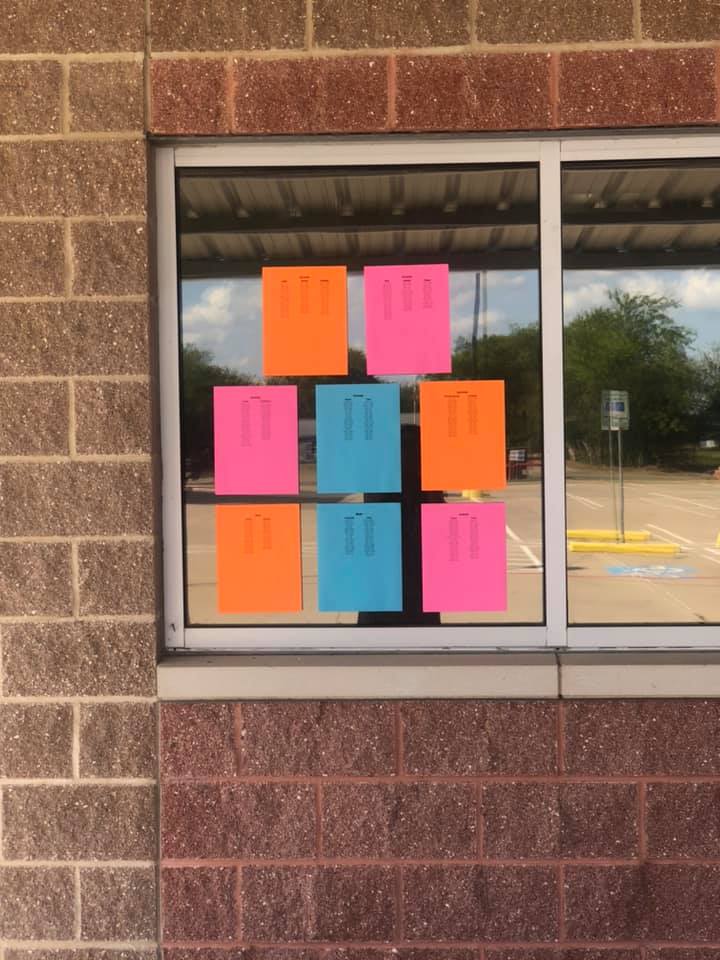 This will allow remote learners to raise their hand, ask questions and contribute to the classroom learning experience. Lessons are saved to an online format, so that even if the student attends the daily class session, the pupil can still access the lesson in the evening, and replay the entire class if they need to, according to Jolly.
This will be an additional resource for all students and parents when students need to review for tests, to catch up or to better aid parents in helping their students with homework and study. This also is helpful in the event the student experiences a bad connection during the livestream or is otherwise unable to stream the class that day. All lessons will also be available on thumb drive the next day for families who have chosen at-home learning but do not have any internet connectivity.
Using these methods will mean teachers only have to teach the lesson one time, reducing the need for extra work or extra staff to teach at-home learning lessons, according to Dr. Jolly.
"Having live-streaming capability is going to be fantastic. We've been wanting to do this. If a student is home sick with say the flu, not COVID, the student can login from home to take part in class period. We can maximize learning with this increased tech option," Jolly said.
Teachers will have up to 4 inputs and 8 options for the camera in the ceiling to pan. Teachers will wear a microphone around their necks, and hit mute when needed.
"This will be another tool in their instructional tool box to connect students with learning in classroom, even if they can't come or feel safer at home a this time," Jolly said. 
Additional Safety Measures
"Schools have always been the foundation of community. We want North Hopkins ISD to bet that. Whether students get off the bus or out of a car, we want parents to see we are taking safety measures and protocols," Jolly said.
NHISD will also require everyone age 10 and older to wear face masks or coverings over the mouth and nose, unless then meet the state-established criteria such certain health conditions. Face coverings should be worn by students and staff during the transition between classes or in gatherings where they will come into close contact with other students and staff. Masks will be required for all students on school buses.
Parents who are able are encouraged to bring their students to school. For families those unable to do so, transportation will continue to be available as needed for those NHISD students.
Students may sit with siblings on the school bus. Anytime they are not able to put 6-10 feet of distance between them and others not in their household, students and staff will be required to wear a mask.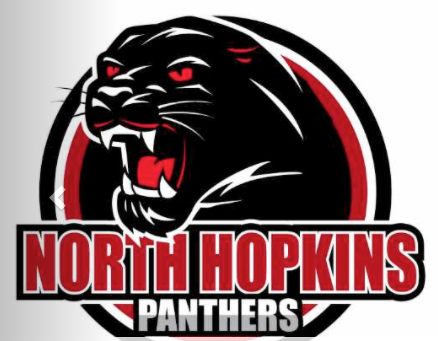 To better observe social distancing on buses, the district has increased its bus fleet by 33 percent.
The district has also purchases some plexiglass shields to serve as additional barriers on tables and desks when the recommended social distancing cannot be obtained and during times. Foldable shields can be used by students who are not able to wear masks, as an added protective measure.
Hand sanitizer stations, face shields and face masks for employees and students who do not have access one are also among the measures implemented this school year. The district invested in electrostatic sanitizers. Classrooms will be treated and cleaned every evening. Between classes, teachers will use a kit provided for them that includes sanitizers, wipes and sprays to help keep with sanitization from class to class.
The district has added awnings to encourage educators to take advantage of outdoor learning opportunities, while providing fresh air for studnets.
An additional parking lot and sidewalks have been added for staff members. This will free up parking near the front of the main campus to allow for better drop off and a more organized students pick up system as well. So, students will exit and enter the campus through the main parking area.
The district previously shared a registered nurse for two day a week. NHISD hired a fulltime LVN who will be on duty 5 days a week. The district will still have a shared nurse two days a week. In the event a student needs to be placed in isolation due to medical symptoms, the LVN will be available to help separate the student and ensure the district's multilevel systemp protocols are in place.
Jolly said while TEA does not require it, temperature checks will be conducted three times daily at NHISD. Students who ride a bus will be temperature checked before entering the bus. In the event a student shows symptoms of an illness, particularly COVID-19, temperature checks could help identify it at the onset, reducing the potential number of people who could be exposed.
A full outline of the second education plan for NHISD can be viewed by clicking here or may be accessed on the district website by clicking the "2020 North Hopkins Secondary (Grades 7-12) Opening Plan & Protocols" link at the bottom of the main page.
A full outline of the elementary plan for NHISD can be viewed by clicking here or may be accessed on the district website by clicking the "2020 Elementary (Pre K – 6) Opening Plan & Protocols" link at the bottom of the main page on the district website, https://www.northhopkins.net/.

---