Lou Jane Longino Bonner passed from this life on August 25, 2020, in San Antonio, Texas, surrounded by her loving family. She was born on October 7, 1925 in Sulphur Springs and held the traditions of her hometown in all of its aspects—religious, cultural, economic, educational and social—near and dear to her heart and life.
The loving daughter of the late Dr. and Mrs. S. Byrd Longino, she was the granddaughter of the late Mr. and Mrs. L.J. Carothers and the late Dr. and Mrs. Stephen Beasley Longino.
An honor graduate of Sulphur Springs High School, Mrs. Bonner was a graduate of Stephens College, Columbia, MO, and earned her B.A. degree from Southern Methodist University. At Stephens she studied speech and dramatic arts under the famed stage actress Maude Adams.
Following her graduation from SMU and his tour of duty in the South Pacific during World War II, she married Dan E. Bonner, also born and raised in Sulphur Springs, on September 7, 1946, at First Methodist Church. Following their marriage, the Bonners lived for a short time in Dallas while he completed his degree at S.M.U.
She was the mother of three sons, Dan, Jr., Stephen and Byrd, all of whom graduated from Sulphur Springs High School. Mrs. Bonner was a member of First United Methodist Church of Sulphur Springs all of her life, and provided leadership in many facets of the Church's ministries, including United Methodist Women, the Crusaders Sunday School Class and many church committees and boards. For many years, she was superintendent of Sunday School for various children's departments.
Mrs. Bonner was an ardent member and supporter of the PTA throughout the SSISD, having served as president of the Lamar School, the Sulphur Springs Junior High, and the Sulphur Springs City Council PTA units. She was an honorary Life Member of the Texas State Parent-Teacher Association.
Always interested in her hometown and its welfare, Mrs. Bonner served twice as chairwoman of the Mother's March on Polio during that pandemic, and helped to lead the effort to build the Woman's Club Building. She chaired its House Rules Committee and served several terms on its Board of Directors.
She was a proud Rotary Ann and was the daughter of a charter member of the local club and daughter and wife of past presidents. As the daughter of a physician, Mrs. Bonner was a member of the Hopkins-Franklin Counties Medical Auxiliary, putting much effort into fostering programs for the betterment of those counties.
Mrs. Bonner was a member of Kappa Kappa Gamma, national social sorority, having been honored as a 75-year member at the time of her death. She was a faithful member and past president of P.E.O., having been honored as a 'Golden Girl' as a 55-year member. Always a source of great joy to her, she served as president of the Lena Day Garden Club, Mothers Culture Club and Waverly Club, as well as two terms as president of the Woman's Forum.
She was preceded in death by her husband of 54 years, her parents, her brothers Dr. Joe Longino and Dr. Steve Longino and their wives, and her beloved son, Stephen Longino Bonner. She is survived by son Dan, Jr and Sue Bonner of Georgetown, daughter-in-law Cathy Bonner of Sulphur Springs, and son Byrd and Patty Bonner of San Antonio. She is also survived by grandchildren Naomi Yost (Chris) of Round Rock, Carroll Crowson (Grady) of Waco, Angela Bonner of Austin, Edwin Bonner (Megan) of Lincoln, NE, Lou Caroline Collins (Kevin) of San Antonio, and Rosalie Bonner of New York City, as well as eight loving great-grandchildren, nephews and nieces. The family wishes to express special thanks for the love and support of caregiver, Magda Perez of San Antonio.
The family invites all to pay respects at West Oaks Funeral Home on Friday, August 28 and Saturday, August 29, 2020, between the hours of 8:00 a.m. and 5:00 p.m. and requests that those doing so observe social distancing provisions applicable to public businesses, including face coverings. In lieu of flowers, the family suggests memorial gifts to First United Methodist Church, Sulphur Springs, Texas. A private graveside service for family will follow.
Arrangements are under the direction of West Oaks Funeral Home. www.westoaksfuneralhome.com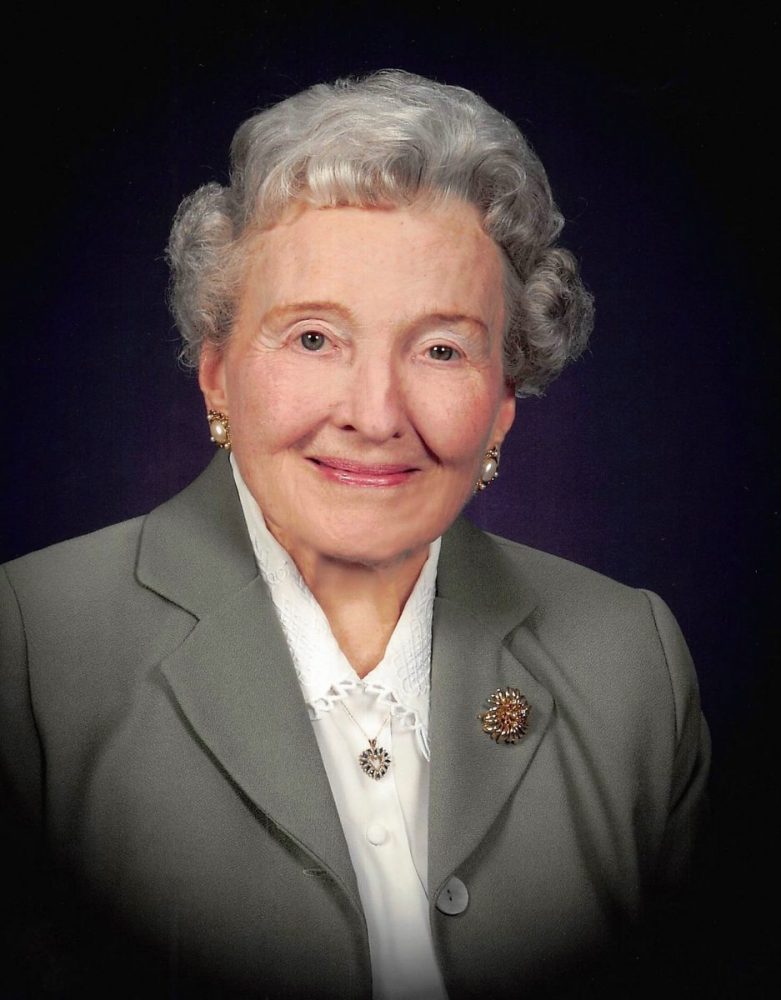 ---