COMMERCE —The sheriff of one of the most populous counties in Texas was able to complete his bachelor's degree at his own pace and fulfill a decades-old promise he made to his mother, thanks to the Online Competency-Based Criminal Justice Program at Texas A&M University-Commerce.
Sheriff Tracy Murphree of Denton County has come a long way in his career. A third-generation law enforcement officer, Murphree decided from the age of 17 that he wanted to become a member of the prestigious Texas Rangers law enforcement agency.
"To become a Ranger, you have to be a trooper with the Texas Department of Public Safety first," Murphree said. "I needed some college hours for that as well, so I went off to school."
Murphree attended McMurry College (now McMurry University), majoring in history and playing on the school's football team. But when he heard that the DPS might undergo a hiring freeze in the near future, he jumped at the chance to apply for the academy before it was too late.
"I left college and joined the DPS with 102 college credit hours to my name," Murphree said. "My mom was not happy with me."
But he made a promise: "I said, 'Mom, don't worry; I will finish.' But that was 33 years ago," Murphree said.
He worked as a DPS sergeant for several years before finally achieving his dream of joining the Rangers in 1998. He served with the agency for 13 years in Denton County until disaster struck: His wife passed away unexpectedly in 2011, leaving him with three children, all under the age of 10.
He took a desk job with Denton County to be more available to his children, and he worked in the private sector as well. But public office called him back into the line of duty when he ran for the Denton County Sheriff seat in 2016 and won. He is finishing his first term this year and is unopposed for the position on the November 2020 ballot.
Despite his career successes, a lingering question remained: Would he be able to fulfill his promise and attain a college degree? Even Murphree had his doubts.
"I had given up on that to a point," Murphree said. "I had looked at many different programs, but nothing was suited to the needs of a working police officer."
That all changed when his assistant chief, Barry Craver, informed him of the completely online, competency-based CJ Program at A&M-Commerce. Upon hearing about what the program had to offer, Murphree invited instructor and program coordinator Jimmy Womack to the department to speak to the officers. This spurred Murphree on to take the leap and sign up for the program.
"Most officers have some college credit lying around that they aren't doing anything with," Murphree said. "This program takes your prior experience and certifications and gives you credit for what you already know. There aren't many colleges around that do that."
He continued: "The assignments are challenging, but it is doable at your own pace, which appeals to me, and I believe it would appeal to many other officers. This program is perfect for the active police officer."
He touted the diverse range of courses, saying that even for a seasoned officer like himself, he was still gaining plenty of knowledge and new skills.
Womack, a veteran law enforcement officer with decades of experience, said that the program had much to offer.
"With this being a competency-based program each student, regardless of experience, is able to gain knowledge and skills to improve themselves, their agencies, and the community they serve," Womack said. "These are some very trying times for our public servants due to a global pandemic and social unrest. It is my belief, by providing an up-to-date educational program to our officers they will be better prepared to provide the service our society expects and deserves from our public servants."
Murphree began the program during the Summer II semester in 2019, and he just finished this summer, attaining a Bachelor of Science in Criminal Justice with a Law Enforcement Leadership emphasis. He said that it was a great feeling to complete his degree.
"It was an amazing feeling to get that degree and to set an example for my kids that it's not too late to complete your education," Murphree said. "It was also the best feeling in the world to go to my mom and tell her that I finally did it."
He added: "I can't wait for the diploma to get here. It will hold a place of honor on my wall."
Learn more about the Online Competency-Based CJ Program at A&M-Commerce here.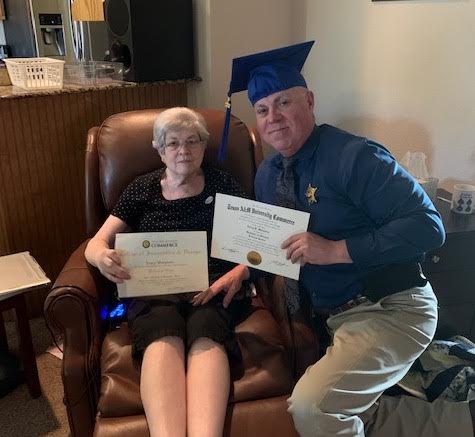 ---
About Texas A&M University-Commerce–A&M-Commerce serves rural and metropolitan East Texas with distinction, consistently delivering on a promise that our founder, Professor William Leonidas Mayo, made more than a century ago: "No industrious, ambitious youth shall be denied an education if I can prevent it." We are committed to our university's mission: Educate. Discover. Achieve.

Programs are delivered on site at the Commerce campus as well as in Corsicana, Dallas, McKinney, Frisco and Mesquite. Many courses are also available online. Students may choose from more than 135 degree programs at the bachelor's, master's and doctoral levels. A vibrant student life experience includes 14 NCAA Division II athletic teams, a thriving Greek system and more than 120 student organizations.