School Still Slated To Start As Scheduled Aug. 13
Cumby ISD COVID-19 protocols went into effect this week after some students reported virus symptoms, then, one confirmed COVID-19 case was reported, according to school officials. School athletic activities have been temporarily canceled, but classes are slated to begin as scheduled this Thursday.
Monday afternoon Cumby ISD officials announced the decision to cancel athletic practices and scrimmages until Aug. 24, after some students exhibited symptoms of COVID-19. Tuesday afternoon, Superintendent Shelly Slaughter reported the school had received notification one Cumby ISD student who was on campus on Aug. 7 has received a lab-confirmed positive COVID-19 result.
As both instances developed, the district began implementing the established district COVID-19 protocols and procedures. The school nurse has been working throughout the day in conjunction with the Local Health Authority nurse to identify and notify any individuals who may have been at high risk of contact and to conduct contact tracing, according to the superintendent.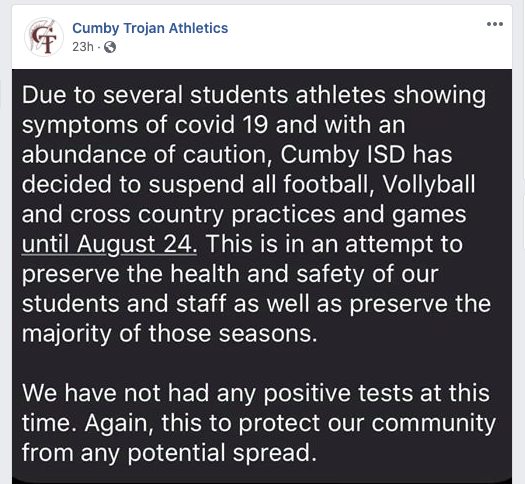 "Individuals determined to be in close contact with the infected individual have been contacted directly via telephone by our District Health Contact/School Nurse, Juliana Osornio. Those that were in contact will remain off campus for up to 14 days to ensure that they do not have the virus, so that there will not be any further spread. If those quarantined want to return prior to August 24th, they must have been quarantined for at least 5 days from the last day of exposure and have obtained a PCR or molecular negative COVID-19 test. A negative antigen testis not sufficient," Slaughter wrote in a letter posted around 5:30 p.m. Aug. 11 to the "Cumby ISD Family."
Administrators report a letter to CISD families and additional details regarding online checking/learning protocols will be sent out on Wednesday. All Cumby ISD students are urged to check their school emails regularly for email notifications regarding class work, which will be posted in google classrooms.
As a precaution against potential spread of illness, all football, volleyball and cross country practices, activities and athletics have been canceled until Aug. 25 to preserve the health and safety of students and majority of each sport's season.
School will reopen on Thursday, Aug. 13, as planned, and all other district operations will continue on schedule. The Cumby ISD Return to Learn 2020 plan outlines district protocols for students and staff exhibit potential symptoms of COVID-19, who have been potentially exposed to someone who has COVID-19 or has tested positive for COVID-19. The 24-page document can be downloaded from the school website cumbyisd.net.
Students in grades 9-12 will be given until Aug. 21 to switch from face-to-face to remote learning or returned to face-to-face" learning in light of a positive student COVID-19 case being reported."
Students who know they will be participating in online learning and need technology or who don't have access to their email account are urged to notify the school immediately so that arrangements can be made.
Any questions or concerns regarding health protocols should be directed to school nurse Juliana Osornio at [email protected] or 903-243-7077. Questions about instructional plans should be directed to Elementary campus Principal Doug Wicks at [email protected] or 903-994-4802 or High School Principal Donna George at [email protected] or 903-994-4801.