State Now Reporting COVID-19 Information For Texas Child Care Facilities
Hopkins County Judge Robert Newsom at 5 p.m. Aug. 21 announced 4 new positive COVID-19 cases have been reported for Hopkins County. That increases the total number of active cases in Hopkins County to 36. There were no new recoveries to report on Aug. 21.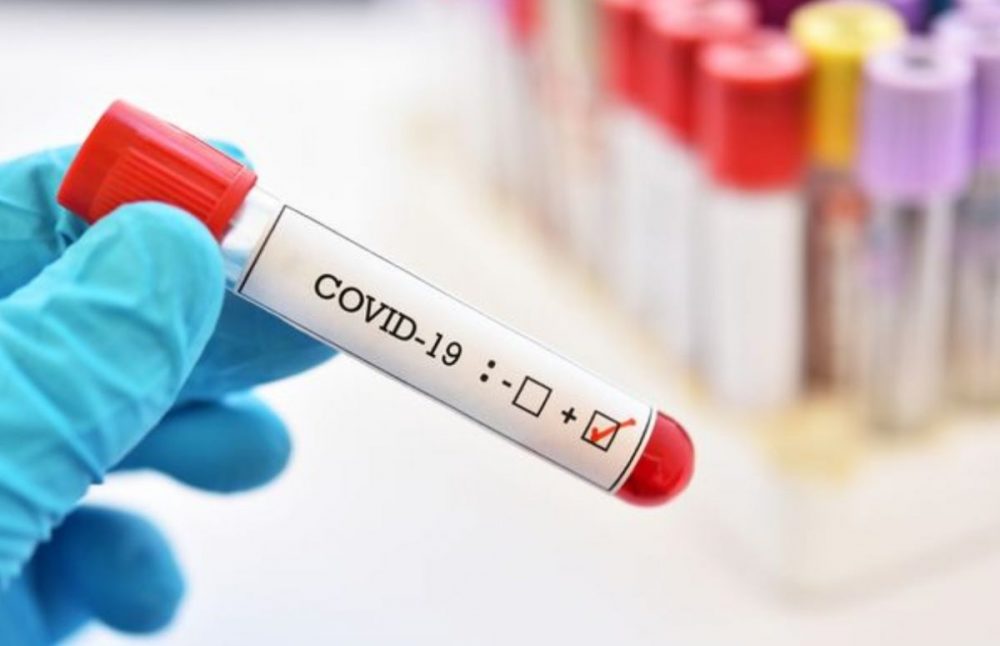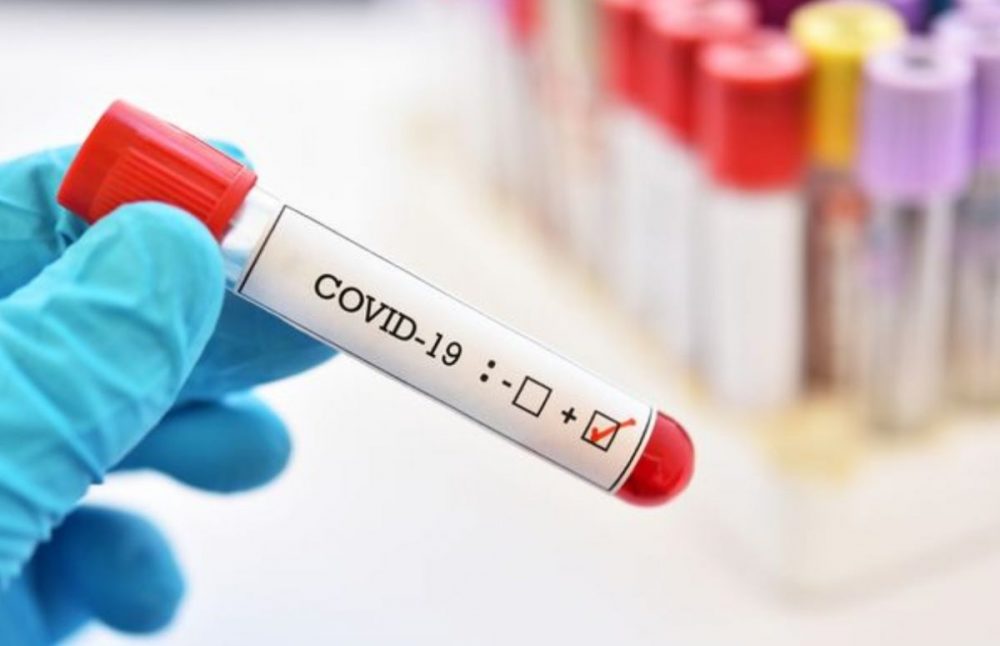 There have been 77 new cases and 94 recoveries reported through Aug. 21. That's 10 more cases and 72 more recoveries than on the July 21, and 12 fewer cases and 46 more recoveries than were reported during the whole month of July.
Since midMarch, the total number of COVID-19 cases reported in Hopkins County is 229, and total recoveries is 193 recoveries.
Officials reported there were 6 patients in the COVID-19 unit at CHRISTUS Mother Frances Hospital-Sulphur Springs on Aug. 20. That's one more than were reported on Aug. 20, but still one less than reported on Aug. 2, Aug. 13 and Aug. 15.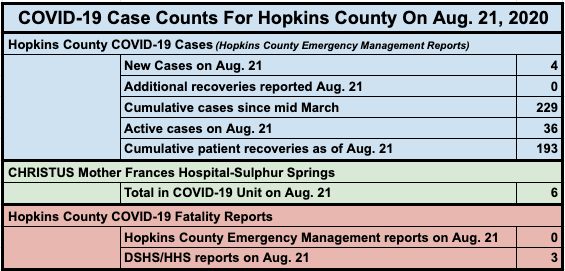 State Reports For Hopkins County
Texas Department of State Health Services' COVID-19 dashboard on Aug. 21continues to show three COVID-19 deaths for Hopkins County, on July 17, July 23 and Aug. 2. Hopkins County Judge Robert Newsom said local officials have still not had any official notifications of any Hopkins County residents dying as a result of COVID-19 since the state showed the first death last month, but hope to have more information next week.
Texas Department of Health and Human Services Commission's reports do show there have been no COVID-19 deaths reported for either residents or employees of Hopkins County nursing and assisted living facilities.
HHSC does report an outbreak of COVID-19 cases among staff and patients at an assisted living facility in Sulphur Springs earlier this month, with a total of 3 cumulative employee and 8 cumulative resident cases reported on Aug. 6, the most recent date for which the state has information.
On Aug. 4, the assisted living facility reported 3 active cases among employees. On Aug. 6, the facility still had 3 active cases among employees. The facility Aug. 4-5 had 6 active resident cases and 1 resident had recovered from COVID-19. On Aug. 6-7, the facility reported 7 active cases among residents, and still just 1 resident who has recovered, according to the HSSC Assisted Living COVID-19 Self-Reported Case Count reports.
Among nursing home facilities in Sulphur Springs, there had been no reports of residents testing positive for COVID-19 and no new employee cases reported as of Aug. 7. One nursing home previously reported 3 employees had tested positive for and had also recovered from COVID-19, according to the HHSC Nursing Facility COVID-19 Self-Reported Case County report.
Data for nursing and assisted living facilities is typically 2 weeks behind. It is self-reported by facility staff to HHSC, and is then reviewed for data entry and transcription errors. HHSC investigates every assisted living facility that reports a COVID-positive case for compliance with health and safety regulations. Data on any resident after discharge from a facility would not be reflected in the state report, according to HHSC.
On Friday, Aug. 21, the state also released COVID-19 information regarding Texas child care facilities. Three of the four facilities have reported one worker each who has tested positive for COVID-19 since March but had no active cases on Aug. 20; one of those facilities also had one enrolled child who tested positive for COVID-19 since March but no active child cases. The fourth child care facility has had 2 employees test positive for COVID-19 since March but has no active employee cases, and has reported no child cases since March. These are self-reported COVID-19 cases in licensed child care centers, school-age programs, and before or after-school programs.