Election Day is Tuesday, July 14, in Republican and Democratic Party Primary Runoff Elections. Already 1,525 of the 23,351 registered voters in Hopkins County took advantage of the early voting period to cast their choices in Democratic and Republican runoffs.
Early Voting
That's 6.53 percent of registered voters in Hopkins County casting ballots during the early voting period either in person at the polling center or by mail-in ballot, according to county election information reported to Texas Secretary of State's Office.
In the Republican Party runoff, 1,209 ballots were cast, 1,099 in person and 110 by mail. That accounts for 5.18 percent of the total ballots cast when early voting ended on July 10.
Overall, 316 ballots had been cast in the Democratic runoffs in Hopkins County when early voting concluded on July 10, accounting for another 1.35 cumulative percent of early voting. That's 151 votes cast by personal appearance ad 165 mail ballots, according to data supplied to the Secretary of State's Office.
On The Ballot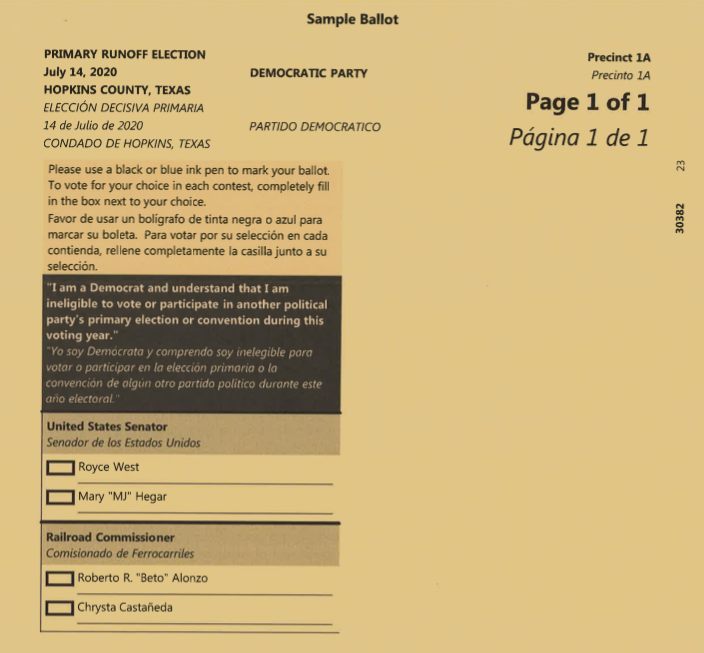 The two runoffs on the Hopkins County Democratic primary runoff ballot are between Roberto R. "Beto" Alonzo or Chrysta Castañeda for Texas Railroad Commissioner and Royce West and Mary "MJ" Hegar for United States Senator.
The winner of the Democratic nomination for Railroad Commissioner will face Republican James "Jim" Wright on the ballot in November. The Democratic candidate winning the US Senator nomination will face incumbent John Cornyn on the November election ballot. 
The Hopkins County Republican ballot features only one runoff, between incumbent Dan Flynn and challenger Bryan Slaton for State Representative District 2. The winner of the Republican nomination for District 2 State Representative will face Democrat Bill Brannon in the General Election in November.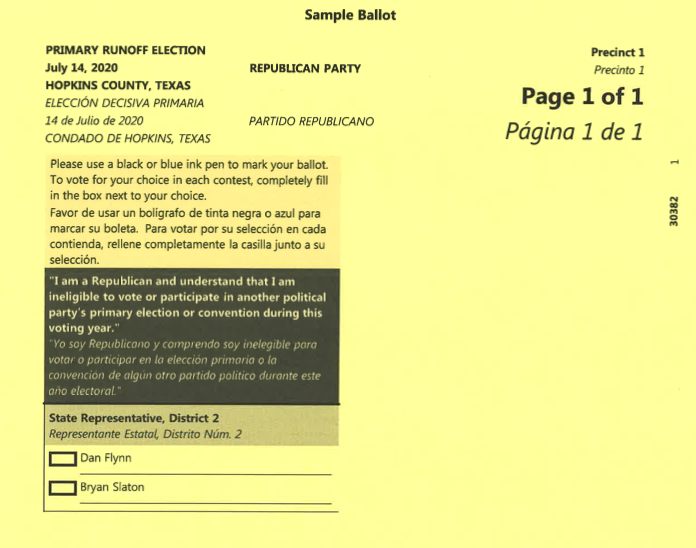 Election Day Voting
The polls will open at 7 a.m. and close at 7 p.m. Election Day, Tuesday, July 14, at the four consolidated voting centers. Registered Hopkins County voters who have yet to cast ballots in either the Republican or Democratic runoffs may vote at any of the four voting centers:
Our Savior Lutheran Church, 100 Texas St., Sulphur Springs;
Morning Chapel Missionary Baptist Church, 208 Fuller St., Sulphur Springs;
Hopkins County Courthouse, 118 Church St., Sulphur Springs; and
League Street Church of Christ, 1100 South League Street, Sulphur Springs.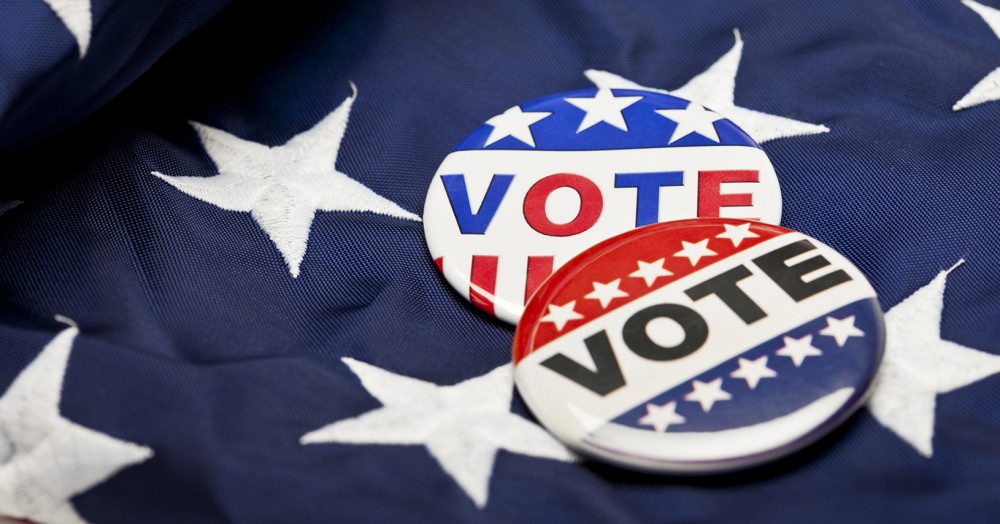 Voters will be required to present any 1 of the 7 approved forms of photo ID to election officials at the voting center. Acceptable forms of ID include:
Texas Driver License issued by the Texas Department of Public Safety (License is not required to be REAL ID compliant),
Texas Election Identification Certificate issued by DPS,
Texas Personal Identification Card issued by DPS,
Texas Handgun License issued by DPS,
United States Military Identification Card containing the person's photograph,
United States Citizenship Certificate containing the person's photograph, and
United States Passport (book or card).
Voters who do not possess and cannot reasonably obtain one of the approved photo IDs may execute a Reasonable Impediment Declaration form, available to them at each polling location, and provide a supporting form of identification.
With the exception of the U.S. Citizenship Certificate, which does not expire, the acceptable photo ID must be current or, for voters aged 18-69, have expired no more than 4 years before being presented for voter qualification at the polling place. A voter 70 years of age or older may use a form of acceptable photo ID listed above that has expired for any length of time if the identification is otherwise valid.
Those completing a Reasonable Impediment Declaration form will be required to present an original copy or 1 of the following supporting forms of identification:
a government document that shows the voter's name and an address, including the voter's voter registration certificate
a current utility bill
a bank statement
a government check
a paycheck
a certified domestic (from a U.S. state or territory) birth certificate
a document confirming birth admissible in a court of law which establishes the voter's identity (which may include a foreign birth document)
The address on an acceptable form of photo ID or a supporting form of ID, if applicable, does not have to match the voter's address on the list of registered voters, according to the Secretary of State's Office.
For more information on voting in Texas, visit www.votetexas.gov.