Hopkins County Commissioners Court will be asked to consider establishment of a reinvestment zone for Pine Forest Solar LLC.
The Court will first hold public hearing regarding the proposed reinvestment zone, then will be asked to consider approving establishing a zone by and between the county and Pine Forest Solar LLC.
The Commissioners Court in late December approved a Chapter 318 agreement granting tax incentives for the solar project, construction on which was originally projected to begin in April.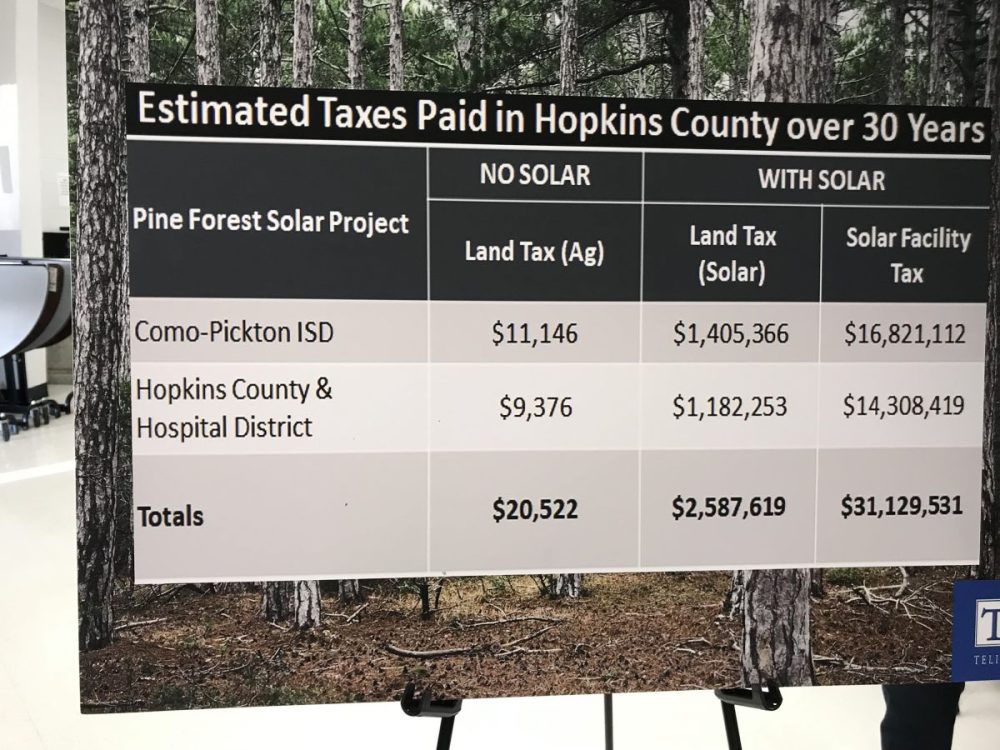 The Pine Forest Solar project, officials were told at the 2019 meeting, will cover 2,155 acres, and is dependent on the tax incentives from the county, school and hospital districts. It is projected to bring in more than $9,248,800 in revenue into Hopkins County over the 10 years of the tax incentives, Hopkins County Economic Development Corporation Executive Director Roger Feagley reported at the December 2019 meeting.
When the court approved tax incentives for PFSI, the agreement also included a stipulation that the business pay a specified fee the first year to help cover cost of any damages to county roads during the construct phase of the project.
The annual payments the county is projected to receive for the project are estimated to be $342,000 a year. The first year with the road maintenance fee, the county would receive just over $514,300. Over the 10 years of the agreement the county would receive over $3.6 million.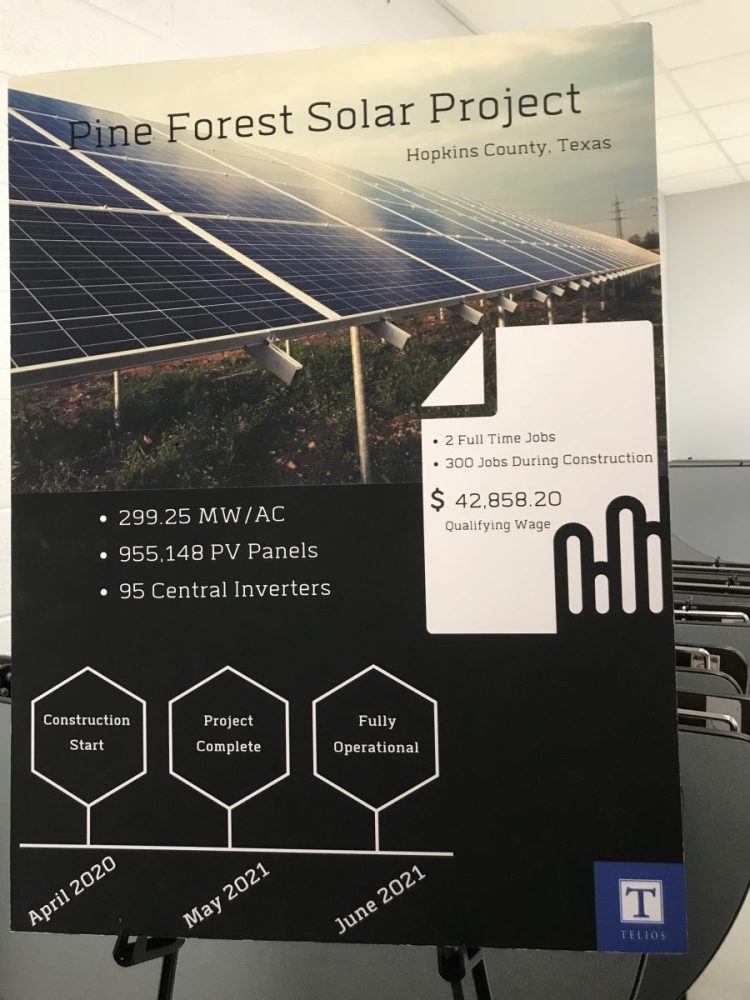 This project as proposed would bring in $110,000 to the hospital district annually, for a just over $1,104,900 over the 10 years of the agreement. Revenues for Como-Pickton CISD are estimated at more than $4,543,000, according to information provided about the proposed project.
The July 13 Commissioners Court Agenda also includes consideration of Texas Association Of Counties Health And Employee Benefits Pool (TAC HEBP) Plan For 2020 For Hopkins County, a "contract for transportation of mental health individuals" and a resolution related to the County Transportation Infrastructure Grant Program (CTIF).
The regular meeting of Hopkins County Commissioners Court will begin at 9 a.m. July 13 in the Commissioners Courtroom on the first floor of Hopkins County Courthouse, 118 Church St. in Sulphur Springs.
Immediately following the regular meeting the Commissioners Court is slated to adjourn to the third floor Meeting Room inside the courthouse to conduct a work session with the sheriff to discuss department operations, review revenues, expenditures. and proposed improvements and repairs presented for discussion The commissioners also have the option of conducting a budget work session as well.