With everything going on this year, CANHelp is switching to a scaled down, drive thru version of the fair. While we are going to miss the celebration aspect of the previous fairs, our goal is to still make sure the students have what they need for the start of school, whether at home or online. This year we are also including Yantis ISD students along with Hopkins County students.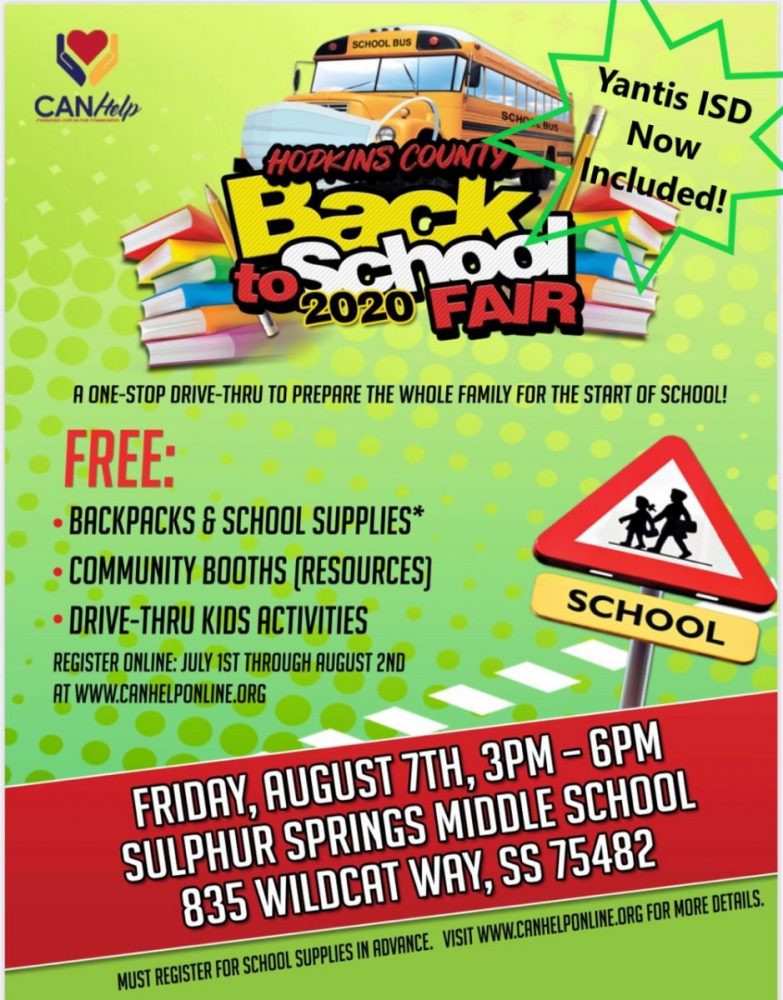 On an average year, we serve just a little over 500 students and as of now we currently have over 500 students registered and still have two weeks of sign-ups to go. There is great need out there for Hopkins County families and we still need our communities help! $25 will provide a backpack and supplies for one student. We are working with The Supply Kit again this year and they will be supplying all of the school supplies and backpacks, so monetary donations are what we are in most need of. If any organizations or businesses would like to sponsor or donate, we offer multiple sponsorship levels. All of the proceeds will go towards the purchasing of backpacks and school supplies. Any business or organization that would like to provide trinkets or information to the families, they can donate that as well. CANHelp is working to provide good bags for the families just like items they would normally collect at the back to school fair.
All donations and student registrations can be done on our website this year at www.canhelponline.org. Our offices are also open from 8am-4:30pm, Mon-Fri with available computers if families do not have computer access.
Also, if anyone needs to reach out to CANHelp for more information, they can email [email protected] and we will get back with them as soon as possible.
Shanna Martin, M.A.
Executive Director
CANHelp & 2-1-1 Texas North East Region
Phone: (903) 885-9797 ext. 1
Fax: (903) 439-2270