Hopkins County Historical Researcher Shirley Patchen has released her third book of historical research on Sulphur Springs. It's titled The Progressive City: History of Downtown Sulphur Springs 1914 and it's available at the Hopkins County Genealogical Society Library, 611 North Davis Street in Sulphur Springs, at a cost of $50. Already, there's a waiting list for those wanting a book from the next printing this summer! Shirley, accompanied by her research mentor John Sellers, shared a preview of the book on June 10, 2020 during the KSST Good Morning Show with Enola Gay.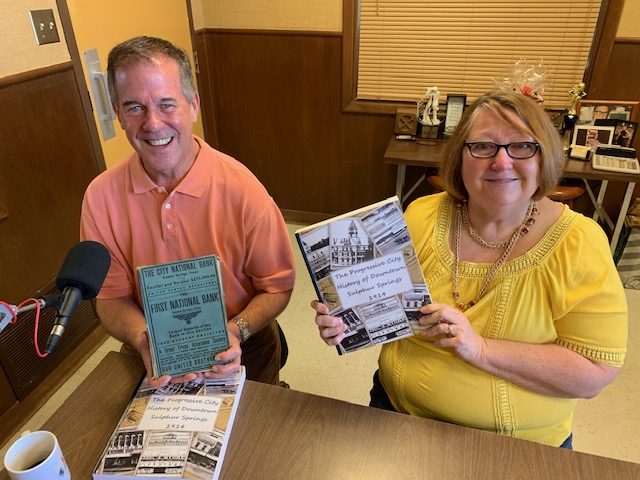 Shirley recalled, "when the HCGS (Hopkins County Genealogical Society) moved from it's Main Street address downtown to the new research library space in 2015, we had teams of volunteers who helped move and set up the collections and documents in the new space. I was assigned to the "business cabinets and vertical files" portion of the move. And we all practically lived there until we got everything sorted and organized! We found we actually possessed far more research material than we had been able to utilize before. That's where my interest in our early downtown business district actually began. And since 2015, I have worked on piecing together the material we already had with newly acquired information with a goal in mind. That was to present a warm, interesting and factual history of our town and the business people who formed it's foundation. We included a full name index of businesses operating here in 1914. We also included more than 200 photos of early businesses and business leaders, as well as many vintage business advertisements. With the help of other volunteers, it took four years of research plus a year of editing and proofing to get the book ready to be published. It is a large size, 459 page unibound labor of love!" The cover shows vintage photos of banks and storefronts. Sellers added that every volume comes with a removable map which numbers each storefront that was in business that year.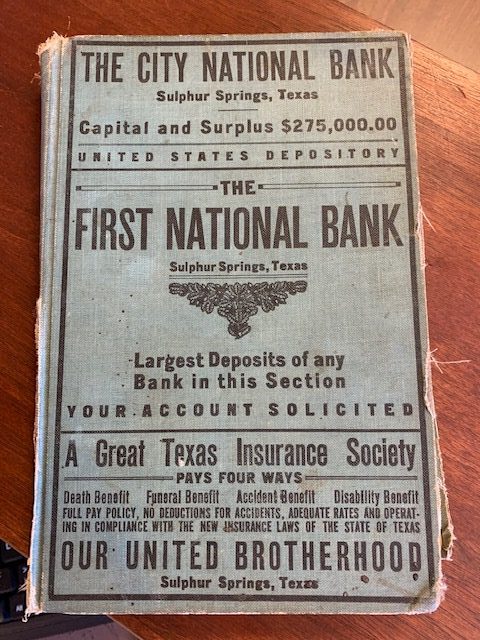 Sellers spoke about the work, saying "this publication is fully indexed as well as sourced, so that you can go online and read any source we cite. That would range from other research works, genealogical records and even newspaper articles from before 1900, thanks to sources like Portal to Texas History, the library at Texas A&M Commerce and many other reserves now available on the Internet. Because of the sourcing Shirley cited, this is the best-documented book our Genealogical Society has produced to date". It is actually Patchen's third book. The first one detailed 1898 Hopkins County business and the second one was a collection of the articles written by the late Sydney and Kenneth Brice. Both these volumes are also available for sale at the HCGS.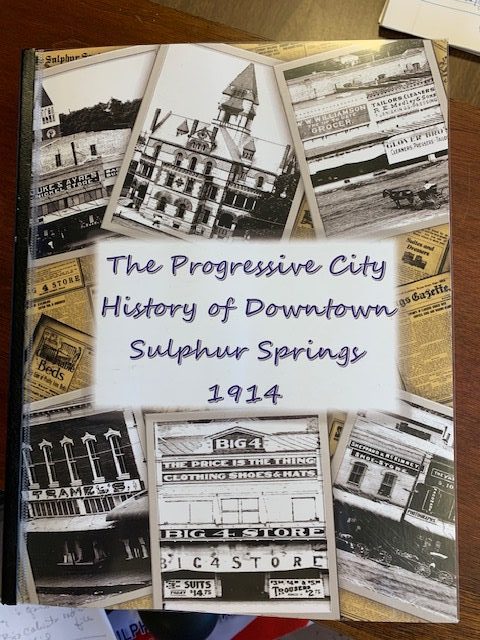 Shirley shared, "you'll discover some colorful stories and amazing history in this book, too, like the judge who died while presiding in court, and a secretary who shot and killed her boss! We had our own downtown Burger King, that was Mr. T.J. Swafford who was famous for his hamburgers"! Sellers continued, "we had 4 banks on the square plus 5 drugstores, 26 grocery stores, 3 movie theaters and 3 different wagonyards in a radius of the square that year. Sulphur Springs was a hub city, drawing people from miles around. A 1914 panoramic photo shows numerous storefronts with automobiles parked in front, making Sulphur Springs truly a progressive city. This book is more than a listing, it's got facts and details that flesh out the people who made up the downtown business community back then and the roles they played in the historical record. And the obituaries of prominent business people that were included make the book an aid to family tree researchers".
Cost of The Progressive City, History of Downtown Sulphur Springs 1914 is $50, and it may be purchased by contacting the HC Genealogical Library at 611 N. Davis Street in Sulphur Springs or calling 903-885-8523.
The book is perfect for home libraries and for gifts to others who have history with Sulphur Springs. It is Unibind steel spine bound with 459 pages (including 234 photos of early businesses and business leaders), a full name index, and a removable map depicting business locations during the 1914 era of Sulphur Springs, the county seat of Hopkins County.
The Genealogical Society Research Library is open Mondays, Tuesdays, Thursday and Fridays from 10am til 5pm, and closed Wednesdays, Saturdays and Sundays.