Registration Extended For Kindergarten 2-Way Dual Language Enrichment Program
Kindergarten through 3rd grade new student registration is ongoing at Sulphur Springs ISD. This is for new-to-SSISD students only. Parents of students already enrolled in SSISD in pre-kindergarten or Head Start are not required to participate in the Online Round-up, but do need to complete the Returning Student Registration with their family's Skyward Family Access account.
Currently, the district is offering face-to-face-registration by appointment and online registration also continues. New-to-the-district kindergarten through 3rd grade students will register with Patty Garcia, administrative assistant to the Assistant Superintendent of Elementary Education by emailing Ms. Garcia at [email protected].
Families interested in enrolling their kindergarten students in the Two-Way Dual Language Enrichment Program may continue the application process at this time as well.
Registration for all of these program had just gotten under way when the COVID-19 closures began. As school begin resuming limited activities according to the guidelines established by the state, SSISD will once again offer face-to-face registration. The Kindergarten Dual Language Two-Way application window for incoming kindergarten students wanting to learn English and Spanish has also been extended.
"We are scheduling appointments for parents to come in, face-to-face, to start and/or finish registration, submit student enrollment documents and conduct student screenings," said Kristin Monk, Assistant Superintendent of Elementary Education and Learner Services.
To register a student for kindergarten-3rd grade classes, or the kindergarten two-way dual-language enrichment program, parents will be asked to provide the following items:
Proof of residency within the district. One of the following must be presented in the name of the parent or guardian: a current utility bill, current rent/lease agreement, or mortgage statement.
Photo ID of parent or guardian
Student's official birth certificate
Student's social security card
Student's up-to-date immunization record
Note from a medical practitioner concerning student's allergy and/or health needs
Custodial documents or court order, if applicable
Any additional pre-k and Head Start enrollment questions should be directed to Rita Taylor, Head Start specialist, at Douglass ECLC, located at 600 Calvert St. in Sulphur Springs. Ms. Taylor can be reached by phone at 903-885-4516 or email at [email protected].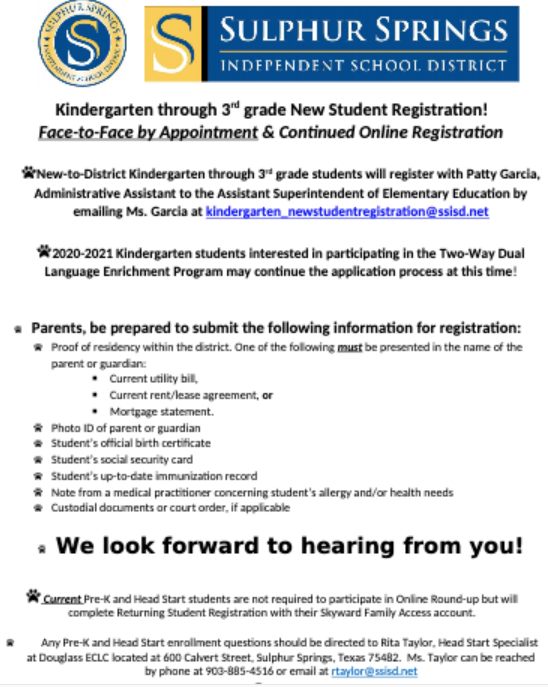 ---