Some of the slab from an old nursing home and most of the old Thermo mine silo have been earmarked for future use — in city streets. By recycling old concrete from other construction projects, the City of Sulphur Springs anticipates saving thousands of dollars in materials and other costs for street repairs, according to Sulphur Springs City Manager Marc Maxwell.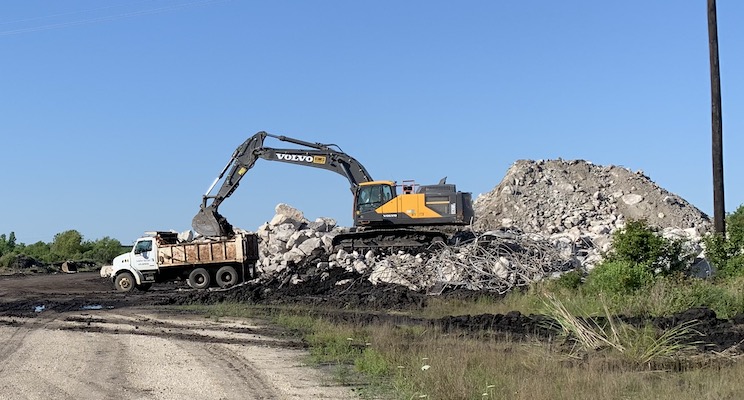 In recent months, the city has had two structures demolished, the former nursing home building on Oak Avenue, to allow for construction of a new Senior Citizens Center, and a silo at the old Thermo mine.
As much as possible of the foundation for the concrete slab the old nursing home sat on will be reused to create a parking lot for a Senior Citizens Center to be constructed on the property. The concrete that could not be salvaged for this project were designated for removal to the city's stock yard, where the pieces of concrete will be added to the stockpile for future use in street improvements.
In April, the city also had the old Thermo mine silo demolished. The concrete from the silo, estimated to be about 7,000 tons, has been relocated to the stockpile over the last 2 weeks as well. Once the pile is big enough, it will be crushed and reused as road base.
That's not the only concrete the city is reusing.
"If we tear up a road or sidewalk, curb or gutter, what we take out has value," Maxwell said. "It makes fantastic road base. When we buy road base from Oklahoma, it costs about $24-28 a ton to buy and deliver. We are saving money doing it this way."
Recycling the concrete overall saves the city about $11.50-$12 a ton instead of $24 a ton — including $8.50 a ton to crush it.
Once the city piles up about 34,000-40,000 tons of concrete, a company is called in to crush. Once crushed, it can be used in road building and repairs. The crushed concrete, put down on the road bed with water, typically sets up well, to help provide a good foundation on which to build a road. While the recycled concrete doesn't set as hard as new concrete, it makes a good base for asphalt or concrete, the city Manager noted.
The City of Sulphur Springs will also accept at no charge to contractors loads of torn up concrete at the city stockyard. For instance, if a contractor working on I-30 had to break up the road and had pieces of concrete left from redoing roads, or if a building contractor needs a place to take concrete from a torn out foundation, that broken up concrete can be taken to the city stockpile. The business should contact city officials at 903-885-7541, before arriving with a load of concrete to dump, however.