Three additional confirmed new COVID-19 cases and seven additional recoveries were reported in Hopkins County over the last week. Only 13 new screenings were conducted during that time, leaving 131 test results pending, according to the weekly Hopkins County COVID-19 testing update provided June 17 by Hopkins County Hospital District COO/EMS Director Brent Smith.
The fewest number of new positive COVID-19 cases during a 7-day period in the last month was reported April 17. Overall, the 3 new cases pushed the overall total to 43 COVID-19 cases reported by the local emergency management team since mid-March. However, as has been the case in recent weeks, the DSHS/Health and Human Services website shows 44 total cases in Hopkins County.
The number of Hopkins County residents who have recovered from COVID-19 nearly doubled, however, from 8 to 15 in Hopkins County, according to Hopkins County Emergency Management Team and Smith's report.
Smith defines recovered cases as those released under the Centers for Disease Control guidelines and a Local Health Authority. All guidelines can be found on the CDC website, https://www.cdc.gov, or Texas Department of State Health Services website, https://dshs.texas.gov/coronavirus/.
The June 17 DSHS/HHS report shows an "estimated" 22 Hopkins County residents as having recovered from COVID-19. "Recovery and active case data by county lag data on other tabs by one day, and include publicly reported recoveries by local health departments," DSHS/HHS reports.
Testing rose from 181 total screenings conducted on April 28 to 897 total screenings on May 27, then increased to a total of 924 tests on June 3, including two mobile test screenings conducted for Hopkins County residents (one each in April and May). There were only 34 new screenings sent for testing from June 3 to June 10, and in the last week only 13 new screenings were sent for testing. That's a total of 971 individual tests of individuals who reside in Hopkins County who met criteria put in place by DSHS and the CDC for screening, according to Smith's June 17 report.
Of the 971 total screenings of Hopkins County residents that have been conducted since March, 782 tests have come back negative for COVID-19, up from 648 on June 10.
"Some private businesses and health facilities have used private organizations to screen their workers, those numbers are not represented in this press release as they are not required to report the information to the Hospital District. Their information is only reported to Texas Department of State Health Services (TX-DSHS)," Smith noted in the June 17 Covid-19 testing update.
Also, there have been no recorded coronavirus related deaths in Hopkins County since the pandemic began in mid-March, according to the HCHD/EMS report and the DSHS/HHS report.
As of 10:30 a.m. June 17, 131 test results were still pending, down from 270 pending on June 10.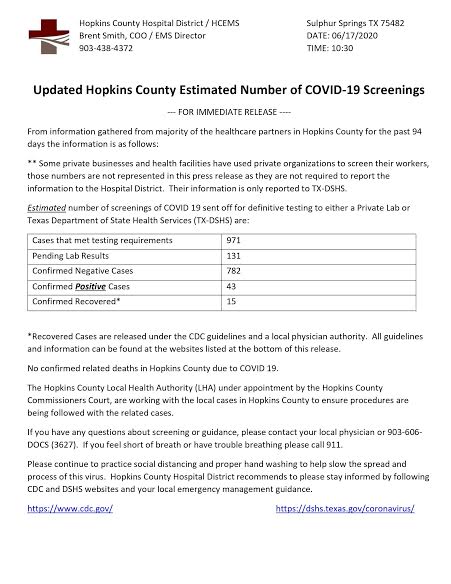 ---