On June 21st the Texas Department of State Health Services has reported that another person has died in Hopkins County due to complications of COVID-19. This is the second death reported from the state health authority. No more information is known about either one of the cases or patients at this time. On June 20th, the first death from COVID-19 was reported by the state, and confirmed by county officials but the Local Health Authority of Hopkins County is challenging the determination as the patient had underlying health conditions.
The State website shows that 2,182 Texans have died from COVID-19 since the pandemic began and 240 out of the 254 counties in the state have had at least one person testing positive for the coronavirus. Almost half of the counties in Texas (126 out of 254) have recorded at least one death as well.
The Texas Department of Health Services website shows positive cases, deaths, and recoveries by county. That website can be found by clicking here: TSDHS Covid-19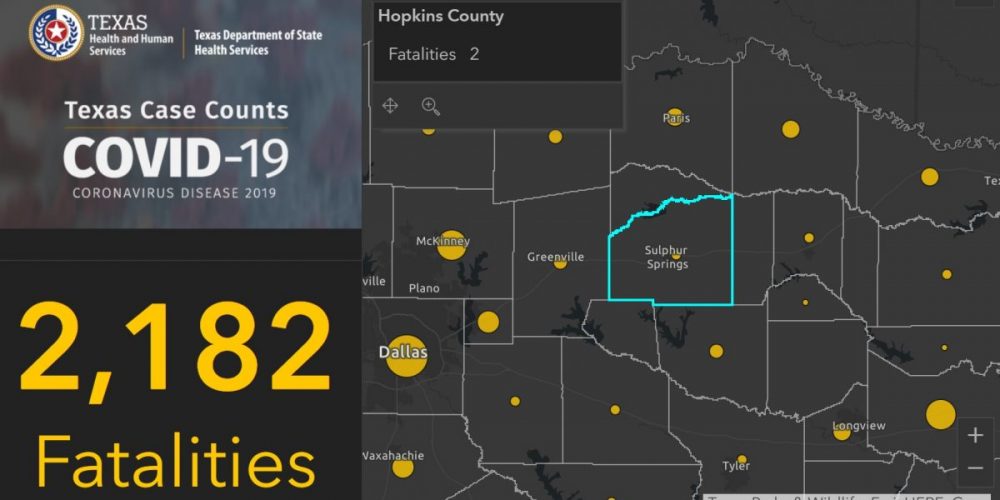 Hopkins County had been showing a positive turn this past week as 5 new positive cases were reported but 12 recoveries were reported as well. That changed for the worst over the weekend as the first death (although disputed) was reported along with two new positive cases on Saturday. So far, Hopkins County officials nor the Local Health Authority has confirmed knowledge of this second fatality reported by the state, as the flow of information from the state back to the counties is less than ideal.
---