Hopkins County Commissioners Court considered a number of items during their regular meeting Monday morning, June 22. The Commissioners Court approved a lease agreement for a backhoe, reappointment of officers and reorganization of some duties at the fire department and related budgetary amendments, security agreements for four county facilities, agreement for fireworks on the 4th of July, and inter-local agreements with 2 neighboring counties.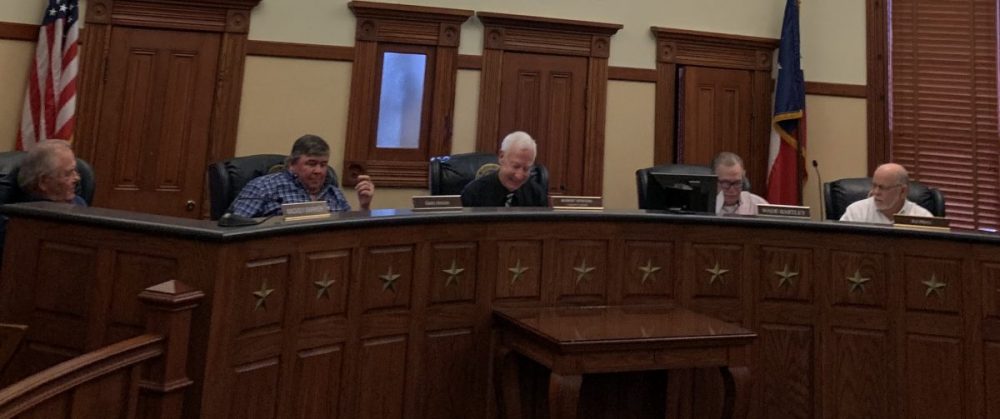 Equipment Lease
Hopkins County Precinct 1 Commissioner Mickey Barker asked the other members of the court to consider approving a 3-year lease agreement for a $112,750 backhoe. He said he plans to trade in one piece of equipment which would cost more to repair that it's worth to apply toward equipment lease agreement. At the end of the 3 years, he'd have the option to purchase the backhoe.
The item will be leased from Asco Equipment through BuyBoard purchasing cooperative at a 7.10 percent interest rate. The equipment would be warrantied for the full 3 years, for up to 650 work hours per year. if there are any mechanical issues, the company will fix the problem and bring another loaner unit while it's being repaired, Barker reported.
Barker said he anticipates by leasing the backhoe instead of purchasing it saving money on cost of repairs.
Precinct 3 Commissioner Wade Bartley pointed out that new equipment purchases are typically warrantied.
Precinct 4 Commissioner Joe Price also noted that when purchased new apparatus normally comes with a warranty from the factory.
Auditor Shannah Aulsbrook said she is concerned the high interest rate will outweigh any amount he might save in repairs costs.
Bartley asked who would be responsible for routine maintenance for the leased equipment. Barker said the company would pay for the first time for sure, but the county would be responsible for costs of routine maintenance, otherwise.
Barker said in his experience Asco is a good company to do business with.
The Commissioners Court approved the lease agreement and financing of the backhoe for Precinct 1, as well as trading an old piece of equipment from Precinct 1.
Fireworks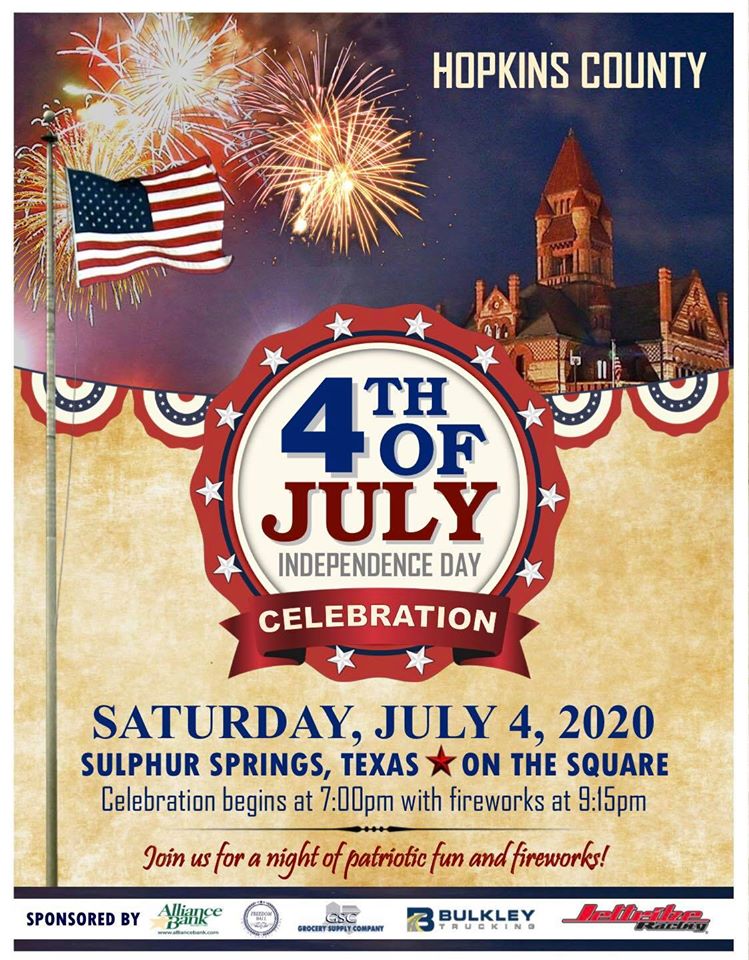 Also approved by Hopkins County Commissioners Court was an agreement with Pyrotecnico Fireworks Inc. to provide a fireworks show on the 4th of July.
While the county is sponsoring Independence Day celebration with fireworks to be launched from just off the square, it won't cost the county any money, thanks to contributions from private businesses. Grocery Supply Company and Alliance Bank will each be contributing $5,000 to pay Pyrotecnic to provide the fireworks display, according to the county judge.
"We appreciate these two businesses and others who will be involved in the night," Hopkins County Judge Robert Newsom said.
County Treasurer Danny Davis said while the night is offered as a free family-friendly community event, the public will be asked to follow established health standards as recommended due to the COVID-19 pandemic.
Jettribe Racing will be providing over 2,000 masks throughout the night in keeping and those attending are encouraged to follow the minimum standard protocols issued by Governor Greg Abbott regarding social distancing. Bulkley Trucking will be sponsoring the band Calvin and Calvin and One Republic will be providing cold water, according to Davis.
Newsom noted the Hopkins County Freedom Ball too has stepped up to assist with the Independence Day Celebration.
Security Systems
Hopkins County Commissioners Court also approved security proposals from Firetrol Protection Systems for four county facilities.
Hopkins County Sheriff's Office Chief Deputy Tanner Crump explained this will extend the security monitoring systems already in place at the 3 new District buildings and recently at the Justices of the Peace building.
The security systems would be installed at Hopkins County Clerk's Office/Records Building and Hopkins County Courthouse first, with funding to be paid out of the current budget. The security systems for the Civic Center and county fire station would be installed later, billed for payment during the 2020-2021 budget which beings in October. Approving the agreements today locks the cost at the June 22 price, the county officials reported.
The cost will be more expensive for at least one county facility, where access controls will also be added to allow county employees to swipe a card or badge to gain entry to the building The commissioners approved the agreements. The cost for the systems was not given during the meeting.
The equipment is installed by Firetrol but is monitored at the sheriff's office. This should provide for a much quicker response system, according to Newsom and Crump.
Previously, any alarm system in place would go to a monitoring company, where a representative would then determine who to contact and call that agency, where a dispatchers could then send an officer as needed. Crump said could delay response by 10 minutes.
If an alarm is sounded via the Firetrol system, the alert goes directly to Hopkins County Sheriff's dispatchers so that the closest officer, whether city or county, can be sent to the location immediately to check out the situation.
For instance, an alarm is sounded at one of the county buildings. The alarm goes directly to the sheriff's office for dispatch of an officer from the closest available agency.
"I really think this is a big step. The fire station has no system that's workable," said Newsom. "I'm excited for more security for Hopkins County buildings."
Fire Department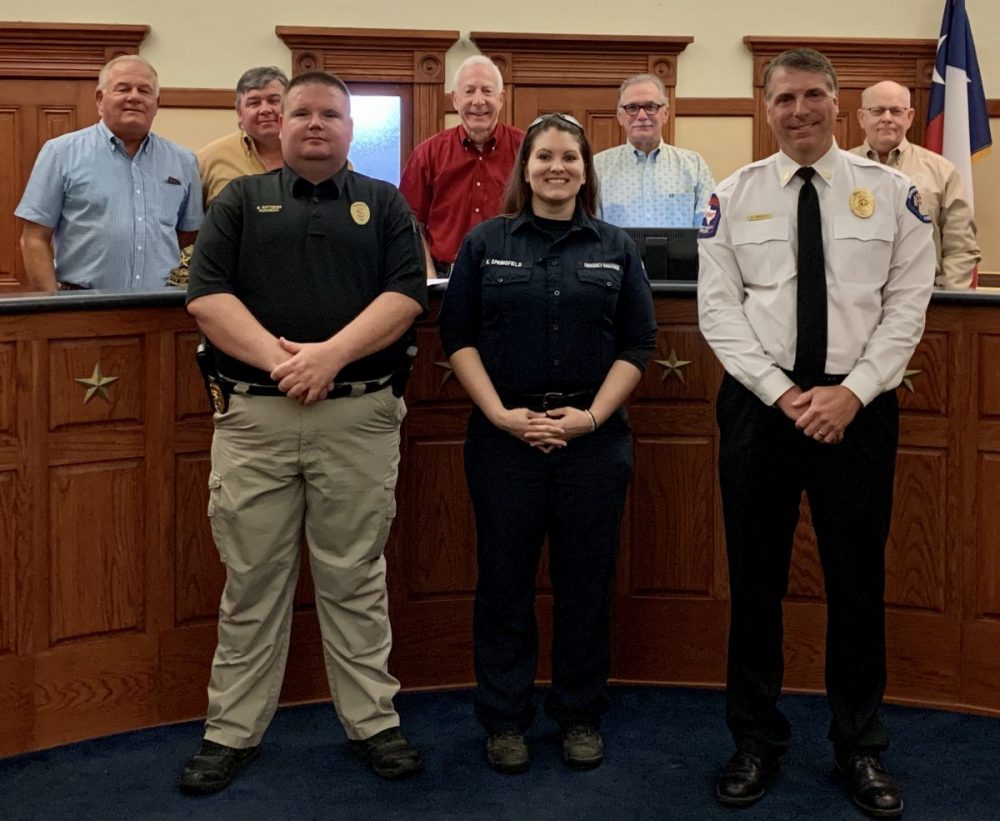 Andy Endsley was reappointed as Hopkins County fire chief and emergency management coordinator. Mike Matthews was reappointed as county fire marshal and appointed as assistant emergency management coordinator. Kristy Springfield was officially appointed as deputy emergency management coordinator as well as designated representative/inspector for Hopkins County.
The county officials explained that the appointments are for 2 years, and it is time for reappointment of both Endsley and Matthews. Springfield was officially designated.
Endsley noted that Matthews also will be taking over environmental duties for the county, replacing an employee that was dismissed. Eventually, Endsley said, the fire department is looking to move the county fire marshal, emergency management and environmental offices under a Homeland Security umbrella, while still being part of the fire department. This should not only help streamline these departments and make them more efficient, but should also qualify the department for additional grant funding as well.
Matthews will receive training for additional duties as soon as a 3-day inspector class is available; currently the course isn't offered until August. Springfield has picked up inspection of aerobic septic systems.
Bartley expressed concern regarding appointment of both Matthews and Springfield's to two-year positions, as county officials are not expected to begin working on the county's 2020-21 budget for a few weeks. He questioned whether the county is "jumping the gun" by appointing them now instead of waiting until funding for those offices has been approved in the budget.
"What I understand is funds budgeted for the previous employee are still available," Barker said.
"We'll have to do a budget amendment to change the positions within the budget and name the position that he's going to be paid under, but it's not going to be affecting money," Aulsbrook said.
"We have to be able to designate where that money is going to so there has to be an approval for that," Davis added.
Matthews' pay as fire marshal has been paid for out of the fire department's part-time budget. The funding for a litter abatement officer and an inspector will now be redirected to the fire marshal and environmental officer/enforcement.
Barker said like Bartley, he wondered if the matter shouldn't be discussed more in budget planning before the new appointments are approved.
Aulsbrook said for the officer to be paid now for the job being done using those funds, a budget amendment is required to designate the funding appropriately.
"The COVID CARES Act has helped the county. I know there are counties not even taking advantage of it. But it has helped the county in that, as you came in this morning, you'll notice your temperature was taken by an officer there at the door. That's in all of our courtrooms. Those people are actually being paid for by the CARES Act. I think Kristy, and perhaps Mike, also have been paid for through the CARES Act. Much of their salary has been since the middle of March," Newsom said, offering credit to the auditor's office and human resources departments for making the most of the federal money that has been allotted to Hopkins County.
The county judge also noted having Matthews and Springfield perform multiple duties fits with the direction the county is currently striving for.
"I like the idea of cross training. We're trying to do that in every department in the county. We're cross training so we don't ever lapse if somebody gets sick or something happens, someone else can step right up," Newsom said. "There is so much happening in Hopkins County. We need to be on top of this."
Having both Springfield and Matthews trained will allow things to run smoothly. Designating Springfield as the county representative would allow her to conduct emergency management and certain other businesses should Endsley or Matthews either require to be out of town or unavailable.
For instance, when the state calls to report additional positive COVID-19 cases to the county, they will not release that information to just anyone. If Endsley and Judge Robert Newsom, the emergency management director, are out of town or unavailable to take the call, Matthews and/or Springfield would be available to take the call and make the appropriate notifications at the local level, Endsley explained.
The Commissioners Court agreed to change the budget to reflect the change in duties so that Springfield and Matthews can be paid for their work.
Inter-local Agreements
Endsley asked the Commissioners Court to consider approving inter-local agreements with Franklin and Hunt Counties. This would be similar to agreements with neighboring counties for mutual aid for fire protection.
In the event HCFD needs assistance, Hunt and Franklin County officials can provide advice and lend a hand if needed with environmental matters. And, HCFD would be available to assist in the two other counties if needed as well. If something were to happen to an employee during that mutual aid, the neighbor county would not be held accountable, according to Endsley.
When asked, the county officials assured Barker that the assistance would be on an "as needed" basis.
Endsley said he anticipates likely seeking similar agreements with other neighboring counties as well.
The court approved the inter-local agreements with Franklin and Hunt counties.
Consent Agenda
Also approved at the 9 a.m. meetings Monday, June 22, was the consent agenda, which included minutes from May 26 and June 8 regular meetings and work sessions, and multiple utility distribution requests.
Farmers Electric received county approval to construct electrical power distribution facilities which will cross County Road 2322, north of Spring Creek Circle in Precinct 2; County Road 3338, east of County Road 3341 in Precinct 3; County Road 1159, north of FM 1567 in Precinct 1; and 2310, at the intersection of County Road 2448 in Precinct 2.
North Hopkins Water Supply Corporation received permission to place an extension of approximately 2,600 feet of 2-inch water line on the west side of County Road 3504, west of County Road 3511, including three creek bores.
"This is one of the longest lists for this type of things we've had. Thing are starting to happen here again … that have to go either over or under our roads. Actually," Newsom pointed out, "there are many more coming that are new hookups. So there's a lot of things happening in Hopkins County and I am pretty excited for the future. People are starting construction and going forward."