The Tira City Council's Quarterly Meeting To Be Held Sunday, May 31
By Jan Vaughn
Tira Cemetery Association President Mick Petty reports that the association
officers have decided to cancel the 2020 Tira Homecoming due to the coronavirus risks. The annual event is normally held on the first Sunday in July. We look forward to gathering again in 2021.
Although we are not having the homecoming this year, the upkeep of the cemetery grounds still has to continue. Contributions are always needed and appreciated and can be mailed to the Tira Cemetery Association, c/o Jan Vaughn, Secretary/Treasurer, 776 FM 1536, Sulphur Springs, Texas 75482.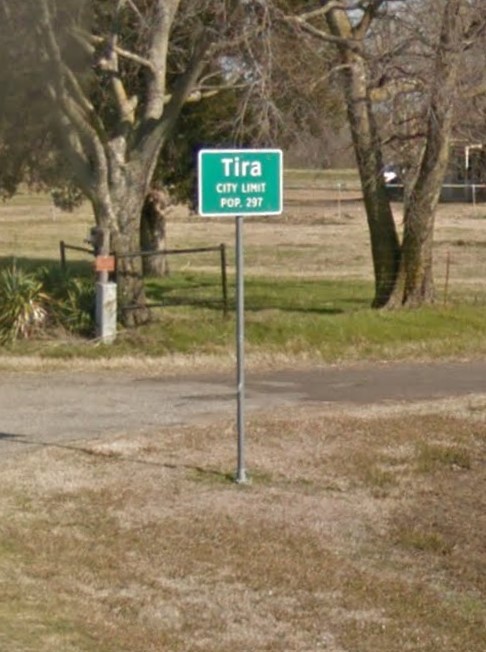 The Tira City Council will have their quarterly meeting on Sunday, May 31, at 4 p.m. A memorial plaque in honor of former Mayor John Hadley will be dedicated that afternoon. The Council will discuss the COVID-19 situation and decide whether or not to open the Tira Community Center in June.
Sasha Fernandez and her daughters, Lileanna and Melody, collected coupons, with the help of community members, and used them to shop for items for the Tira Food Pantry. They received some food donations, too. We want to express our appreciation for their generous contribution to the pantry. Sasha said they are still collecting coupons for their project. If you have some to share, please let me know and I will put you in contact with her.
Yvonne Weir reports that she drove to Dacy's last Tuesday evening and enjoyed riding with Eli, Elise, and Dacy "all around in the 4×4." She adds, "We ate on the patio and watched a sad movie." The next morning she went to Destri's in Sunneyvale. Yvonne and Destri's son Nicolaas went to visit Dustin and his daughter, Everly. Yvonne spent the night with Destri and returned home on Thursday.
Dustin, Natalie, and Everly Weir visited Robert and Yvonne on Saturday and
Sunday and Dacy came for a visit on Monday.
Mick, Linda, Rick, and Judy Petty had a hamburger dinner to honor Billy Joe
Clayton for his 89th birthday on Saturday, May 23. If you see Bill, wish him a belated happy birthday!
Our grandson, Kenden Joslin, was among the North Hopkins High School
graduates who had individual commencement ceremonies, due to restrictions on social gatherings. Our daughter, son-in-law, and granddaughter, Tiffany, Perry, and Jaidyn, came from Malvern, Arkansas on Thursday for his event. Kenden's graduation was celebrated with his girlfriend, Emma Hall, and a small group of family members. That
evening we had hamburgers, cake, and homemade ice cream in honor of his achievement. Joining us were Kenden, Emma, Tiffany, Perry, Jaidyn, Malcolm Joslin and his fiancée Melinda, and Grace Vaughn.
Perry had to return to Arkansas on Friday for work. Tiffany and Jaidyn stayed over for the parade for the graduates on Sunday afternoon at the North Hopkins School. Tiffany left on Monday and Jaidyn stayed with us. She visited her friends, Megan and Bella, and spent the night with them. We picked her up the next morning and headed to Malvern, so that Chip could help Tiffany and Perry with some home projects on Tuesday and Wednesday. Grace's daughter, Linda Ellen Vaughn, came to stay with her while we were gone. Jaidyn, Tiffany, and I spent some time at the park by the Ouachita River while the men were working at the house.
I always need and appreciate input from my friends to help keep me informed of news in our community. If you have any news pertaining to Tira residents, past or present, please contact me, Jan Vaughn, at 903-438-6688 or [email protected]


---