COMMERCE, TEXAS— While the world fights the COVID-19 pandemic in many different ways, former Texas A&M University-Commerce public health students are helping their communities on the front lines and gaining first-hand experience in their fields.
Edward Monroy is a 2019 graduate from Fort Worth, Texas, who received his degree in public health at A&M-Commerce. He began his graduate studies at the University of North Texas Health Science Center, but the onset of the current pandemic has caused him to use his skills in an additional capacity.
"The Tarrant County Health Department approached our graduate program seeking any volunteer help we could give," Monroy said. "I agreed to volunteer in the fight against this pandemic."
Now, Monroy devotes at least 20 hours per week with his home county health department as a contact investigator in the county's epidemiology department. This means that when someone in the county tests positive for COVID-19, he is called into action to investigate where this person might have contracted the virus, where they have been since and who else they have been in contact with, among other things.
"The main goal is to find out when and where they got the virus so we can determine who else is at risk or may have been infected to help slow the spread," Monroy said. "We can also connect patients with vital resources they may need."
He and about 60 other students from UNT's Health Science Center are volunteering their time to Tarrant County, which has been no small task. According to the most recent data on April 30, more than 2,000 positive cases of COVID-19 were reported in the county.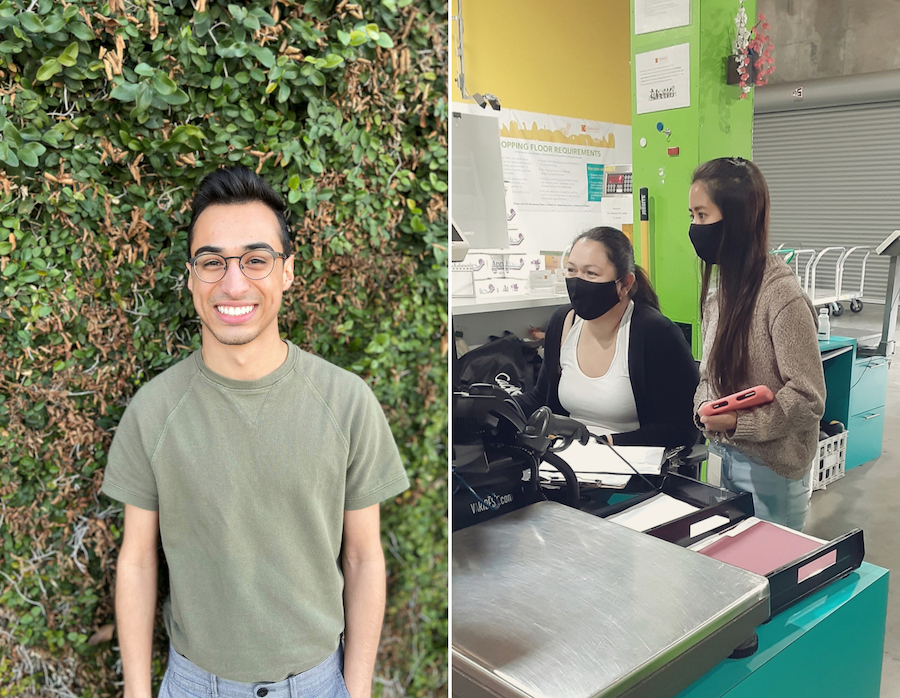 Monroy says that while the current situation is challenging, the education he received at A&M-Commerce prepared him well.
"I feel like anyone who received a public health degree at A&M-Commerce is capable of handling what I do and more," Monroy said. "I feel like I am well prepared to help this community."
He adds that working on such a personal level with patients has taught him to be more empathetic. "This pandemic has really tapped into the human element of why we do what we do," he said.
Another alumnus is also making waves in her community more than 1,700 miles from Commerce. Betzy Mundo is a 2019 public health graduate from A&M-Commerce. The Garland, Texas, native started her career as program coordinator with the Alameda County Community Food Bank in Oakland, California, less than a month ago, right as the pandemic was causing mass closures across the world.
"There have been some struggles so far," Mundo said. "Half of our team is working from home, and we are missing a lot of the volunteer effort that the food bank is used to having."
Alameda County is also feeling the effects of COVID-19, with more than 1,500 confirmed cases as of April 30. In response, Mundo and her team have made changes to their operations to meet residents' needs.
"We have set up a drive-thru distribution system that limits the amount of contact between people," Mundo said. "It helps us continue to give in a safer manner because the need is still so great."
She added that from the first to second week of the new system, use of the drive-thru increased ten-fold.
Mundo says that her education at A&M-Commerce taught her to go past what is taught in a classroom and be proactive.
"My education as a public health student at A&M-Commerce taught me to go beyond the textbook," Mundo said. "This school gives you many great opportunities if you are willing to take them."
Dr. Elizabeth Wachira, assistant professor and director of the public health program at A&M-Commerce, stated that the current pandemic is a learning experience for students.
"The best way to learn about public health is to simply do and be public health. Our alums during their studies have the opportunity to make an impact in and outside our campus community to promote public health," Wachira said. "It is exciting, though not surprising, that they have 'boots on the ground' to serve and use their knowledge to meet the demands at this time."
---