Child Care Centers, Youth Clubs and Sports, Personal Services Businesses Allowed To Reopen Immediately
Texas Governor Greg Abbott, in a televised press conference Monday, March 18, outlined plans Phase 2 plans to reopen Texas following closured due to the COVID-19 pandemic.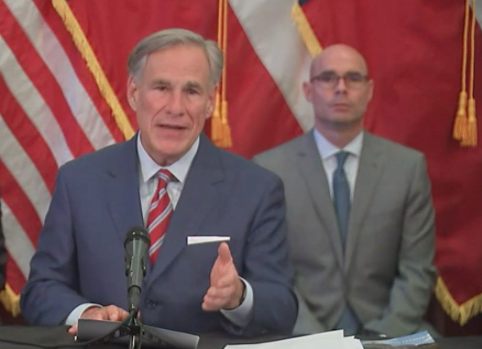 "Let me be clear, COVID-19 still exists in Texas. Our goal is to find ways to coexist with COVID-19 as safely as possible," Abbott said.
Texans can do this by continuing the safe practices they have already adopted, including social distancing, wearing masks when out in public and sanitizing hands, Abbott said. These safety practices can help to save lives, especially the lives those most vulnerable to COVID-19 — individuals age 65 and older, particularly those who may have other health conditions. This is the demographic with the deaths among Texas COVID-19 fatalities, the governor further noted.
Abbott noted several businesses re-opened as scheduled today, and others are also approved reopen. Included among the businesses and places authorized to reopen immediately (effective May 18), provided social distancing and health standard are followed, are:
Gyms
Offices
Manufacturers
Child Care Centers
Massage and Personal Care Beauty Services (Tattoo studios, piercing studios, hair removal services and hair loss treatment and growth services are included, provided there is the requisite 6 feet between work stations)
Youth Clubs (ex. Boys & Girls Clubs, YMCA)
Youth Services
Beginning May 22, additional openings and expanded capacity were announced.
Restaurants in most cities that were open at 25 percent in-person capacity during Phase 1 of the Reopen Texas plan may now open at 50 percent capacity. Hopkins County has been allowed to open at 50 percent because the county at maximum has had only four active cases since May 1, per the term set of five or fewer cases.
Bars and wine tasting rooms across the state may reopen at 25 percent capacity starting May 22, the governor reported, this limits does not apply to outdoor areas that maintain safe distancing, Abbott said.
Bowling alleys, bingo halls, skating rinks, rodeo and equestrian events, aquariums and natural caverns can open at 25 percent capacity May 22. Drive-in concerts are allowed provided that participants remain in their own vehicles. Also, outdoor areas of zoos may operate up to 25% capacity beginning May 29.
Hopkins County Judge Robert Newsom said it is his understanding that because Hopkins County continues to have a low active case rate Hopkins County businesses can re-open at 50 percent, but encourages them to review the state guidelines set for their specific types of business to be in compliance with those stipulations.
"Counties with five or fewer active case counts can file proper attestation forms with DSHS to allow for occupancy limits to be 50% instead of the listed 25%," according to Governor's Executive Order GA-23.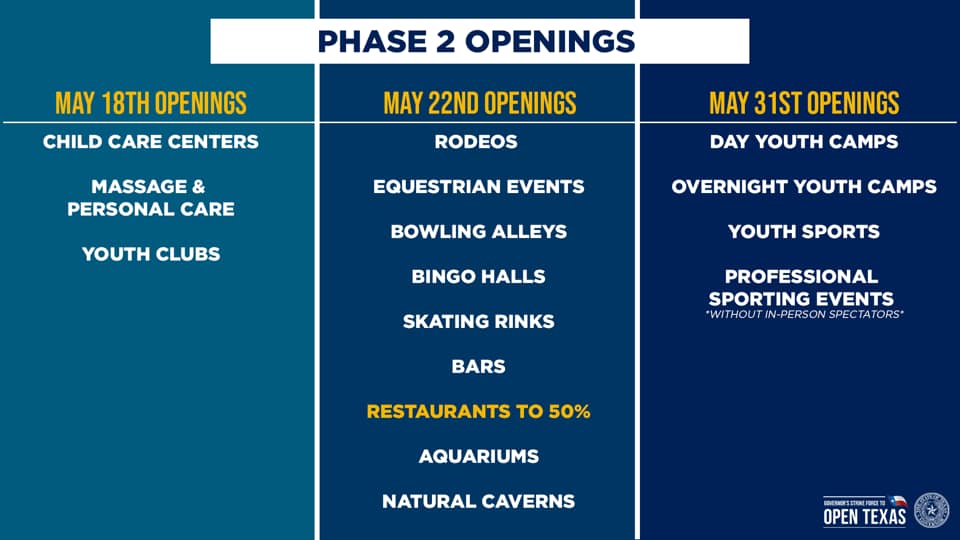 On May 31, youth sports camps and programs, including Little League will be able to open. Parents can participate as spectators as long as social distancing and health safety guidelines are followed, Abbott said during the May 18 press conference. While, youth sports programs may begin practices May 31, games and competitions may not begin until June 15, according GA-23.
Youth camps and all summer camps, day time and overnight camps, including those for scouting and Vacation Bible Schools may re-open, if the guidelines are followed.
Professional sports, including golf, auto racing, baseball, softball, tennis, football and basketball may also reopen May 31 without spectators, provided safety standards are followed.
Guidelines for businesses and organizations regarding these re-openings may be found on the Governor's website at https://gov.texas.gov/opentexas
Beginning June 1, school districts will have the option of offering summer school, so long as safe distancing and other health protocols are followed.
Texans are asked to avoid interactive amusement venues, including amusement parks and water parks at this time. Texans are also still asked to not visit nursing homes, state supported living centers, assisted living facilities, and long-term care facilities at this time, according to a release from the Governor's office.
There are some exceptions to these re-openings. Phase 2 re-openings planned for May 22 that "require a temporary pause in opening process" due to high growth rate of COVID-19 and to make sure hospitals are not overtaxed include El Paso, Randall, Potter, Moore and Deaf Smith counties. These are scheduled to begin Phase 2 re-openings on May 29, according to Abbott. The high rate in the Amarillo area is due to spread in jails, nursing homes and meath packing plants, according to Abbott.
Surge Response Team are sent to those areas to quickly provide tests, separate sick from healthy, and ensure the outbreak is contained including overseeing sanitizing.
Already thousands of workers at meat packing plants and residents in Amarillo area have been tested. The state is working to increase the number of tests being administered daily. With the increase in testing a spike in the number testing positive is expected, the Governor said. However, typically, based on recent data, within a week or two the flare ups are contained and the number of positive tests is reduce as are number hospitalized, Abbott said.
The Surge Response Team also is overseeing efforts to have 100 percent of all residents and staff at all nursing homes in Texas tested for COVID-19. Local fire departments are tasked with partnering with local health authorities for these efforts as well as infection control inspections.
"Texans always faced adversity and Texans always prevails," Abbot said, noting that Texas' COVID-19 fatality rate is one of lowest and recovery rate overall one of the best in country. "Now more than ever, we need to work together as one Texas. As we move into phase 2, be a good neighbor. Be a good Texan."
---