The annual Como-Pickton CISD Eagles athletic banquet, like many other activities, had to be canceled this year — victims of COVID-19 school closures and measures in place to reduce potential spread of the virus. CPCISD officials did not, however, let the tradition of honoring outstanding students and players. In lieu of a banquet, the Como-Pickton athletic award winners were announced on social media.
Awards will be mailed to recipients over the next few days, according to the school announcement.
This year's award winners include a few students who received recognition multiple awards.
The Iron Eagle Awards went to Lexi Busby and Braden Miller. Busby also shared the MVRunner award with Bailey Neal and was named Offensive MVP in girls basketball. Miller also shared the Ron Heflin Award honors in football with Jhonathan Mejia.
Jazmine Tapley was named Defensive MVP in girls basketball and received the Ron Helfin Award in softball.
Jackson Monk was named Defensive MVP in football and shared Ron Heflin Award honors with Kris Mayfield in baseball.
David Palacios was named MVRunner in boys cross country and Offensive MVP in boys basketball.
Como-Pickton Athletic Award Winners includes: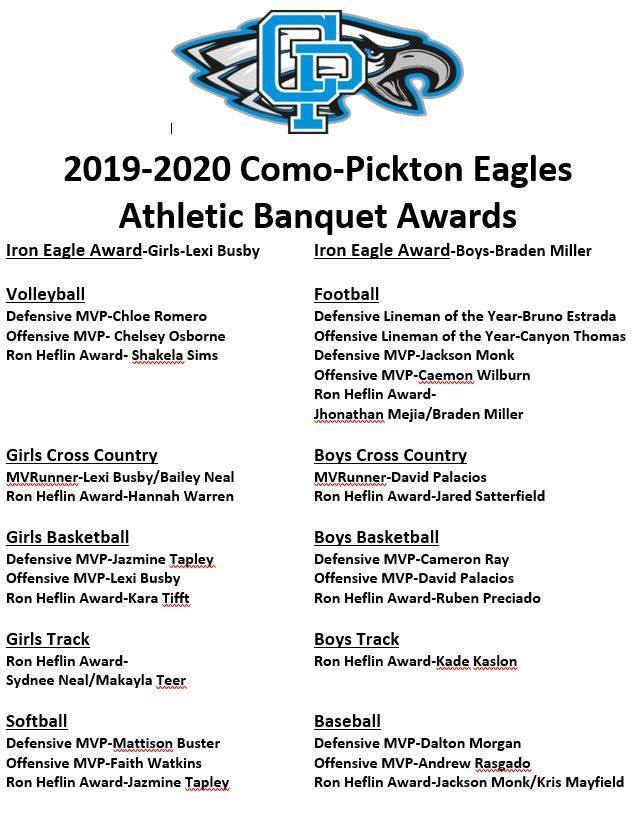 ---