The city's annual street improvement got off to a rolling start Thursday, with contractors beginning mill work on four city streets.
"This year will be the biggest effort into our street improvement program since the mid 2000s," said Sulphur Springs Community Development Director Tory Niewiadomski.
Overall, 19 street projects are scheduled for maintenance, for a total of 5.4 miles or repairs to city streets.
The expansion of mileage of repairs is due in part to the street maintenance fee paid on city utility bills, which provides an additional $500,000 annually for street improvements.
"The street maintenance fee is making it possible to overlay 11 of the 19 streets this year which is 3.52 miles of the program," reported Niewiadomski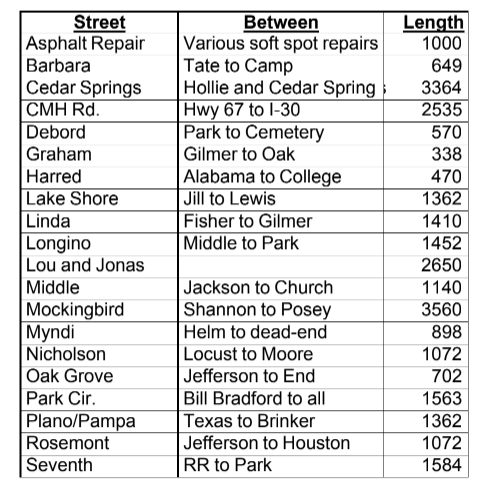 Streets made possible by the monthly maintenance fee include Barbara Street, Cedar Springs Road, CMH Road, Debord Street, Harred Street, Lake Shore Drive, Longino Street, Lou Avenue and Jonas Street, Mockingbird Lane, Myndi Circle and Nicholson Street.
The annual program rolled out Thursday morning with surface preparation and milling work performed by the contractor on Lou Avenue, Jonas Street, Lakeshore Drive and Debord Street May 7. Weather permitting, the contractor will begin paving prepped streets next week.