The Como-Pickton FFA Chapter may not have all been able to gather together in the same building Tuesday night, but that didn't stop them from holding their annual FFA Banquet. The CP FFA Chapter, working remotely put together a "virtual" banquet members could view online Tuesday night, April 28, on the chapter Facebook page to recognize and honor outstanding students.

Among only 60 selected as Texas FFA Foundation Ambassadors for 2019 were Sydnee Neal, Kara Tifft, Presley Cummins and Summer Gilbreath. They worked behind the scenes last year with sponsors, dignitaries and special guests at the Texas FFA Convention.
Presley Cummins, representing Texas, also received a silver rating at the National Dairy Cattle Handler's Competition. She shows registered Jersey cattle with the CP FFA Show team. She is a National Dairy Cattle Handler. Cummins also was elected to serve as Paris District FFA Officer.
Rhayne Thomas, an 8th grader actively involved in several aspects of the FFA program, was named Star Greenhand.
Junior Cindy Munoz, an active FFA member for the last 2 years, participating in several aspects of the FFA program, is this year's Star Chapter Farmer.
Summer Gilbreath, active in several aspects of the program, was named Ag Science Student of the Year. In addition to serving as a Foundation Ambassador, she has her level floral certification and was the CP FFA Challenge Contest 2019 Grand Champion. She is always up for a challenge and willing to lend a hand.

Sydnee Neal earned Star Lonestar Farmer. Her Supervised Agriculture Experience includes various ag mechanics projects that she built in woodshop. She also spent the last 3 years participating in Prepared Public Speaking, Ag Communication CDE and Public Relations.
Neal also received the Dekalb Award for agricultural accomplishment. She is an active FFA member, involved in leadership roles, teams and contest. She plans to join the Air Force with a focus in firefighting.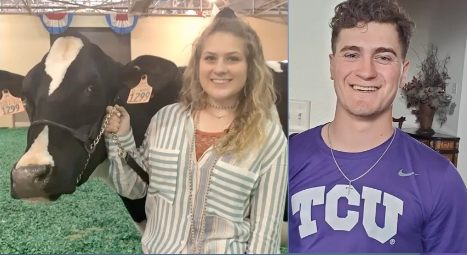 Como-Pickton FFA has two candidates, Presley Cummings and Parker Cummings, for the highest honor FFA bestows, the American FFA Degree. Presley attends Texas A&M University-Commerce and Parker attends Texas Christian University; both are majoring in nursing. If these students receive the degree, it will be conferred this fall at the national convention.
The Ag Co-Op Student of the Year is Carol Nabors, a senior FFA member. She always had impeccable records and which she kept up to date. She plans to continue her education at Tyler Junior college in the fall.
Breanna Bowen is a National Finalist in Dairy Production Entrepreneurship. She progressed through district, area and state competition to advance to the national finals, where she interviewed as one of the top four in the nation. Bowen is currently attending Tarleton State University, where she is majoring in agricultural communication. Her Supervised Agricultural Experience consists of registered Jersey cattle.
To see these and additional honors and recognition announced during the virutal banquet, including NETLA Ag Mechanics and Junior Market Show winners and participants, the 11 Skills USA state qualifiers, LDE participant and breeding show team, check out the Como-Pickton FFA Chapter Banquet on Facebook.
Scholarships, Tractorcade
All senior FFA scholarships will be announced along with all other senior scholarships. The current FFA officer team will continue to serve until an FFA officer election can be conducted.
While Como-Pickton will be unable to host the annual Tractorcade at the school this year due to COVID-19 in-person school closure, Como-Pickton FFA plans to host a virtual Tractorcade on May 8. Students who have tractors at home can participate by showing themselves on their family tractors. As details are firmed up, they will be posted on the CP FFA Facebook page.