COMMERCE, Texas — Who says a thesis needs to be a standard research paper? One student at Texas A&M University-Commerce undertook one of the most unique honors thesis ideas in recent memory, documenting her entire journey from adopting a wild mustang, earning its trust and then excelling in competition.

Nicole Glenn is a senior from Pflugerville, Texas in the Honors College at A&M-Commerce, majoring in Visual Communications with an emphasis in Art Direction and minoring in Equine Studies. She says that she didn't grow up around horses much, but one special day during her childhood cemented her lifelong dream.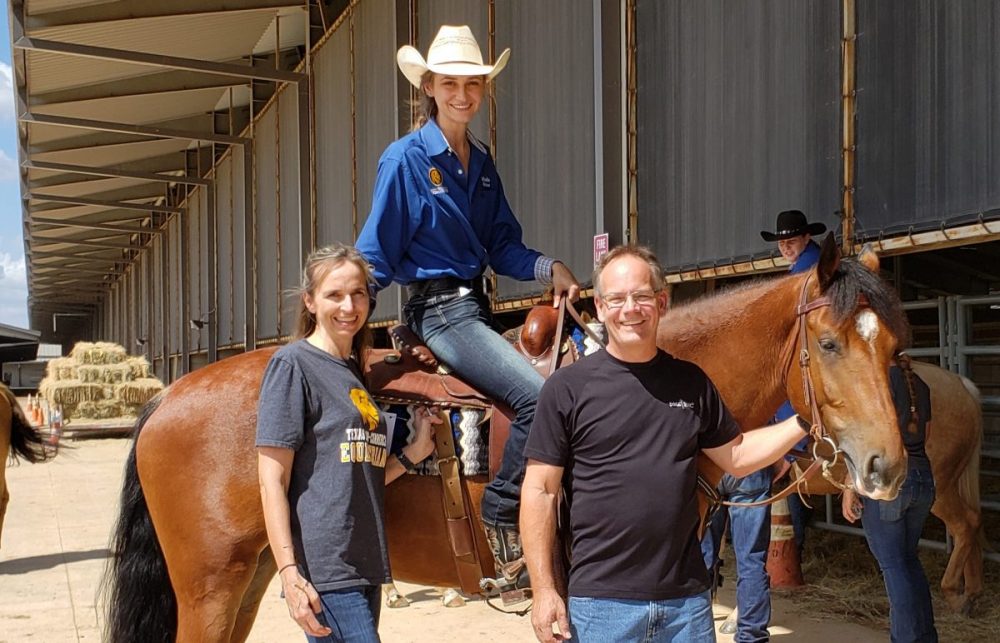 "I was taken to a wild mustang adoption day when I was in kindergarten, and I knew this was it," Glenn said. "I knew that this is what I had to do. It became my dream to adopt my own wild mustang."
Growing up, she took occasional horseback riding lessons and worked on a farm as part of a mentorship program in high school, but her dream still eluded her.
That changed when it came time to formulate an idea for her thesis project, a requirement of all students in the Honors College.
"For our thesis, we were encouraged to do something interdisciplinary, that combined multiple subjects," Glenn said.
It's safe to say she managed that aspect, as she fulfilled her lifelong dream of adopting a wild mustang and filmed her process of breaking, riding and eventually competing with said horse, turning the recordings into a half-hour documentary. The main goal was to show the feasibility of training wild horses, even with limited background knowledge.
She said that pitching the idea raised some eyebrows.
"[Honors College Dean] Dr. Green said that the Honors College has never had someone do something like this before, but they gave their blessing to it," Glenn said.
Glenn adopted her horse, named "Valentine," in February of 2018 at the Wild Horse & Burro Adoption Center in Paul's Valley, Oklahoma. It was a defining life moment for Glenn.
"I remember it so clearly still," Glenn said. "We just clicked. I probably have never been more emotional in my life."
In the early days, Valentine was kept by the Raine Family on their land in Sulphur Bluff, Texas. Glenn said that it was hard to keep her confidence at first.
"The biggest challenge was just knowing if I was doing everything right or not," Glenn said. "There are guides and tutorials out there, but still, every horse is different."
On day 3, Nicole began to have Valentine become accustomed to objects around and on his back. On day 25, he first wore a saddle. Day 28 was the first time Glenn sat atop Valentine's back.
Finally, on day 30, Glenn and Valentine had their first ride together.
"Finally having the first ride after so much work was amazing," Glenn said. "I felt like a kid in a candy store."
On the 61st day, Valentine was moved to A&M-Commerce's Mary Bonham Equine Pavilion, where he currently resides. This allowed for better facilities and training for the horse, and Glenn said the assistance from people like Equine Studies Instructor Nathan Wells and Assistant Farm Manager Lindsey Bernbaum was a tremendous help.
"The support we got from the Equine Studies Program was huge," Glenn said. "The professionalism of Nathan and Lindsey was an incredible help."
The months went by and the pair's bond grew. In September 2018, Glenn entered Valentine into the Extreme Mustang Makeover Open Show in Fort Worth, Texas. In that contest, Glenn and Valentine finished 2nd in Trail, 4th in Freestyle and 5th in Walk Trot Pleasure.
Now, Glenn and Valentine compete together on the A&M-Commerce Stock Horse team.
Wells, who helped train Valentine, had high praise for the dynamic duo.
"I have known Nicole throughout the process, and was blessed to have her as a student in several of my classes," Wells said. "She has worked her tail off with this horse and I am proud of her accomplishments."
Dean Dr. Ray Green also lauded the work that went into this project.
"One of the goals for our Honors College is to help shape the whole individual. Nicole's thesis exemplifies where this goal can lead," Green said. "In Nicole's journey to train her mustang and to shed light on the feasibility for others to do so she honed both her mind and her body."
Green continued: "Her hard work and determination led her to improve her skills in multiple areas including painting, filming and editing, and horsemanship. It was a joy to work with Nicole and to see the fruits of her labor."
Glenn presented her documentary and findings in a thesis defense on March 24, and passed her defense. She says that the most rewarding thing has been seeing the enjoyment the pair get from riding and competing.
"He takes everything in stride," Glenn said.
Glenn's documentary, "Wild Heart, Wild Ride," can be viewed for free here.