March 18, 2020

Given the rapidly evolving situation with COVID-19, Yantis ISD will extend the suspension of normal district operations through Friday, April 3rd in an effort to support our nation's need to slow the spread of the novel coronavirus, or COVID-19. Our health officials report that cases are continuing to spread in the state, and an increase in confirmed cases in our county seems likely. Suspending face-to-face operations and move to learning from home for this length of time will allow us to determine, in
coordination with local health officials, whether the virus is continuing to have community spread or whether it has been contained. We are coordinating with other school districts in the county and will inform you of any decision to further extend closure by April 3rd, 2020.
During this extended closure of our buildings you can expect the following:
ALL students and ALL children ages 18 and under will be eligible or a free meal daily. These meals will be available for pick up curbside at the cafeteria. We are working on the possibility of delivery as well.
All students will have access to school work. More information will be available as soon as possible. Please answer the call from your child's teacher concerning technology needs.
There is a tub of school supplies set up outside the cafeteria if you need them.
Remember you can get the latest information from the district at www.yantisisd.net, follow us on Facebook, and expect updates via our school messenger call system.
This is a quickly changing situation, and we will continue to monitor information, will assess conditions throughout the weeks, and will provide the next update via our website, Facebook and school all-call.
Thank you for your support and cooperation as we ensure that all members of the community in
Yantis stay safe and healthy.

Tracey Helfferich
Superintendent

I want to share this: West Grand Superintendent Darrin Peppard recently stated, "In the end, it will be impossible to know if we overreacted or did too much, but it will be QUITE apparent if we under reacted or did too little."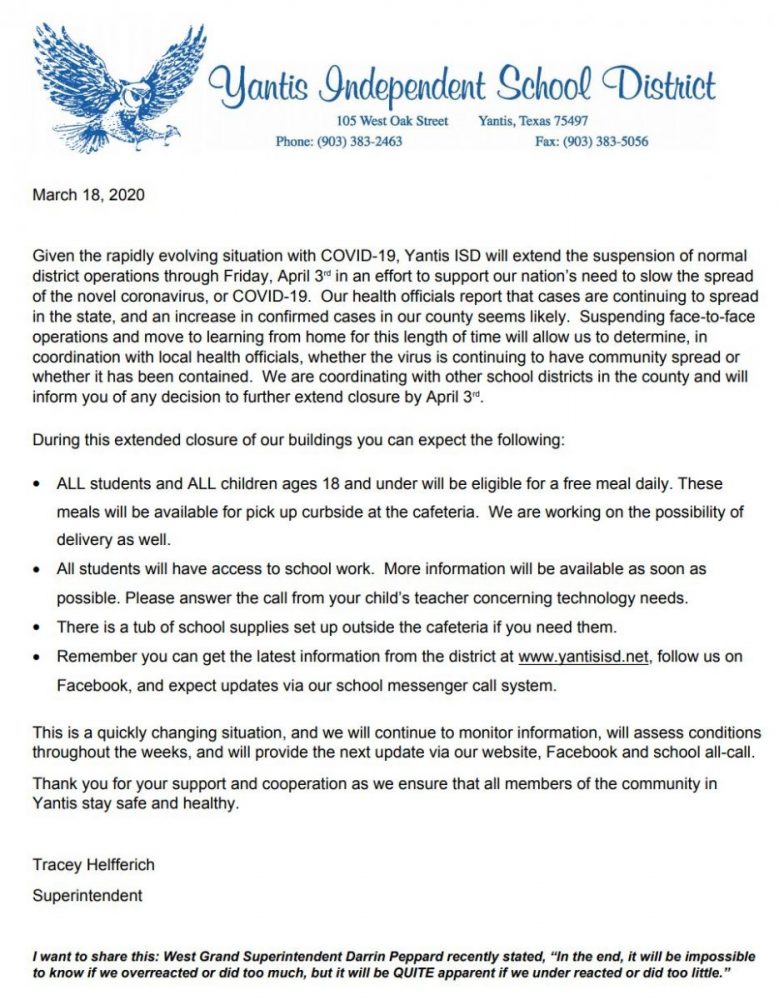 ---