A 29-year-old Sulphur Springs man was accused of choking, pulling a gun on and assaulting his girlfriend with a belt Tuesday night.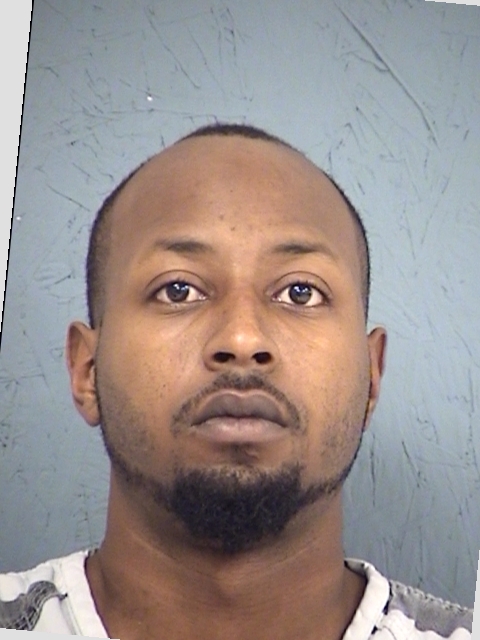 Hopkins County Sheriff's Office dispatchers received a complaint at 11:49 p.m. March 24 alleging that a Sulphur Springs man hit, choked, bit and pulled a gun on his girlfriend at his County Road 3507 address. The suspect, 29-year-old Courtney Devon Maxie of Sulphur Springs, was reported to have left the location in a purple extended cab pickup with temporary tags, and was possibly headed to Dallas, according to sheriff's and arrest reports.
Upon arrival, HCSO Deputy Bobby Osornio was reportedly told Maxie and his girlfriend had argued. The argument allegedly escalated, with Maxie choking the woman several times, causing her to lose her breath. Maxie too was accused of assaulting the girlfriend with a belt and pointing a pistol at her. He reportedly took the girlfriend's phone from her during the argument, rendering her unable to call for assistance.
Meanwhile, HCSO Sgt. Scott Davis and Cumby Police Sgt. Ray Embro located a purple pickup on Interstate 30 west at mile marker 109 and initiated a traffic stop. Davis reportedly identified the driver of the Chevrolet Silverado as suspect Courtney Maxie. A records check showed the man to be wanted on three Dallas warrants, the sheriff's deputies alleged in arrest reports.
Maxie was taken into custody at 12:40 a.m. March 25 on the Dallas warrants for violation of probation, which he was on for possession of 4 grams or more but less than 400 grams of a Penalty Group 2 controlled substance, possession of 28 grams or more but less than 200 grams of a Penalty Group 3 controlled substance and manufacture or delivery of 1 gram or more but less than 4 grams of a Penalty Group 1 controlled substance, according to arrest reports.
The 29-year-old Sulphur Springs man was then transported to Hopkins County jail, where he was also booked on an assault of a family or household member that impeded breathing charge for the alleged choking assault of the girlfriend, an aggravated family violence assault with a deadly weapon charge for the alleged use of the gun during the assault and an interference with an emergency request for assistance charge for taking the phone from the girlfriend.
Maxie remained in Hopkins County jail late Wednesday morning, March 25, 2020. Bonds on the Hopkins County charges total $102,500: $75,000 on the aggravated assault charge, $25,000 on the assault impeding breath charge and $2,500 on the interference charge. He was held on all three of the Dallas County charges, according to jail reports.
---
The Hopkins County Sheriff's Office is located at 298 Rosemont St., Sulphur Springs, TX 75482. Non-emergency calls can be made to (903) 438-4040.