Incumbent Remains on Primary Ballot, Eligible As Republican Nominee for General Election
U.S. Congressman John Ratcliffe reconsidered the President's nomination as Director of Intelligence because the President asked him to, the District 4 representative said in regard to President Donald Trump's announcement Friday that he has renominating Ratcliffe for Director of National Intelligence.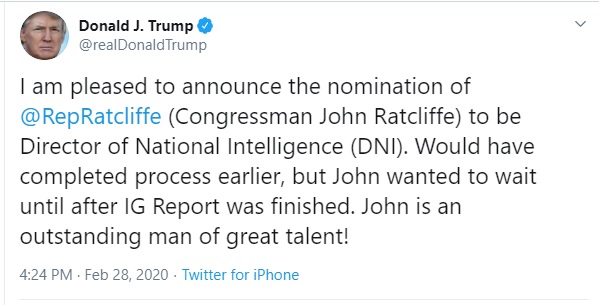 When Trump nominated Ratcliffe for the position last summer, some questioned Ratcliffe's resume, claiming it was padded. After less than a week, Ratcliffe withdrew his name for the position.
When asked about being renominated for the position and previous accusations regarding his resume, Ratcliffe said he reconsidered accepting the nomination because the President asked him to.
"I think when the President asks you to do something for your country you look at that. Just because someone in your business accuses you, doesn't make it true," Ratcliffe said over the weekend during his first interview since the nomination.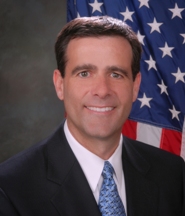 To critics who claim he's never had a job in the intelligence field, Ratcliffe said he's "been handling national security issues since 2005." Ratcliffe said he believes he's "demonstrated that I've been right on some of the most important issues."
"I think what we've seen is that some of our most experienced intelligence officials have gotten it wrong with respect to important issues," Ratcliffe said.
The District 4 representative said he believes his experience as "US attorney on national security issues as a legislator almost exclusively in this area" were important to Trump when he nominated him as intelligence director. Ratcliffe said he and the President have talked about his loyalty to the Constitution.
If confirmed as Director of Intelligence, Ratcliffe said one priority would be to "ensure the intelligence community becomes entirely apolitical."
The Director of National Intelligence serves as head of the 17 agencies and organizations within the U.S. Intelligence Community within the Executive Branch that work both independently and collaboratively to gather and analyze the intelligence necessary to conduct foreign relations and national security activities.
The DNI oversees and directs the implementation of the National Intelligence Program and acts as the principal advisor to the President, the National Security Council and the Homeland Security Council for intelligence matters related to national security. The President appoints the DNI, with the advice and consent of the Senate, according to the Office of Director of National Intelligence.