Mr. and Miss Paris Junior College Named
Paris Junior College sophomores Zach Norris and Rachael Gray were named Mr. & Miss PJC 2020 during halftime of the men's basketball game in the Hunt Center against Kilgore College.
Faculty and staff nominate students for this honor. The students must be graduating sophomores taking a minimum of 12 semester hours with at least a 2.75 GPA.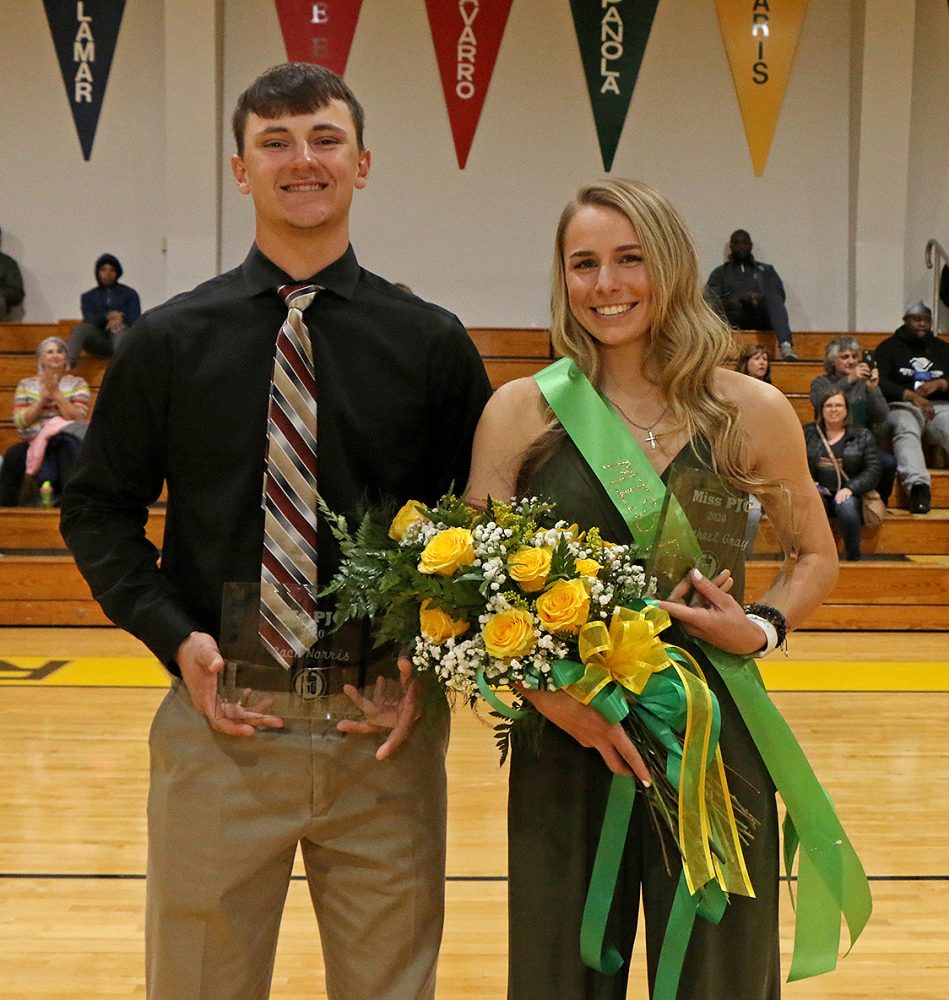 Rachael Gray, the daughter of Chip and Tracie Gray, is a 2018 graduate of Heritage High School in Midlothian. She is a member of PTK and the Student Government Association (SGA), as well as a two-year member of the PJC softball team. After PJC, she plans to attend university to become a clinical psychologist and continue playing softball.
Zach Norris is the son of David and Jolita Norris. He is a 2018 graduate of Paris H.S. and is a member of the PJC baseball team and PTK. He plans to attend the University of Texas – Arlington to continue his baseball career while pursuing a degree in exercise science to become a physical therapist.
Other nominees for Mr. & Miss PJC included:
Emily Nance, the daughter of James and Annabell Nance, is a 2018 graduate of Sulphur Springs High School. She is a member of PTK and the vice president of the National Technical Honor Society. She plans to become a dental hygienist.
Sydnee Hawkins, the daughter of John and Susan Mooney and Aaron Hawkins, is a 2017 graduate of Sulphur Springs High School. She is a Sophomore Representative with SGA, Officer of Service with PTK, member of Delta Psi Omega (drama honor society) and sang during both
the spring and fall 2019 graduation ceremonies at PJC. She will graduate in May with degrees in music and drama and will audition for several universities for music/theater with future plans to be an actress/singer.
Chyna Bell, the daughter of Ron and Stephanie Bell, is a 2018 graduate of Paris High School.
Caleb DuBois, the son of Christal and Dwayne DuBois, is a 2018 graduate of Bridge City H.S. Eduardo Flores, the son of Francisco Flores and Ana Lozano, is a 2018 graduate of J. Frank Dobie High School in Houston.
Kareyn Hellmann, the daughter of Steven and Michele Hellmann, is a homeschooled student from Paris who will graduate this May from high school and PJC.
Lucas Rolf, the son of Monty and Alicia Duck, is a 2018 graduate of Mt. Vernon High School.
Wilson Roubion, the son of David and Tracy Roubion, is a 2018 graduate of College Station High School.
---
Paris Junior College — located in Paris, Texas, about 100 miles northeast of Dallas — has been a part of the Lamar County community since 1924.
Paris Junior College offers Associate in Arts, Associate in Science and Associate in Applied Science degrees, as well as Certificates of Proficiency in technical/workforce fields. The college has expanded its academic curriculum through the years to encourage associate degree and university transfer candidates. Since establishing its first vocational program — jewelry and watchmaking in 1942 — the college has been aggressive in adding technical/workforce programs that will benefit students entering the workforce.
The campus of 54 tree-shaded acres includes 20 major buildings and residence halls and provides students a unique and pleasant environment for learning.
Paris Junior College also operates centers in Sulphur Springs, Texas, and in Greenville, Texas.
Vision
To be the educational provider of choice for the region.
Mission
Paris Junior College is a comprehensive community college serving the region's educational and training needs while strengthening the economic, social and cultural life of our diverse community.