SSISD Powerlifter Sable Erdmier, who lifts in the 165# class, has qualified to compete in the Texas High School Women's Powerlifting State Championship in Waco, Tx. The State meet will be held at:
EXTRACO EVENTS CENTER
4601 BOSQUE BLVD.
WACO, TEXAS 76710
Weight in's begin on Thursday night march 19th from 5:00pm – 7:00pm.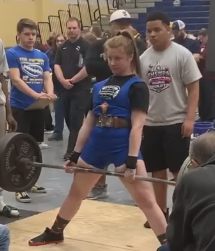 Sable earned a silver at regionals to solidify her spot.
At Regonals Sable preformed:
340# squat
135# bench
350# dead lift