A 38-year-old Emory man allegedly admitted to using illegal substances and having drug paraphernalia, which were then found during a vehicle search Tuesday afternoon, according to arrest reports.
Hopkins County Sheriff's Deputy Aaron Chaney was stationary on the side of State Highway 19 when he first noticed a Chevrolet Impala backfire as it passed his patrol vehicle. Chaney took action to catch up to the car. As he did, the red car turned onto County Road 1116, then into the driveway for the Precinct 1 barn and continued onto the property, the deputy alleged in arrest reports.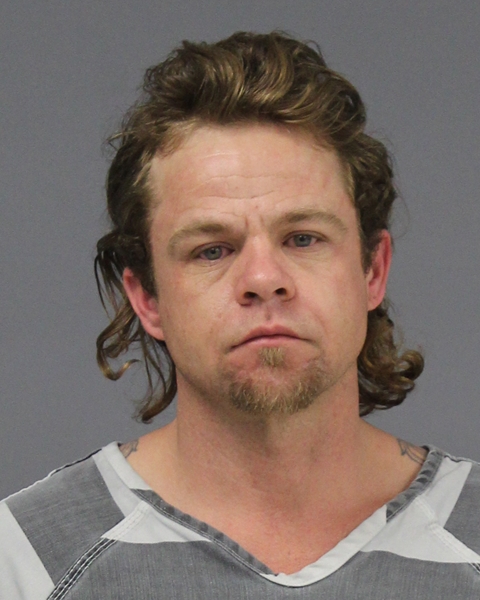 Chaney reportedly continued on CR 1116 until he found a driveway to turn around in, then headed back toward SH 19 south. He reported seeing the car traveling north on SH 19, just north of CR 1116. Chaney said he continued north as well. As he got closer to the car, he noted the driver turned into a driveway on the east side of the road. Chaney said he continued north, then turned around on CR 1174. At the intersection of CR 1174 and SH 19, he no longer saw the car. After turning south, he noticed red car at FM 1567 west, where it turned, Chaney alleged in arrest reports.
Chaney reported a computer check using the car's license plate showed no insurance for the vehicle. Chaney initiated a traffic stop based on the unconfirmed insurance and his suspicion that the driver's actions were an effort to potentially cover criminal behavior, the deputy noted in arrest reports. The car reportedly stopped on FM 1567 west at FM 3389.
The deputy had the male and female occupants exit the car and, after obtaining consent, patted the 38-year-old man down, but found no contraband on him, according to arrest reports. When asked if there was any contraband in the car, the man identified in arrest reports as John Scott Thompson II allegedly admitted there was a bag of syringes on the front seat under the center console and that he actively uses illegal substances, according to arrest reports.
HCSO Deputy Mike Cleveland and Sgt. Shea Shaw arrived. Cleveland reportedly remained with the people that'd been in the car while Shaw and Chaney conducted a probable cause search of it.
Deputies allegedly located not only the bag of syringes but also other drug paraphernalia with a residue suspected to be methamphetamine on them. Both Thompson and the female passenger were reportedly placed into handcuffs while deputies continued their search of the Impala. A clear baggy inside of a satchel allegedly contained a white, crystal-like substance the deputies suspected was methamphetamine.
When deputies asked who the satchel and suspected methamphetamine belonged to, Thompson allegedly claimed both, resulting in Thompson's arrest at 4:39 p.m. March 17. The female passenger was released; Shaw gave her a courtesy transport to a Sulphur Springs business, according to arrest reports.
Shaw and Cleveland inventoried the car, and, after it was towed, transported Thompson to Hopkins County jail. The suspected methamphetamine weighed 0.4 gram, including packaging, and tested positive for methamphetamine on a field test, resulting in Thompson being booked into jail for possession of less than 1 gram of a Penalty Group 1 controlled substance, Chaney alleged in arrest reports.
Thompson was released from Hopkins County jail Wednesday. His bond on the controlled substance charge was set at $5,000 according to jail reports.
---
The Hopkins County Sheriff's Office is located at 298 Rosemont St., Sulphur Springs, TX 75482. Non-emergency calls can be made to (903) 438-4040.