Meals Available For Children, Prom Cancelled, Graduation Still On
Como-Pickton CISD Thursday afternoon made several announcements Thursday afternoon, including extending closure of schools to April 10, the availability of meals for children, prom, high school and eighth grade graduations.
School Closure, Instruction
Due to the ever increasing spread of COVID-19 in Texas, the closure of Como-Pickton schools has now been extended beyond the initial March date. CP schools will remain closed through April 10. April 13 is eyed as a possible restart date, but that will depend on the cornonavirus situation at that time, according to Dr. Greg Bower, CPCISD superintendent.
Teachers will begin contacting their students' parents within the next few days to "determine the most effective way in which to deliver your child's instruction," Bower noted in a letter address to Como-Pickton students, parents and community Thursday. That may include online resources for some and hard-copy materials for others.
Any parent who has a new phone number, email or address is asked call 903-488-3671, to speak to someone at their child's campus between 8 a.m. and noon Friday, March 20, to update their records. This will allow the school to effectively communicate with parents regarding their child's instruction and instructional needs.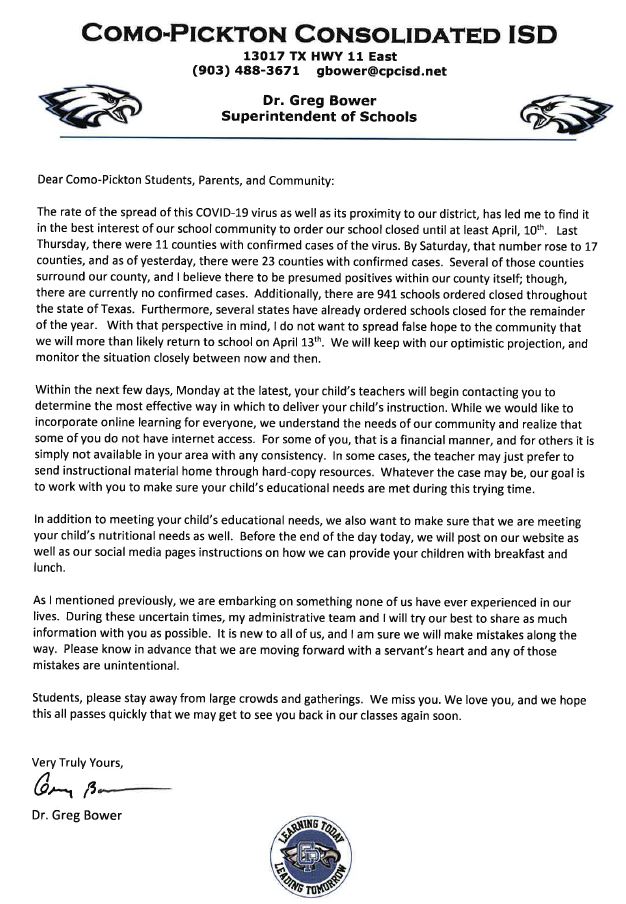 Meal Program
During the school closure, Como-Pickton CISD will offer lunch and breakfast for students starting Monday. A drive-up pick-up service will be available between 10:15 and 11:15 a.m., Monday through Friday, at the front entrance of the elementary school. All are to remain in their vehicles and wait to be served at the designated pick-up point.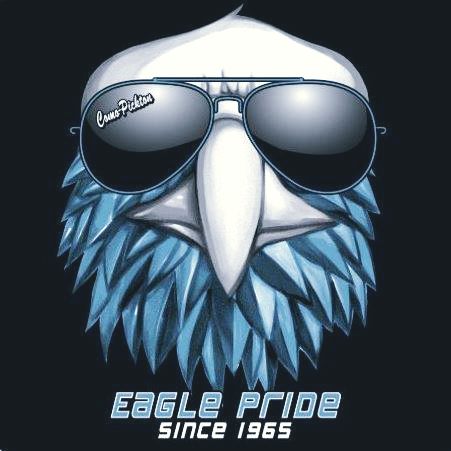 In order for prepare the correct number of meals each day, families are asked to call our School Closure Student Meal Hotline, 903-488-8895, the day prior to picking the child's meals. The hotline will be answered Friday for our Monday meal pick-up. Hotline hours will be from 8 to 11:30 am, Monday-Friday each week.
While all who are able are encouraged to participate in the pick-up process, the school realizes there are instances where that's not possible.The district will deliver meals if it's "impossible for you to make arrangements to pick them up, district "understandably very thing" delivery resources permitting. In these instances, the person who calls in for the child daily will need to make sure the call taker knows delivery is needed.
In delivery instances, meals will be brought to the driveway entrance, where the child will be located that day. Someone will be required to meet the delivery team member to accept the meal delivery, as delivery teams will not be leaving their vehicles.
Any further questions may be made to the Student Meal Hotline from 8-11:30 a.m. Monday-Friday, or may be emailed to the child's campus principal.
Graduations
At this time, both the high school and 8th grade graduations are still on the school calendar. However, as is the case with all things, especially school-related activities, all scheduling will depend on the COVID-19 situation.
"It is my intention that Como-Pickton will hold a high school graduation ceremony. As of right now, that ceremony is still scheduled for May 22nd. If in the event that we are unable to hold a gathering still at that date, I intend on pushing our graduation ceremony to the earliest possible date for us to have it. As I know more, I promise to keep each of you informed," school administrators stated in a Facebook post Thursday afternoon.
The 8th grade graduation is still scheduled, if CPCISD is able to gather during its scheduled time. If we are not, CP will forgo the 8th grade ceremonies. The traditional 8th grade dance will not be held, even if graduation is. If held, the dress code will be a casual dress code of jeans.
Prom
After much deliberation, CP officials opted to cancel the prom this year. Below is what CPCISD officials stated in a Frequently Asked Questions post regarding the matter:
Eagle students, one of the most difficult decisions that we have had to make regarding this troubling time is whether or not to cancel prom. We have been postponing that decision in hopes that everything will be ok and back to normal in a week or two. It appears that will not be the case. If we cancel prom, then we run the risk of parents who have bought expensive dresses already to have no occasion for their child to wear the dress. If we postpone cancelling prom, then we run the risk of even more parents doing the same thing all the while knowing that we will probably have to cancel. At this point, and as much as we hate to do it, we are making the decision to cancel our prom this year.