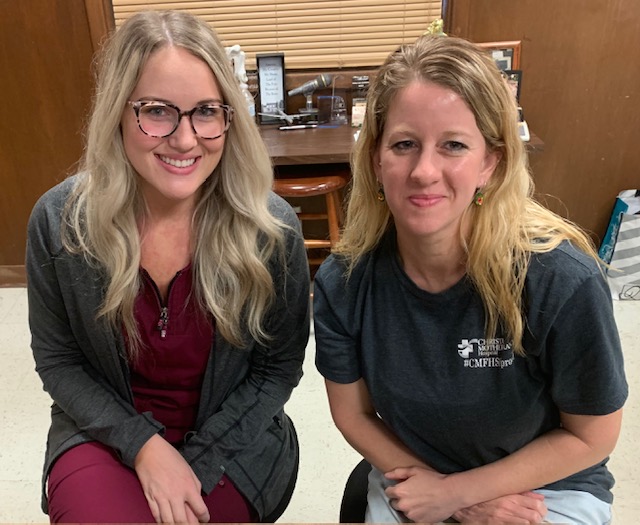 Kristi Couch and Hanna Boone work in the OB Department at CHRISTUS Mother Frances Hospital in Sulphur Springs, and both are excited about the new options now being offered to new moms. Hanna has been a nurse for three years, working at CHRISTUS in Sulphur Springs for the past two years. She shares, "I love this field. I come from Winnsboro, and knew I wanted to be a labor and delivery nurse since I was about 7 years old! I attended Texas Tech, graduated from their Nursing School, and worked for a time in the Metroplex. But when I moved back to Winnsboro, I applied and was hired at the Sulphur Springs hospital". Kristi was raised in Sulphur Springs, and has been a local hospital employee for more then ten years. She is a nurse in the Nursery Department and is a Lactation Consultant for moms who plan to nurse their babies. Says Kristi, "We have an array of helpful programs for new moms, like ongoing Breastfeeding classes as well as a Breastfeeding Support Group, called B.I.B.S. or 'Breastfeeding Is Best Support' available on Facebook and in monthly meetings. Now, we have brought back a Childbirth Class which is designed to instruct the new mom about what to expect from the experience, and help her select the types of services she is interested in. And CHRISTUS also has a Certified Nurse Midwife on staff, Deb Logan, whose practice offers in-hospital births with midwife assistance. We have a lot of options to offer moms who are planning their baby's birth".

According to Hanna, a type of pain management that is uniquely helpful during labor is exclusive to Sulphur Springs at this time. "Nitrous Oxide has been used by dentists for a long time, known as 'laughing gas'. A mild version of Nitrous Oxide can be used by patients in our Birthing Center to manage pain during portions of labor, delivery and in post partum, too. It has short-term effect and clears the system quickly. It is safer for baby than intravenous pain management, because the patient controls it herself. It's another option in our birthing center besides epidural and I.V. and is becoming popular though not available everywhere yet".
Kristi added, "Besides attending classes in person, both our Childbirth Class and our Breastfeeding Class can be taught remotely, and that's new. If you are interested in finding out more, just call the Hospital and set up an appointment. We will be happy to meet with you and extend our assistance during your journey".