Texas A&M University-Commerce Thursday afternoon made the decision to suspend "all face-to-face classes" and transition to online instruction, effective immediately, and indefinitely.


A mission "to provide a safe, healthy and inclusive environment at each of our campuses to ensure that every student, faculty and staff member is given every chance to achieve their academic and professional goals" were sited as cause for the decision.
Students should access online courses from the myLeo Online LMS at https://tamuc.brightspace.com using thier CWID and password. Additional information regarding accessing myLeo Online, is available on on TAMUC's D2L FAQ.
Earlier in the week, TAMUC reported a campus response team was established several weeks ago to focus on the Coronavirus situation.
"This team is working directly with local, state, and federal agencies, including the Texas Division of Emergency Management, Texas Department of State Health Services, and the Centers for Disease Control (CDC)," the TAMU release stated.
Sanitation efforts, according to the March 10 report, were being increased, with focus on high-traffic and community areas. New hand sanitizer stations were added across campus. CDC travel recommendations were also made available online to the university community, and all were asked to follow the guidelines.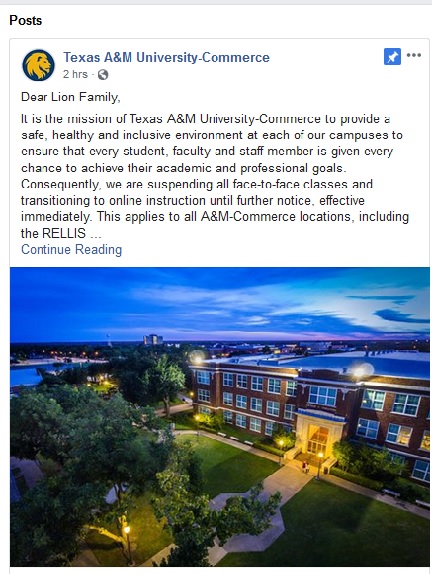 "I want to assure you that campus spaces are receiving additional sanitization and cleaning services. In fact, we have added additional personnel to provide extra disinfecting and cleaning," TAMUC President Dr. Mark Rudin, stated, in a letter sent via the campus alert system March 12 to "Lion Family."
The letter, also posted on the TAMUC website and social media accounts, notes that the change to online classes is for "all A&M-Commerce locations, including the RELLIS campus."
While classes will all be online, faculty and staff are still required to report to work as usual to meet with their immediate supervisor to plan for any future actions.
All university services, including the library, residence halls, dining and health services will remain open.
Events, conferences, student meetings, intramural sports and student activities at all locations, as well as the Children's Learning Center, are cancelled until further notice, Rudin stated in the letter.
Intercollegiate athletics home competitions will continue, pending additional guidance from the NCAA and Lone Star Conference. However, attendance is limited to participating student-athletes and essential game management personnel only.
All research activities will continue until further notice, according to the notice from Rudin.
Updates from the school are being posted under the "STAY HEALTHY LIONS!" heading on TAMUC's website.
For additional information, students should call 877.310.8174.