Sulphur springs High School Strings students competed in and earned high marks at Solo and Ensemble competition, one ranking high enough to qualify to compete at the state level.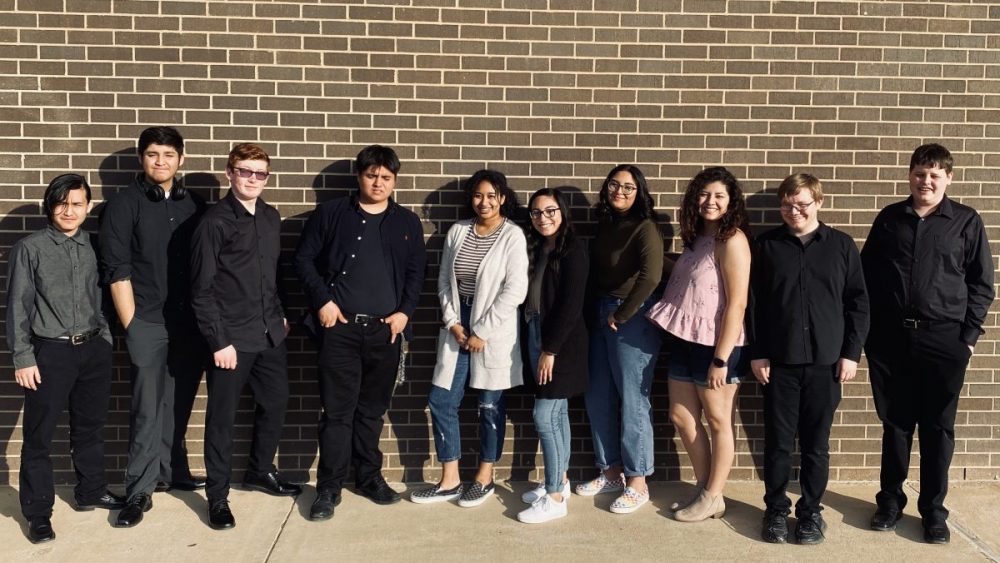 Students entered a room and were judged individually for their performance on a Class 2 performance or Class 1 solo performance. The Class 1 solo is the hardest, requiring students to memorize their music, the Strings students noted.
As if the latter weren't difficult enough, the students had a last minute change that required on the spot adjustment. Typically, the students spend weeks to months practicing with an accompanist. The SSHS students worked with one in preparation for the contest. However, the accompanist got sick and was unable to attend. So, they had to perform their part to an accompanist they were not familiar with, the Strings students reported.
Eight students earned first division or superior ratings for their performances, the highest a musician can receive.
Senior Natalya Allen earned a first division rating with the Class 1 solo performance of Mozart In G Minor. The violinist had to memorize four pages of music, the first time she played at that level from memory. She said she spent the last 6-8 months getting ready, working on one page of memory work at a time.
Also earning first division ratings at the Solo and Ensemble contest were freshman Juliet Olivo, sophomore Saul Mireles-Yanez, juniors Gavin Patrick and Aaliyah Valles, on violin; senior Ethan Rowell on viola; and junior Abel Chavarria and senior Gisselle Garcia on cello. Many of these students reported they have been working on their music for the biggest part of the year.
Freshmen cellist Ricardo Chavarria and violist Johnathan Gloar received second division or excellent ratings for their performances.
Allen said she didn't expect to get a first division rating on it, so learning she'd earned top marks was "pretty cool." She's very excited to qualify to compete in the state contest in early June.
She said she hopes the successes of this year's students will motivate others enrolled in the class to continue striving for excellence.
Garcia said she stayed after school working on her Class 1 solo, Elgar Concerto in E Minor. She doesn't have a private instructor like some students, but was very appreciative to teacher Hannah Kirby who stayed after school to help with solo. The music required a lot of treble clef instead of bass clef, so having Kerby play the music so she could hear how it was supposed to sound was very beneficial. She said she was pretty nervous, especially after the accompanist got sick, but feels overall that all of the SSHS Strings students did well at contest.
Patrick, a sixth year Strings student, practiced his Class 1 piece for at least six months.
Valles performed Dvorak's Sonatina Movement 1, a Class 2 piece. She worked on it for 6 months. Although she has competed before, she said the contest was different this time for her. She played louder than she usually does. She was fortunate to have a private teacher.
Ricardo Chavarria, whose been in the Strings program since sixth grade, earned a 2 for his cello Class 2 solo. He played Sonata III RV 42, which features a tenor clef in stead of bass cleft, which required some transposing. He practiced for a few weeks prior to the performance.
Rowell performed Concerto in D, a Class 1 piece. He says he's had a lot of fun in Strings and will miss the experiences he's been able to share with his fellow students.
Gloar also received a 2 for his viola solo. He said he was nervous entering the contest, his first at this level, but pushed through it and achieved an excellent rating. He hopes to one day have a career using his instrument.
These competitors have been juggling a lot. Some have been preparing for UIL competition, participating in a youth orchestra and gigs associated with their private instruction as well. The students are enjoying the fun of the program, which they say is bigger than they've ever seen it, with more younger musicians in the program at the high school level.