Roger Elliott received the Citizen of the Year award, one of nearly a dozen different awards presented at the 94th Annual Hopkins County Chamber of Commerce Banquet, held Feb. 13, in Hopkins County Civic Center.

The night's theme was "Be the Light," and those present were challenged to be a positive light in the community.
Citizen of the Year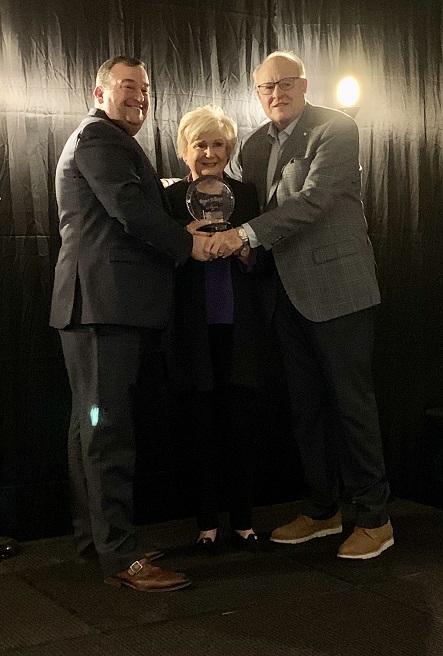 Roger Elliott started his business from the ground up. Elliott Office Equipment was started in 1968 and later added were Copy Products, Inc. , and CPI Imaging. In 2010, Access Eforms -an international hospital software company, was added to the family enterprises.
When Elliott first encounters someone, he sizes them up for their potential growth, what the individual can give back to the community, Roberts noted. He pours more into people than he takes.
Elliott has been very active in the community. He was instrumental in the revitalization of the Sulphur Springs Airport, and served as Chairman of the first airport board that was recognized as the Best Airport of the Year in Texas in 2003. He has served on the Alliance Bank Board for 30 years, as well as many national, regional and state boards.
Elliott and wife Dee are credited as pioneers and founding members of Shannon Oaks Church. He is involved in the Hopkins County Dairy Festival Dairy Airs. He also has lead community Bible studies, was a Boy Scouts of America leader for 26 years, and involved in Sulphur Springs Corvette Club. He also was instrument in establishing the hospital foundation.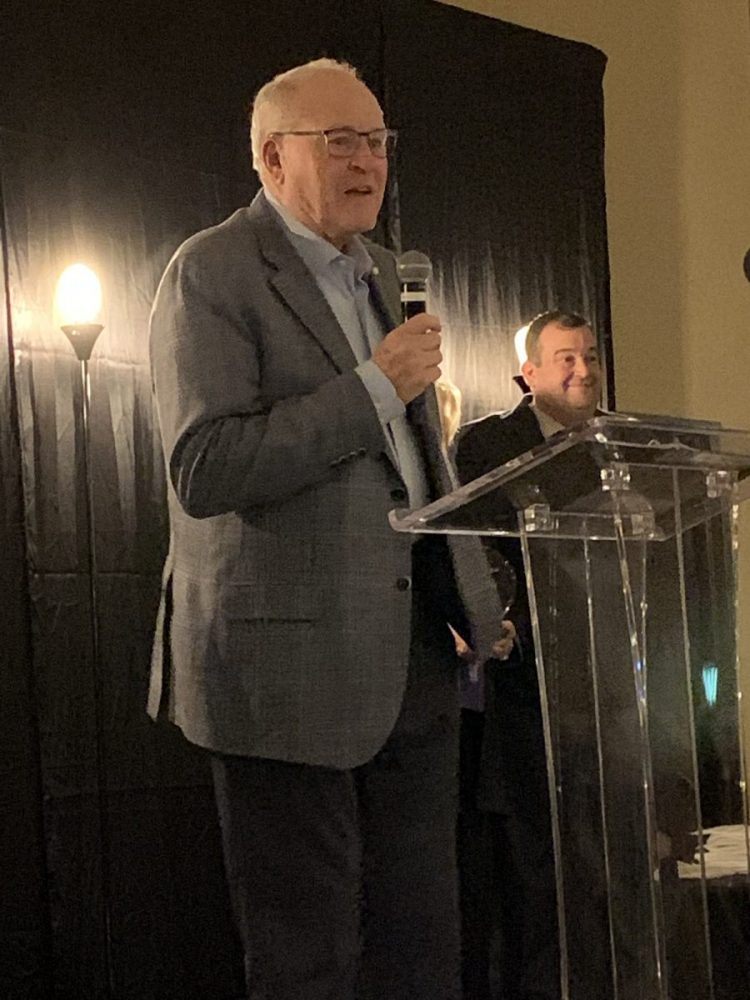 Many of the nomination letters mentioned the dozens, possibly hundreds Elliott has mentored.
Elliott said he moved to Sulphur Springs in 1968, when his son was just 1 year old, and started a business out of the carport. He and his wife found the people to be wonderful, and decided never to return to the Dallas area. Hopkins County is home, he said.
He said he was asked at the age of 26 to serve on the Chamber of Commerce. While many of his generation are moving on, he is excited for the future of the Chamber of Commerce and business in this community in the generation that's coming up.
Woman of the Year
In a surprising move, Beta Sigma Phi named two women Woman of the Year. Vickie Pickel and the late Salli McClendon both were honored for their heart.
Pickel was described as "the most giving person you've ever met," with a love for others that extends not just to family and friends, but has her reaching out to help others. She's involved in many fundraisers for children and people with medical needs. She established a GoFundMe page to benefit the families of
Pickel grew up in Hopkins County and has worked for Grocery Supply Company for a number of years. She has a tender heart for the elderly and veterans. A breast cancer survivor, Pickel also encourages women to have regular mammograms.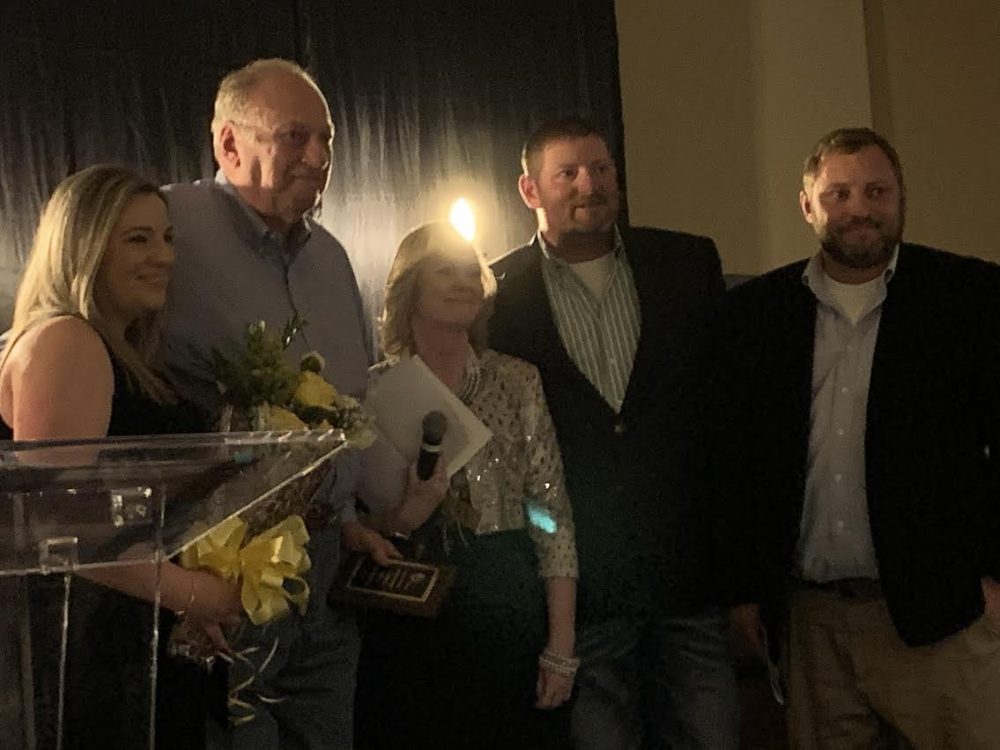 BSP also received several letters recommending Sallie McClendon as Woman of the Year. She was noted to open her heart to family, kids and faith projects. Class, strength, dependability, protective were among the terms used to describe McClendon. She passed away on Jan. 11, 2020. The award was presented to her family.
Caregiver of the Year
Caregiver of the Year, awarded by Pilot Club of Sulphur Springs went to Hillis Bass, who cared for her brother-in-law who had Alzheimer's. She not only provided care, but prepared a room in her home and moved him in with her and her husband. She took care of any business that needed tending, making sure he got to his doctors' appointments and other care needed, and making sure he could attend Terrific Tuesdays. She too on the whole responsibility for his care.
Educator Of The Year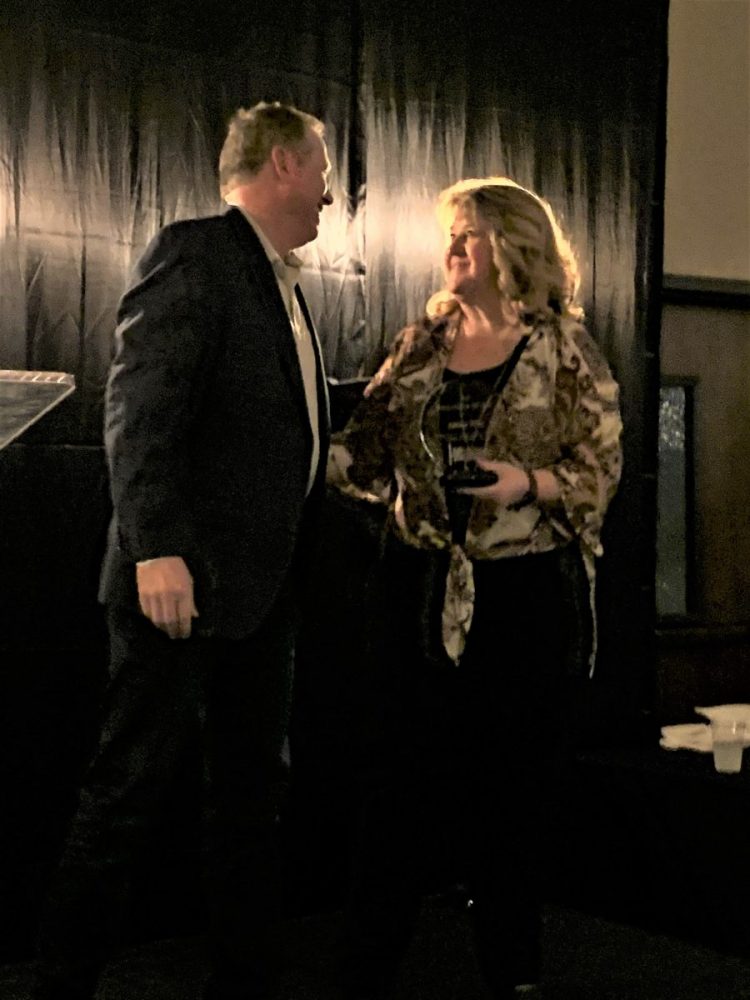 Johnna West was named Educator of the Year. West may be listed on the school director at Saltillo ISD as a teacher, but its one of many roles that she has taken on during her 31 years there.
West is the FCCLA sponsor, yearbook sponsor, take photos at school activities and senior class sponsor.
She leads the school in their support of Relay For Life, involvement with Handicapable Rodeo, oversees students in baking hundreds of cookies for the annual CASA Cookie Walk and the Angel Tree project. West organizes homecoming, receptions for alumni and graduation. She also is a school bus driver.
Community Pride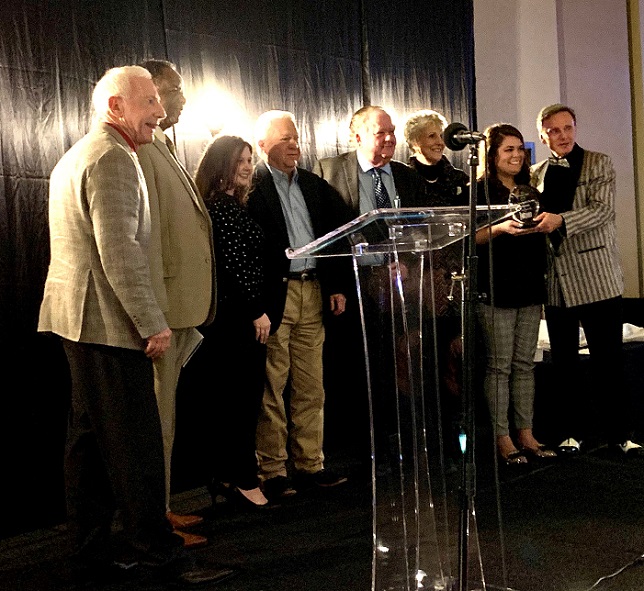 The Community Pride Award, presented by County Judge Robert Newsom on behalf of the 1994 Adult Leadership Class, went to Hopkins County Regional Civic Center.
The award was dedicated to past and present board members whose efforts over the years have helped make the facility a vital part of the community and "one of the finest Civic Centers in the state of Texas." The award was presented to current board members, Civic Center Manger Lonnie Fox and Assistant Manager Alina Tatum Sanders.
Large Business of the Year
City National Bank was honored as the Large Business of the Year.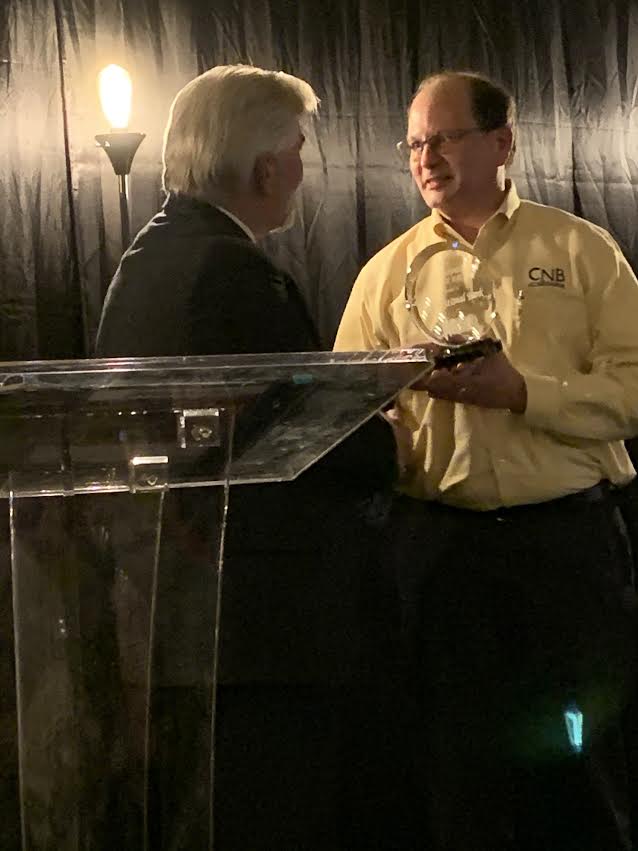 The business is the oldest institution in Hopkins County, established in 1889. The bank has expanded with locations in Hopkins, Wood, Rains, Greg and surrounding counties.
In 1998, CNB acquired 1st Nation Bank Sulphur Springs, added two more in Wood County in 2004, Mineola in 2011, a new branch in Emory and locations in Wills Point and Grand Saline in 2016, and a new branch in Gladewater in 2018.
The employees of CNB are "extremely involved in the community and its youth, including a program to teach elementary students money saving methods. Last year, CNB gave $10,000 in scholarships to local students. They are involved in every civic organization in town.
CNB too is known for "outstanding customer service," going above and beyond to help customers.
Small Business Of The Year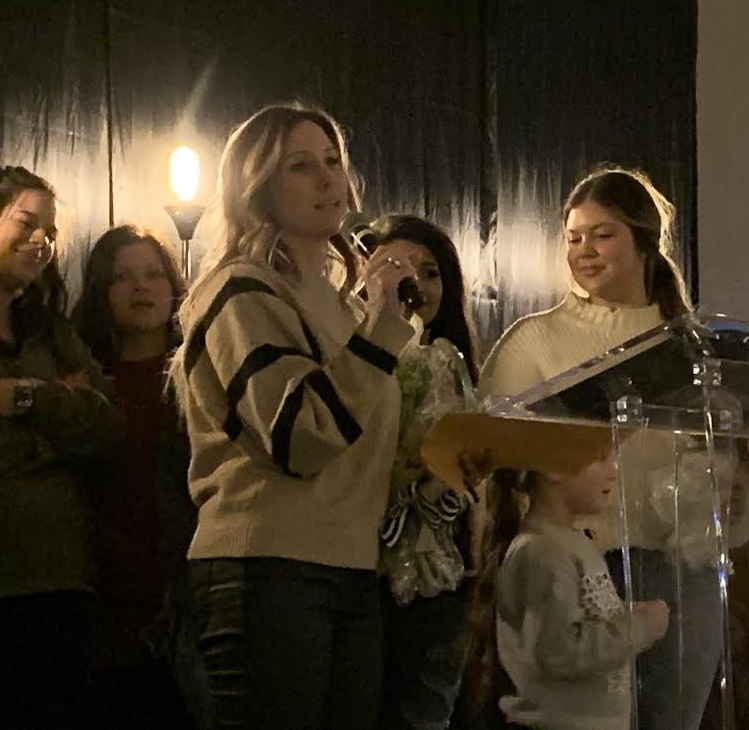 Sister Babyz was named Small Business of the Year. This business started out in a shop so small it could have been a closet, with the owner making jewelry. It grew to a vendor booth and eventually to its Gilmer Street location, with merchandise including jeans and other clothing as well. The business sells items online. It continues to grow with stores in Royse City and Paris, and a boutique truck.
The business has also hosted many community events and fundraisers, including Friends Giving and a Christmas Fashion Show, and activities benefiting New Hope Center and Hopkins County Health Care Foundation, as well as others.
Agriculture Family of the Year
The Chad and Dena Neal Family received the Outstanding Agriculture Family of the Year award, presented by Hopkins County-Rains Farm Bureau President John Holland.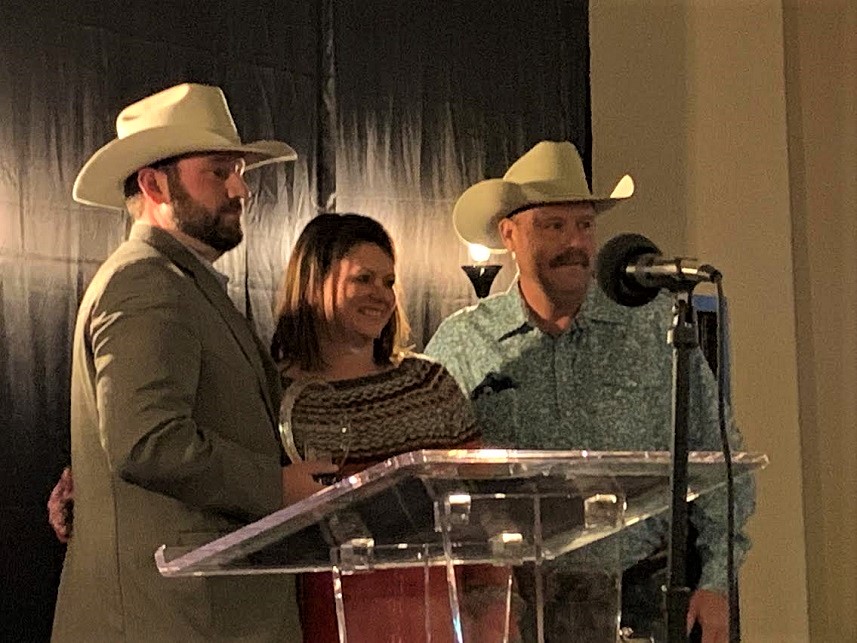 Chad and Dena Neal started out with 200 cows in 1992 and have added pullet and hen houses. They've been involved with the Mount Vernon/Saltillo Young Farmers. Their three daughters are also involved in agriculture: one is an agriculture teacher at Como-Pickton CISD, another is president of Saltillo FFA Chapter and their second grader shows cattle.
Growth and Renewal Award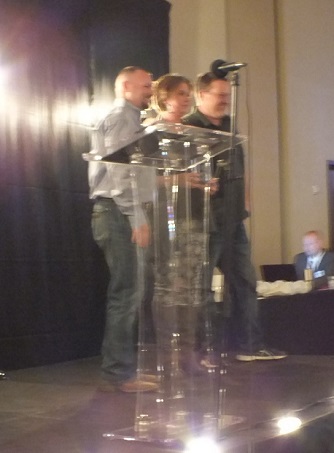 The Growth and Renewal Award was presented by Jason Tully on behalf of the Sulphur Springs Downtown Business Alliance to Lara Colby and the Magic Scoop.
Lara and Adam Colby not only have renovated their location, but expanded with a Magic Scoop drive through location across town, and continue to grow.
Ambassador of the Year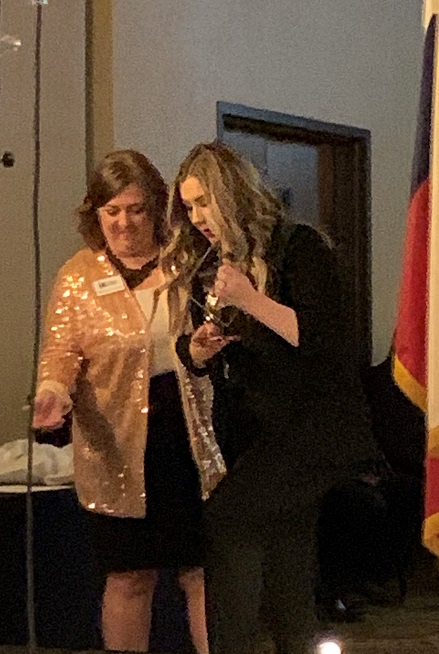 Hopkins County Chamber of Commerce President/CEO Lezley Brown recognized Magan Smith as the Chamber of Commerce Ambassador of the Year for her dedication and hard work.
Kim Beck was recognized as 2020 chairman of the Chamber Board.
Brown also offered thanks to outgoing directors: Amber Gilbert, Butch Burney, Andy Endsley, Kate Davis, Larry Willis and Mike Horne for the service, as well as the banquet committee, current board, and many businesses and organizations who helped with the banquet.