The annual Northeast Texas Livestock Association Buyers Luncheon, put on by NETLA and sponsored by Farm Bureau, was held on Thursday, February 27, 2020, at First Baptist Church.
Individuals, civic leaders and business and industry professionals attended because they recognize the value that agriculture brings to the lives of youth in our county.
As FFA chapter members in uniform began to serve the delicious prime rib meal, NETLA President Kevin Gibson welcomed the crowd, then introduced SSHS FFA Chapter Advisor John Holland, who also serves as Hopkins County Farm Bureau President.
Holland recognized Farm Bureau board members Hunter Cooksey, Mike Meisse, Danny and Debra Evans, Don and Marilyn Smith, Andy and Mary Lou Wright and Farm Bureau agent George Tenneberg.
Then, Holland invited two senior FFA members to share some of their personal experiences in FFA and what NETLA has meant to them during their high school years.
Savannah Allen, who is 2020 President of the SSHS FFA Chapter, related that she has shown cattle since she was in the 8th grade, goats since 3rd grade, and has had exposure to sheep and pig projects as well. Those years of experience also led to her showing cattle up through the FFA State level.
"Along the way, I got to make a lot of friends, which is important to me. I have also learned many valuable life skills, but it is NETLA which pointed me on a path toward a college education. I have saved my earnings from the NETLA Sale of Champions and set it aside. So, when I go to college next year, I will be spending the money I have earned to pursue a college degree," Allen said. "I appreciate that, and my opportunities to have made friends all across the country."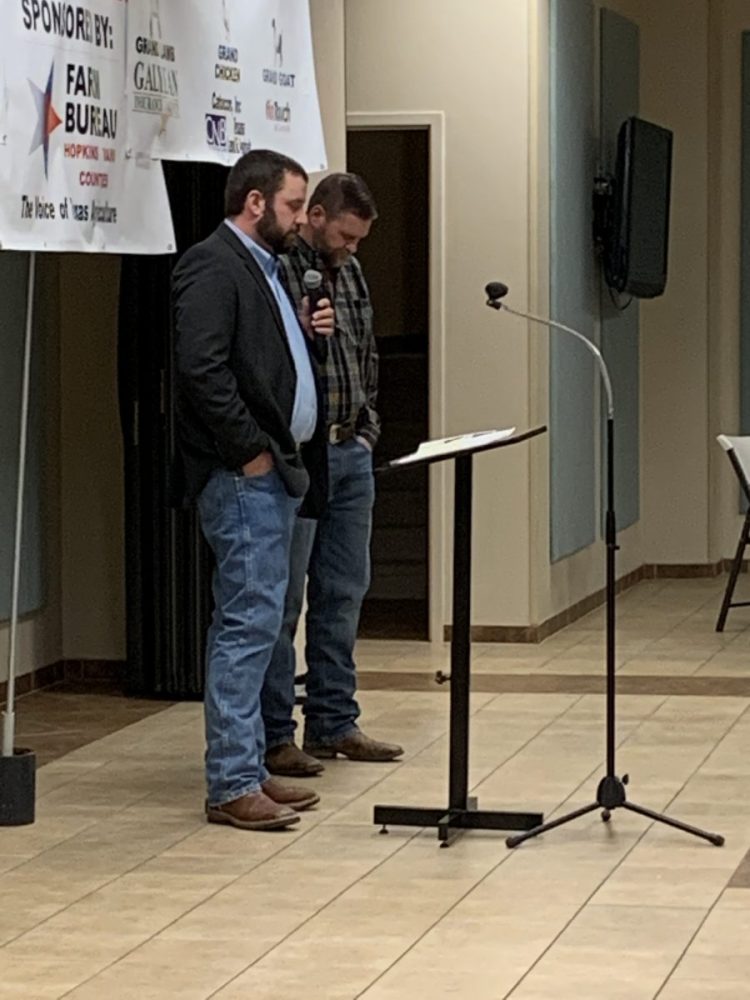 North Hopkins FFA President Madison Joslin, a senior who plans to attend college to pursue a career in social work, said she has been blessed to make the sale every year because of the her drive and hard work she puts in.
"NETLA has shown me the value of hard work and that it is good to set goals for yourself. It has given me the chance to work on being kinder, meeting new people, and given me a platform to spread my love of the FFA. The NETLA show is so much more than winning and getting money," Joslin said.
"NETLA teaches kids how to work hard and have a drive to achieve a goal. Everyone wants to hear their name be called for grand champion. So, we all work as hard as we can to achieve our ultimate goal," said Joslin, concluding by offering thanks to "each one of you for making these experiences possible for me. I truly would not be the person I am today without each one of you making the impact you do each day in our community and without the NETLA sale."
"It's all about what we are trying to put back into these kids. I always tell everybody, we are raising kids, we just have animals to do it," Gibson said.
The event was dismissed with encouragement for everyone to attend the two days of livestock shows and the exciting Sale of Champions in the Hopkins County Regional Civic Center Arena February 27-29.