Earning a commemorative belt buckle is an outward show of success in all kinds of agricultural shows and contests which include livestock and mechanics. A "trophy buckle" is a wearable show of pride for it's owner, and reflects a tradition of pride in the organization which bestows it. The same is true for the Northeast Texas Livestock Association or NETLA.
4H and FFA youth competitors in the Hopkins County Junior Market Livestock Show, or "county show," have the opportunity to take home a buckle when their animal earns high-point in it's class, or when the project earns the title of Champion or Reserve Champion in it's class. The complete array of award buckles in each specie were on display during the NETLA Buyers Luncheon held on February 27, 2020.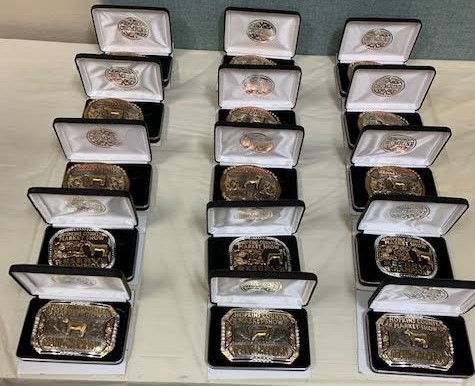 Besides earning a species buckle in categories including Broilers, Swine, Lamb, Goat and Cattle, there are a few very special commemorative buckles which youth competitors can earn. Recently, Ag Mechanics projects built by members of FFA Chapters around Hopkins County have been included during the County Show, with winners advancing to the NETLA Sale of Champions. The Ag Mechanics Grand Champion and Reserve Champion Buckles are highly prized!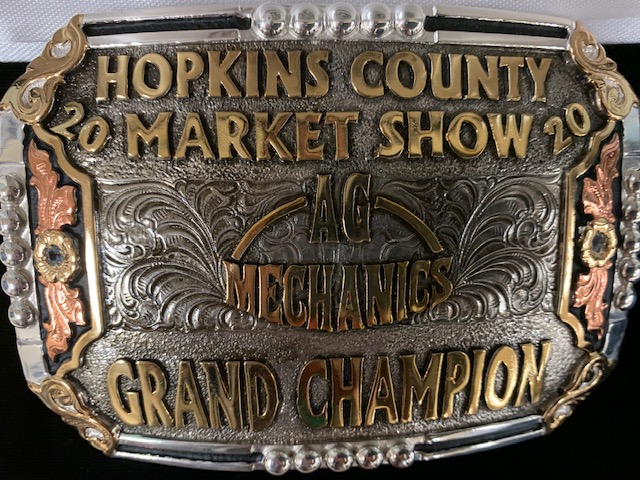 The NETLA Top Sales Award honors the late Jackie Gibson, a local agriculturist who took it upon himself to raise money to further assist NETLA's efforts to reward youngsters whose projects "made the sale." As every parent knows, there is a lot of expense involved in raising winning show animals. Funds which Jackie raised from individuals and business people within his circle of friends was pooled, then used to purchase projects at the sale, increase purchase money, and to add money to sale exhibitors. Gibson's grassroots efforts to support NETLA has been carried forward to today, and is a tradition recognized each year with this exclusive Jackie Gibson Memorial Award.