COMMERCE, TX— More than 100 high school students from across the region gathered on the campus of Texas A&M University-Commerce on February 21 for the annual National History Day regional competition.
Held each year at the university, this was the first time that the regional event was part of the combined East Texas district of the national organization, supported by A&M-Commerce and Stephen F. Austin State University.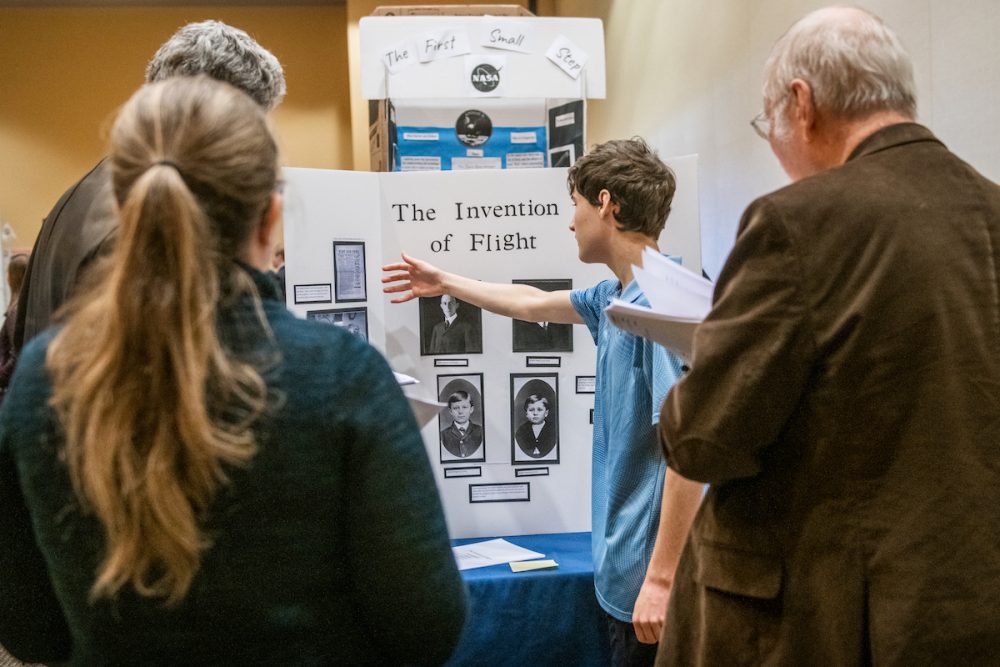 Dr. Andrew Baker, assistant professor of history at A&M-Commerce, coordinates the judging portion of the event at the university.
"History Day gives students an opportunity to research a topic they are excited about," Baker said.
Students compete in several categories. In the exhibit category, one might find traditional trifold cardboard displays on a topic. In the media category, students record a video, create a website or use other mediums. Other categories include Historical Analysis, Research and Performance, wherein students put on an act as a person from history to present their research.
The theme of this year's National History Day was "Breaking Barriers." Winners from the competition at A&M-Commerce move on to attend a statewide competition on April 25. From there, they can advance to the national competition.
Baker said the event gives young history buffs and budding researchers a chance to hone their skills in a juried setting.
"We are excited to bring these students to our campus and have them interact with faculty, current students, and members of the community," Baker said. "It gives them a taste of what the college experience is like."
Baker added that the number of registered students, 145 from six school districts, was up significantly from the previous year.
Dr. Sharon Kowalsky, head of the Department of History at A&M-Commerce, explained the value of History Day.
"History Day provides an exciting opportunity for students to delve into history, engage in research, and present their findings to the public," she said. "At A&M-Commerce, History Day is an opportunity to showcase the exciting research and ideas of the next generation of scholars and to provide our current students with a way to apply their own historical knowledge. The history department is thrilled to be able to host this event on our campus."
---
About Texas A&M University-Commerce: A&M-COMMERCE serves rural and metropolitan East Texas with distinction, consistently delivering on a promise that our founder, Professor William Leonidas Mayo, made more than a century ago: "No industrious, ambitious youth shall be denied an education if I can prevent it." We are committed to our university's mission: Educate. Discover. Achieve.
Programs are delivered on-site at the Commerce campus as well as in Corsicana, Dallas, McKinney, Frisco and Mesquite. Many courses are also available online. Students may choose from more than 135-degree programs at the bachelor's, master's and doctoral levels. A vibrant student life experience includes 14 NCAA Division II athletic teams, a thriving Greek system and more than 120 student organizations.
About the A&M System: The Texas A&M University System is one of the largest systems of higher education in the nation with a budget of $4.69 billion. Through a statewide network of 11 universities and seven state agencies, the Texas A&M System educates more than 150,000 students and makes more than 22 million additional educational contacts through service and outreach programs each year. System-wide, research and development expenditures exceeded $996 million in FY 2017 and helped drive the state's economy.
If you prefer not to receive future press releases from Texas A&M University-Commerce, please email [email protected] to remove this address from our list.