Hopkins County Commissioners Court and Fire Chief Andy Endsley recognized Arbala Volunteer Fire Department Monday for the department's continued service to the community.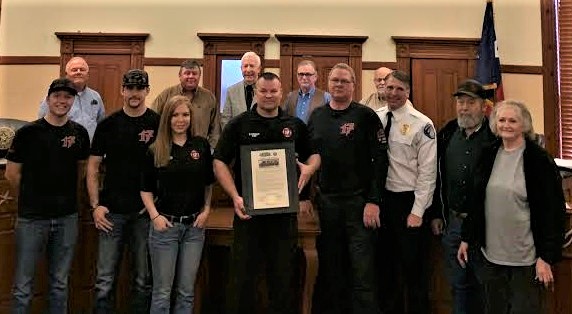 As part of Hopkins County Fire Department's 20th anniversary celebration, the court and chief recognized the volunteer fire departments (in order by station number) for their continued role to respond with HCFD in service to the community.
Hopkins County Judge Robert Newsom, on behalf of the court, "urges all citizens to applaud the outstanding efforts of the Arbala Volunteer Fire Department, to recognize the dedication in their perseverance to provide protection for each citizen and their property and, offer heartfelt appreciation for the servanthood of each one."
Arbala VFD has 29 members, more than any other VFD in the county, Newsom noted when issuing a proclamation recognizing AVFD during the regular Monday court session.
Arbala VFD was started thanks to the efforts of Jack Burkham Jr. and other community leaders, who in 1976 decided to start the process of developing a department as a means to provide protection and help lower insurance premiums for landowners, Newsom read from the proclamation.
The first volunteers included Jack Burkham, Larry Fite, Gary Henderson, Wyman Darden and Freddy Chamness and AVFD was located in Jack's Automotive Garage.
The first station was decided on and constructed adjacent to Arbala Community Center in 1978 and 1978, and included a donated fire truck.
In 1980, Chief Burkham approached the commissioners court about a grass truck. The court approved the purchase of a fully furnished grass truck. A second bay was built to house the new 1980 Dodge.
Tuffy Burkham modified a 1956 Ford by adding a pump and 2-55 gallon drums to serve as an additional apparatus to fight grass fires, Newsom stated.
In 2005, a larger station was built on 2 acres donated by Stan and Janie Burkham to accommodate the growing needs of the community. The station housed a fire engine, tanker truck and two brush trucks at that time.
The fire chiefs of the department form 1980 to 2004 included Jack Burkham, Wyman Darden, Autry Darden, JW Ragan and Jeff Strickland.
"Arbala's doing an outstanding job for us here in Hopkins County. We appreciate the hard work Chief Fairchild has put forth," Endsley said.
The HCFD chief noted that the department has really turned around, going from a low yet dedicated main membership, to a department with 29 members.
"We really appreciate everything that Arbala does for Hopkins County," Endsley said.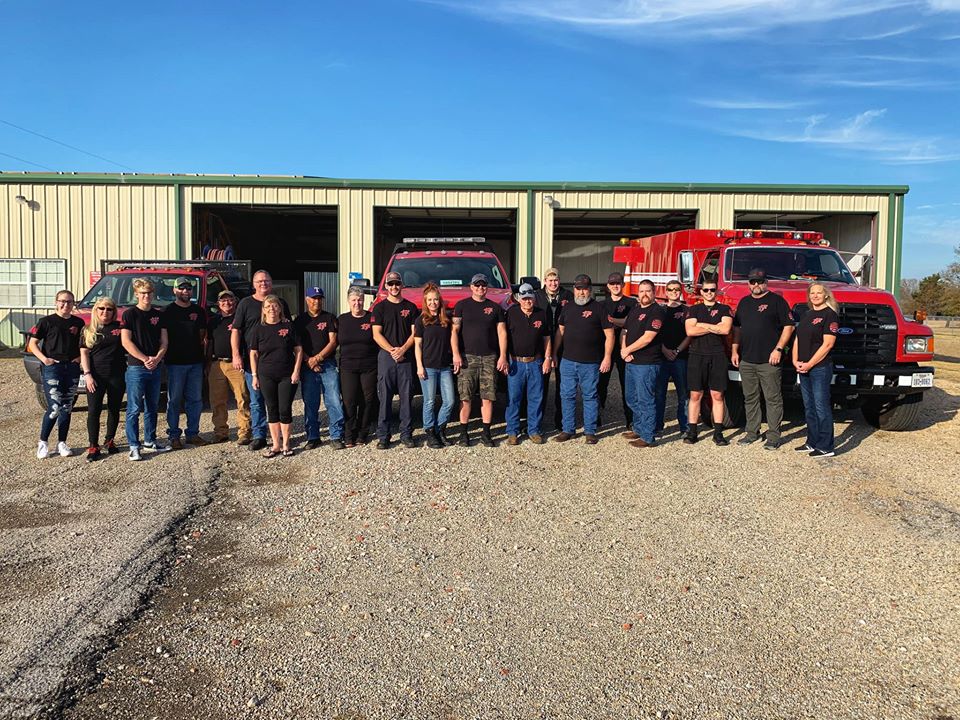 The department currently includes Chief Brian Fairchild, Autry Darden, Clay Bartley, Brennam Kearns, Drew Fisher, Dave Funderburk, Christy Fairchild, Keith Lewis, Justin Bartley, Brennan Murray, Jeff Bloodgood, Grant Sharp, JW Ragan, Kevin Sharp, Tristen Fairchild, River Thomas, Jose Lozano, Blake Neal, Barbara Bloodgood, Maggie Mae Sherrow, Karen Lozano, Sheila Funderburk, Amy Henderson, Wesley Patrick, Brian Patrick, Jerry Patton Horton, Ron Reed, Sydnee Neal and Jose Rodriguez.
The Arbala VFD chief offered thanks to "everybody here for this" as well as past firefighters and chief from Arbala community for "getting this started for the right reasons."
"We are still working on some of those reasons many, many years later. But I appreciate every one of our members who have joined on the fire department, because without them we're not there. We're not going to be making the calls. We have to have them. We're going to continue to grow. We're going to continue providing the best service we can, training, so we can do what we need to do for our community and surrounding communities," AVFD Chief Brian Fairchild said.
"Arbala fire department has come a long ways as the proclamation states, and we do owe it to Chief Fairchild and the present group that is making it all possible," Precinct 1 Commissioner Mickey Barker said. "From all the citizens of Hopkins County, we do appreciate it. Thank you."
---
For more information about Hopkins County Fire Department's 20th anniversary celebration and other VFDs recognized, visit KSST Radio.