County Clearance Rate 91 Percent Overall Last Year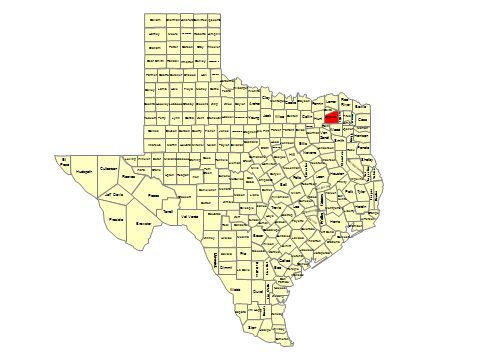 Crime in Hopkins County remained low in 2019, with only four more offenses last year than the record low of 116 in the nine major offense categories, according to Hopkins County Sheriff's Office crime data.
Overall Statistics
Hopkins County Sheriff Lewis Tatum pointed out that these are crimes against people and property, but do not include self-inflicted criminal cases such as controlled substance offenses.
"More [narcotics] cases are getting generated. You do not see those reflected in these stats. They are not crimes against people or property," Tatum acknowledged.
The annual crime total is comprised of complaints made and checked out by deputies, investigated by detectives with offense reports made. These do not include incidents or any unfounded crimes, which can include somethings reported such as missing tools, which are later found to have been used by other family members or that were not returned to their designated location but are located without an actual burglary or theft taking place.
The 120 crimes recorded in 2019 is the second lowest in the last 20 years. New record lows were set in burglary and theft categories in 2019, when the clearance rate remained at 91.7 percent overall.
In fact, the overall number of crimes in the county has dropped significantly over the last 15 years. In 2000 there were 359 crimes. The total climbed to 408 cases in 2002 and peaked at 412 cases in 2004. The tide began to turn in 2005, when there were 336 offenses overall, The overall crime tally dropped below 300 for the first time in 2009 and has remained below 300 since. The downward trend continued, with crime dropping to 184 offenses in 2012, and has remained below 200 ever since.
The county's clearance rates — that is the number of cases cleared by arrest, conviction or exception compared to the number of cases generated in these major offense categories — remained below 60 percent from 2000-2005. That changed in 2006; the clearance rate improved from 58.9 percent in 2005 to 80.4 percent in 2006. The clearance rate has remained above 70 percent since, and has been 90 percent or above since 2015, a year in which only two more cases were worked than were cleared.
"Some do not realize how good we have it in Hopkins County, how safe it is to live here. The public can help too by notifying us if they see something suspicious, by locking vehicles up and taking the key with them. They can continue this by being more aware of what's going on around them – especially out in the county during the day time," Hopkins County Sheriff's Chief Deputy Tanner Crump said.
Tatum attributed the significant drop in crime and increased clearance rates during the last 15 years largely to the proactive approach and quick, dogged work of the sheriff's department. Most reports originate with patrol deputies, who not only call in investigators the same day when investigation is warranted. Both doggedly continue to develop and follow up on leads. Sometimes, that means working on a case all night, then passing along the information to the incoming on-duty deputies who pick up and continue working the case or, in some cases, staying with it until the case is solved, according to the sheriff.
Crump credits the officers' reputation and hard work as well as that of the judicial system, as contributing to the lower crime rates as well. He said Hopkins County is known for being tough on crime, which is shown in the dedication of prosecutors and the number of convictions and prison sentences assessed by the court system.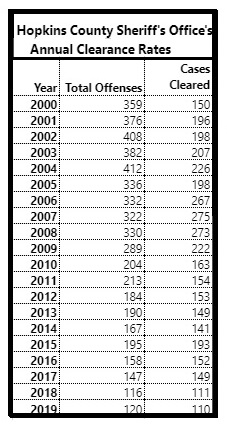 Property Crimes
The decline in property crimes over the last 15 years is a reflection of all of that, according to Tatum.
Only 17 burglaries were recorded in 2019, down from 26 the previous year. That's even seven fewer than in 2017 when the previous record low was set at 24 burglaries. That's significantly lower than the 108 burglaries of 2000 and the record 122 burglaries in 2002. Burglaries dropped to 77 in 2007 and has remained below 100 ever since. In fact, 2019 marked the fourth straight year in which there were less then 50 burglaries. Only two fewer burglaries were cleared than cases in 2019. In fact, since 2015, the difference between cases recorded and cases cleared has remained at three or less.
A record low was set for theft cases in 2019 as well. Only 26 thefts were recorded in 2019, down from 2018, when the previous low was set at 33 thefts. This category has declined significantly in the last 15 years as well. In each year from 2000-2009, the number of thefts remained above 100, staring at 117 in 2000, peaking at 145 in 2002. Thefts dropped below 50 for the first time in 2014, dipping to 43 total thefts. There have been fewer than 50 thefts in each of the last four years. Only 18 theft cases were cleared in 2019. All thefts not included in burglaries, with the exception of vehicle thefts, are included in this category, including firearm thefts.
While thefts and burglaries were down in 2019, vehicle thefts rose. Overall, there 17 vehicle thefts, the same as in 2005, 2007 and 2014. That's up from 11 in both 20017 and 2018, but nearly six times the record low of three stolen vehicles, recorded in 2011, a year in which the clearance rate for this category was 100 percent. Last year, three fewer vehicle theft cases were cleared than recorded. The most vehicle thefts was 27 in 2008, a year in which only 19 vehicle theft cases were cleared.
No arson cases were recorded in 2019, as was the case in 10 of the last 20 years. This category is typically low, with only one arson in five of the last 20 years, three in 2002 and and a whopping six in 2016.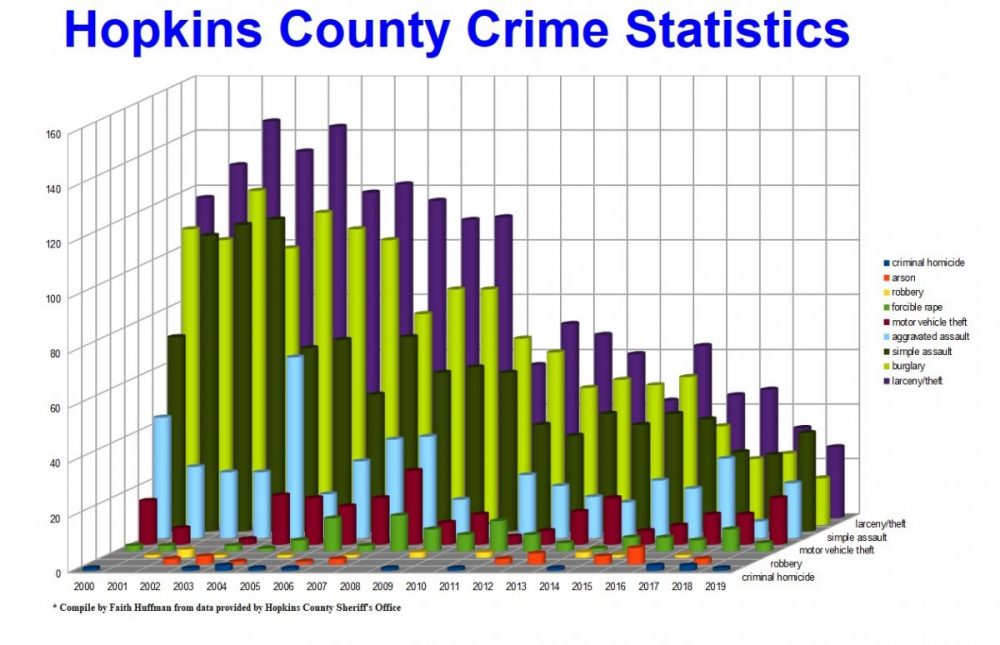 Crimes Against People
In the crimes against people, two categories were up and two were down, and one was unchanged. The clearance rate in these categories was 100 percent. That clearance rate, again, Tatum said is due to the diligence and dedication of officers.
He said while he wishes there were no violence crimes, and especially not an increase in them, officers deal with them as they happen, jumping on them quickly.
There were no robberies recorded by HCSO in 2019, marking the second year in a row. This category is consistently low, with no robberies recorded in 10 of the last 20 years. The most robberies in the county in a single year was three in 2002. Two were recorded in 2009, 2011 and 2014.
One homicide was reported in 2019, the same as in seven other of the last 20 years. That's down from two in 2018, which matched 2004 and 2017 for the record high. Nine of the last 20 years had no homicides, according to the HCSO data.
Three sexual assaults were recorded in 2019, the same as in 2013. That's down from eight in 2018, but still less than one-fourth the record high of 13 sexual assaults set in 2013 (one of only three years in which this category reached double digits). In only one year, 2002, were there no sexual assaults.
The number of aggravated assaults in Hopkins County more than tripled, rising to 20 in 2019. However, the six of 2018 was second only to 2010, when the 20-year low was set at five aggravated assaults. In fact, 2018 and 2010 were the only years since 2000 that this category has been a single digit. The 20 aggravated assaults of 2019 was still a third of the record high of 66, recorded in 2004.
There were 36 simple assaults in 2019. This category has only been below 30 twice in the last 20 years, 29 in 2017 and the record low of 28 in 2018. This category peaked at 114 in 2003.