The Gold Star Lapel Button, or Pin, is distributed to members of the immediate family of a fallen servicemember by the Department of Defense.
Our nation's military veterans hold a solid place in the hearts of Hopkins County residents. We stand proud of our Veterans Memorial in downtown Sulphur Springs and faithfully observe opportunities to honor veterans each year. While most local families have at least one military veteran of their own, statistics show that fewer than 1% of Americans volunteer to serve during peacetime or when there is no active draft. During the solemn Wreaths Across America event held locally on December 15, 2019 to honor fallen veterans, I realized I personally knew two American Gold Star Families, both of whom lost sons during combat. The moms, Dena Lloyd and Patti Sells, have been friends of mine for years and an enlightening conversation with them followed. It opened my eyes to the compassion as well as courage being demonstrated by Gold Star Families locally and in communities across the nation. As the parent of two members of the U.S. Army, I felt the conversation was well worth sharing. Enola Gay Mathews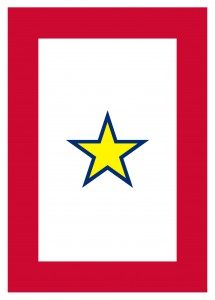 Patti Sells lost her eldest son Tanner Stone Higgins on April 14, 2012 at age 23. He was killed during small arms fire while serving in Afghanistan. Following a military procession across Northeast Texas, Tanner was laid to rest in the Cypress Cemetery in Franklin County in early May 2012. He had enlisted in 2007 right after graduating from Sulphur Springs High School, and following basic training, quickly qualified for Army Ranger. Tanner was a Sgt. with the 175th Ranger Regiment with four previous deployments to Irag and Afghanistan at the time of his death. His mother Patti states, "I must say that Tanner's sacrifice as well as his years of service had a profound influence on his two younger brothers who were still at home at the time. Dillon had signed up the previous year, right after graduation from Yantis High School. Dillon also qualified as an Army Ranger and served a tour of duty from 2012 to 2015. Noah, my youngest, just graduated from SSHS in May 2019 and is now undergoing Advanced Infantry Training in San Antonio, Texas. He plans to serve as a Combat Medic. Patti continued, "my sons and I are very close, and our mutual loss of Tanner has intensified our relationship. We found TAPS, a survivors support group, and I joined with other survivors for educational meetings and retreats in several locations across the country, including a visit to Arlington National Cemetery in Washington DC. TAPS, or Tragedy Assistance Program for Survivors, provides invaluable help and support to Gold Star Families, like 'adventure therapy" which I attended. And yes, I too was seeking a way to ensure my son would not be forgotten. During the year following his death, Tanner's high school graduating class became instrumental in my efforts toward the naming of a section of Texas State Highway 154 south of Sulphur Springs as the Tanner Higgins Memorial Highway. Also in 2013, I was able to establish the annual Tanner Higgins Warrior Run in his memory. Each year, we invite his Ranger unit, and at least 3 or 4 always come to join our community in the run. The camaraderie of Tanner's fellow Rangers or 'brothers' is alive and well today, even 7 years later. Tanner actually has 18 'namesake babies' among this family of brothers all across the country! And my son Noah's career choice can probably be linked to this brotherhood of Rangers, too, through one of Tanner's combat medic friends. I feel I am held close today by the ones who were my son's family away from home. I actually have a "war room" decorated with things I've received in Tanner's memory, like photos, artwork, quilts, handmade items, and so many heartfelt letters from these 'brothers', his circle of support during his military service".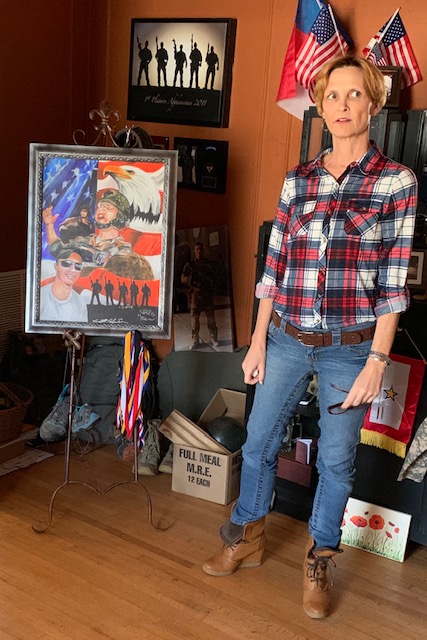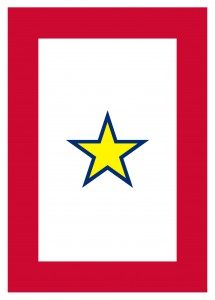 Dena and her husband were notified by U.S. Army personnel of the death on August 12, 2006 of their son Michael Chad Lloyd. Staff Sgt. He was age 24 when he was killed by an IED during an invasion on the outskirts of Baghdad, Iraq. Following military procedure, in time Chad's body was transported home to Hopkins County and he was laid to rest in Sulphur Springs City Cemetery. Dena recalled, "the entire town turned out that summer day, August 20. All across the city, porches and yards were decorated with American flags. People lined the curbs as the procession went by, and many stood reverently at Chad's gravesite. On the day my son came home, the war became more real to an entire population here. And as time passed, Jimmy and I wanted Chad to not be forgotten. We also wanted to show that these personal sacrifices are still being made every day by American families who have lost their sons and daughters. We quickly got involved in plans for the creation of the Veterans Memorial project, and for the next few years I served on the Committee that brought the beautiful Memorial to reality. Then, about 11 years after we lost Chad, we heard about Wreaths Across America and knew we'd found another great thing because of it's mission statement, 'Remember, Honor and Teach". So in December 2018, I organized the first local observance to remember and honor veterans who rest in Sulphur Springs City Cemetery. Retired U.S. Army Sgt. James Clayton Bounds helped to organize the first event and Clay has served as Master of Ceremonies both years. In 2019, I invited Patti Sells to share what being an American Gold Star Family means. My heart was especially moved to invite her to speak because it was Patti, then a reporter with the local newspaper, who came to interview us about our loss back in 2006. I was impressed then by her professionalism and her tenderness, and as fate would have it, just six years later Patti herself was also living that experience as a Gold Star Mother.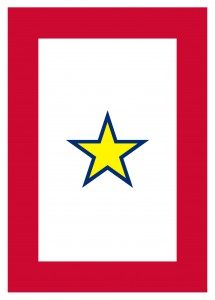 Jimmy Lloyd spoke of his son's professionalism of which they were always so proud during his military career. "Chad never called us a lot, and when he did, he didn't talk about his work. But one time he phoned and as he and I talked, he admitted to being nervous about that night when they were to move out on a particularly dangerous mission. Fortunately, he survived that particular maneuver, but it gave me bit more insight about the one he didn't survive. I wish I could have known his last thoughts as he went about his work on his last day. This bond that develops between Gold Star Families, well it's real, but it's a bond you don"t actually wish for others. I remember when Patti's son Tanner's procession went by my place of business, and I stood out front by the flag I had placed there. My heart was breaking for that family, because I knew what lay ahead for them. Also, the effects of the loss doesn't go away in time, but becomes a permanent part of your life. Patti has put some very tangible things in place in her son's memory. For Dena and I, the Veterans Memorial and now the Wreaths Across America project serve as ways to keep Chad's memory alive as well as an extension of our grieving process. We especially appreciate the word "Teach" in the mission statement. There are future generations that will need to learn how to Remember and Honor, and then to Teach others. And there's more. At one of the TAPS retreats for Gold Star Families, I was given a sculpture by Chad's chaplain which actually stands in full size at Ft. Hood. The replica is of an Iraqi family and a US soldier, created by an Iraqi artist, symbolizing the benefits of our military presence in his village. We were told that 'they kept us safer and helped improve our economy and education. Your sons and daughters were humanitarians'. That makes us very proud."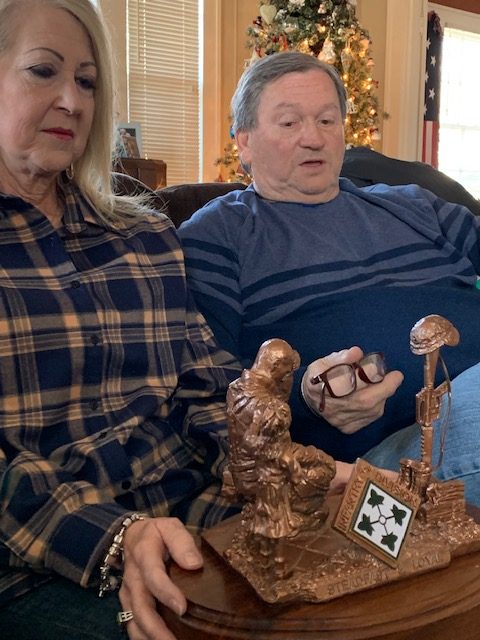 The U.S.Army says regarding Gold Star families, 'the strength of our nation is our Army. The strength of our Army is our soldiers. The strength of our soldiers is our families. The Army recognizes that no one has given more for the nation than the families of the fallen.