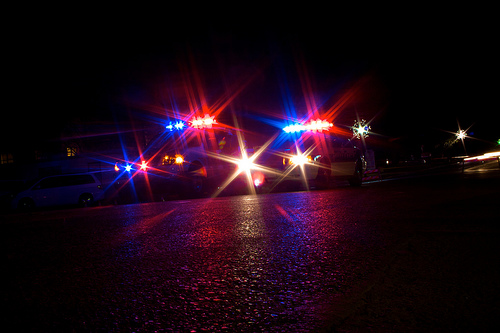 A 36-year-old Hopkins County man was arrested Monday night on intoxication manslaughter and intoxication assault charges, following a crash on FM 1567 in which one children was reportedly killed and another injured.
Brant Lee McGinnis, whose mailing address is Yantis but according to authorities lives in Hopins County, was alleged to have been intoxicated while driving the 2003 GMC Yukon on FM 1567 near FM 2948 Dec. 23, when the crash occurred.
Hopkins County sheriff's deputies, state troopers, and Hopkins County, Arbala and Como firefighters were dispatched at 5:10 p.m. Dec. 23 to FM 1567 east to what was reported as a one-vehicle rollover crash in which people were reportedly injured.
Upon arrival, at least one of the three occupants were reported to have been ejected from the vehicle, according to Texas Department of Public Safety and sheriff's reports.
The driver was identified as Brant Lee McGinnis, 36, of Yantis. A 9-year-old girl was pronounced dead at the crash site at 5:19 p.m. Dec. 23 by Justice of the Peace BJ Teer. An autopsy has been ordered as is standard procedure in fatal crashes. An 11-year-old girl was transported to CHRISTUS Mother Frances Hospital-Sulphur Springs for treatment of injuries sustained in the crash, then later transferred to Children's Hospital, according to DPS and Teer. No update regarding the injured girl's condition was available Tuesday morning.
DPS Trooper Christopher Sorley, in arrest and crash reports, stated that based on his investigation it is believed McGinnis was driving the sport utility vehicle east on FM 1567 at an unsafe speed as it entered a curve. The SUV went off the road into the north ditch, where it rolled onto its passenger side before resting on the passenger's side in a ditch facing west. During the crash two occupants were ejected from the vehicle, according to arrest and DPS reports.
"McGinnis admitted to drinking 6 beers before driving with his two young girls," Sorley alleged in arrest reporrts.
McGinnis allegedly agreed to give a blood sample for testing and was taken to CHRISTUS Mother Frances Hospital-Sulphur Springs. He was released later Monday night, Dec. 23, from the hospital with minor bruises after being cleared by a doctor, Sorley noted in arrest reports.
McGinnis was booked into the county jail at 9:45 p.m. Dec. 23 for intoxication manslaughter and intoxication assault. He remained in the county jail at 9 a.m. Christmas Eve; his bond was set at $75,000 on the second degree felony charge of intoxication manslaughter with a vehicle and $30,000 on the third-degree felony intoxication assault with a vehicle resulting in bodily injury charge, according to jail reports.