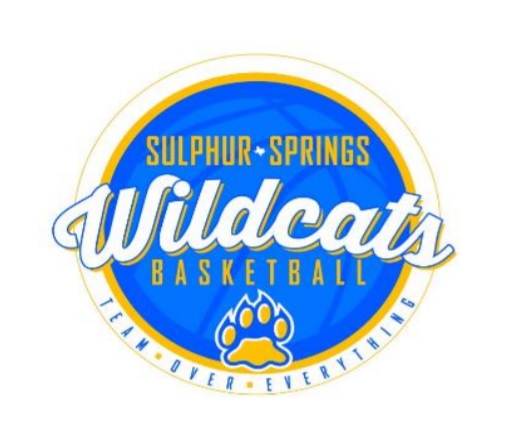 The Wildcats Basketball Team built a big lead over three quarters and then held on in the fourth quarter to defeat Dallas Jesuit, 65-52 Friday night, Dec. 20, in the Main Gym at Sulphur Springs High School.
After falling behind very early, the Wildcats rallied to outscore the Rangers 17-13 after one quarter. The Wildcats increased their led to 30-19 at halftime and 46-29 after three quarters. Jesuit staged a comeback in the fourth quarter but could only get to within 7 points. The Wildcats extended their lead late by hitting free throws.
Cameron Kahn lead the Wildcats with 21 points. Kahn also had three block shots. Grayson McClure scored 13 points including 3 three-point baskets. Day Day Hall had 12 points with one three pointer. Lamodrick Johnson scored 10 points with a pair of treys including a 35-foot buzzer beater at the end of the third quarter. Justin Haire scored 4 points. Boo Wilkerson had 3 points. Justin Brock scored 2 points.
Jesuit of Dallas was led in scoring by Darryl Brown who had 21 points.
The Wildcats ended up shooting 53 percent from the field while holding Jesuit to 42 percent. The Wildcats were 40 percent from behind the arc (6 of 15) while Jesuit had 29.4 percent (5 of 17). Both teams shot foul shots very well, but the Wildcats had many more chances. Jesuit made 5 for 5 (100 percent) as the Wildcats were whistled for 5 fouls. The Wildcats hit 17 of 19 foul shots (89.5 percent) as the Rangers were called for 18 fouls. The Wildcats out rebounded Jesuit 30-18. The Wildcats had 20 turnovers to 15 for Jesuit.
The Wildcats improved their season record to 12-5.
After a break for Christmas holidays, the Wildcats play next in the 2019 Whataburger Tournament at Mansfield Legacy High School Dec. 26-28. They open against Atascocita of Harris County, ranked #6 in Class 6A, on Thursday, Dec. 26 at 7 p.m.
(Some stats for this story from Bryan Montgomery, Sports Information Director, Jesuit High School)