Hopkins Count Commissioners Court Monday morning, Dec. 9, recognized two Miller Grove students, two Miller Grove team and one Saltillo cross country teams for being ranked the top cross country runners in the state, following their performances at the UIL State Cross Country Meet held Oct. 9 at Old Settlers' Park in Round Rock.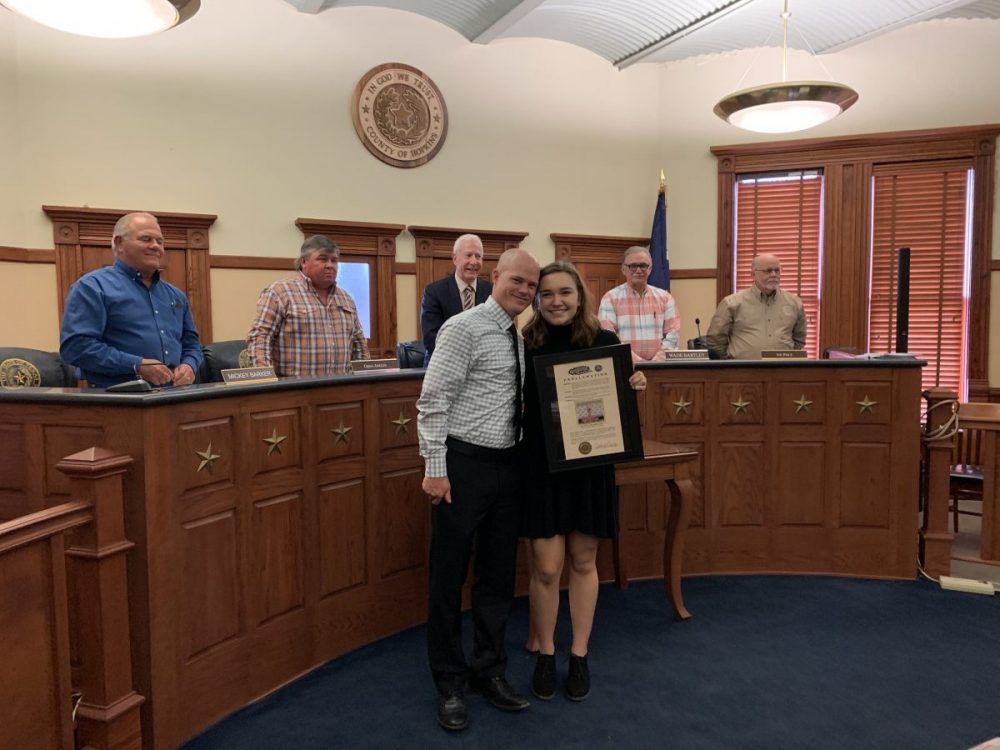 The court first recognized Miller Grove junior Jorja Lee Bessonett for the extraordinary efforts this student-athlete displayed: stamina, determination and evidence of hard work while promoting a positive character toward her peers. Hopkins County Judge Robert Newsom noted that the the Lady Hornet crossed the finish line of the 2-mile race with an outstanding official time of 11:58.38, winning the 1A Girls individual title and was named State Champion of the State of Texas.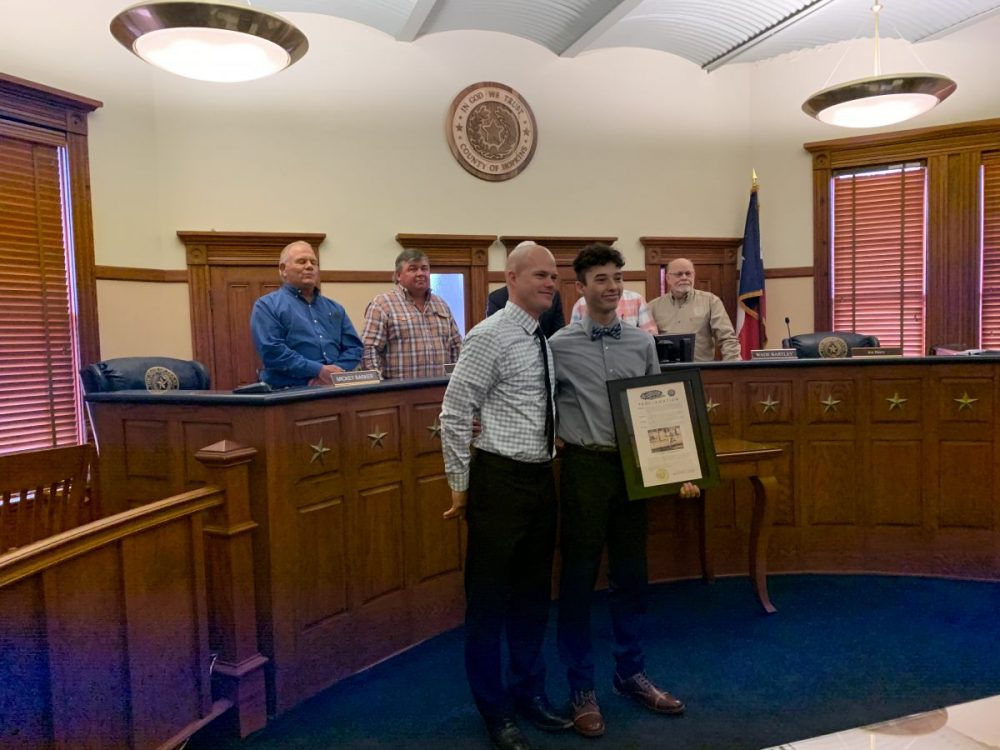 Newsom noted MG student athlete Isaiah Billingsley "was proven worthy of his accomplishment by the evidence of diliget training and endurance and focus during his performance at the Nov. 9 state cross country meet. The MG Hornet sophomore's outstanding efforts resulted in a time of 15.28.38 at the finish line, breaking the 2017 Class 1A Boys record time for the 5K run, and making Billingsley the Texas state champion in Class 1A Boys Cross Country competition.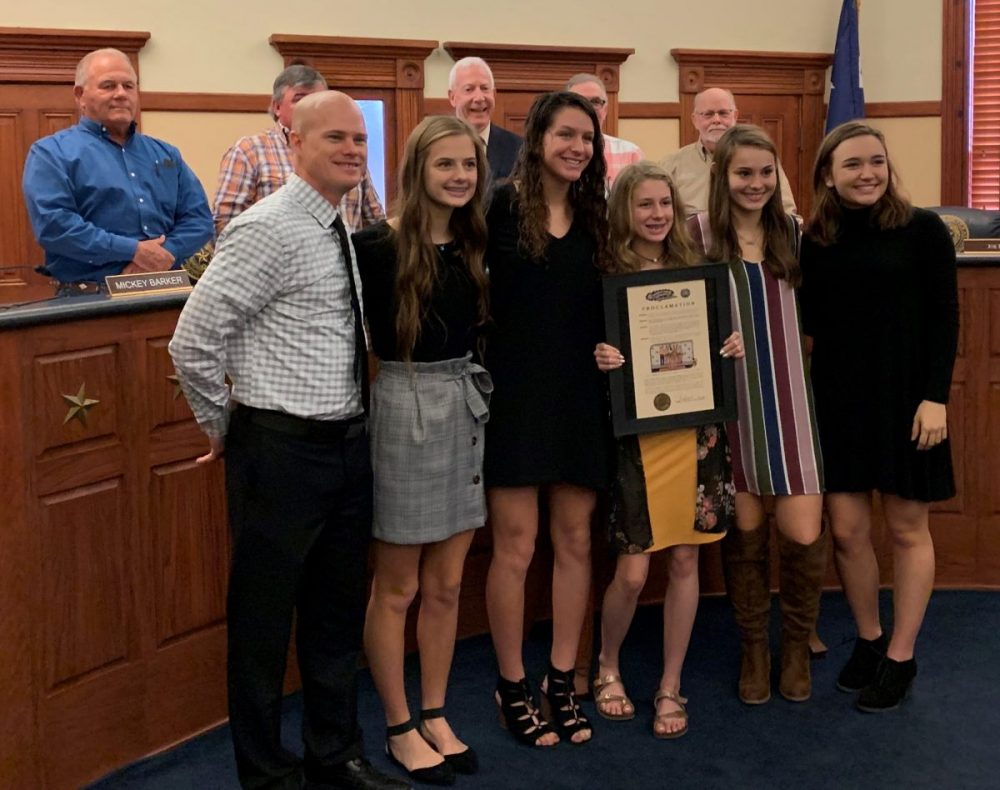 Miller Grove ISD Lad Hornets Cross Country Team members Jorja Bessonett, Kylee Saldana, Lauren Bullard, Jolee Fox and Kyli Melton, along with coaches Gary Billingsley, Blake Hill, Terry Golden and Ana Billingsley, were recognized as the top 1A Girls Cross Country Team in the State in the 2-mile run, which Newsom called a "historical success."
The county judge commended the team for their "hard work, dedication and attention to the importance of team encouragement as well as self-discipline."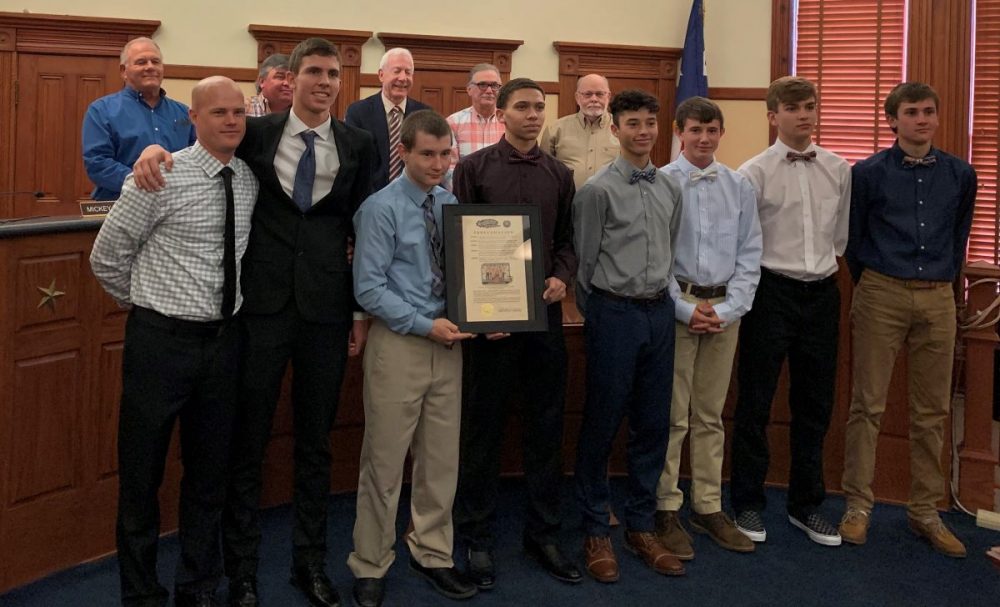 Newsom noted that Billingsley's first place win, along with junior Kobe Robertson's second place win helped lead the MG boys team to a 1A State Championship Cross Country title in 5K at the Nov. 9 event. Also contributing to the overall team win were Hornets Lexton Sly, Riley Hasten, Lance Davis, Anthony Lester and Tanner Hensley, with Gary Billingsley, Blake Hill, Terry Golden and Ana Billingsley as coaches.
The county judge commended the team for achieving "extraordinary results for their school, their community and themselves by combining efforts to secure a first place on the podium."
Coach Gary Billingsley noted that while the students did put in plenty of hard work, they probably didn't tun as many miles in preparation for the race as people might think. Typically the students ran among five different groups approximately 23-43 miles, depending on age and ability.
The Miller Grove students have essentially been running daily since February. He said some have been in the MG program since sixth grade, another said she's been running since fifth grade. The students were rewarded for their extra efforts with top times and finishes.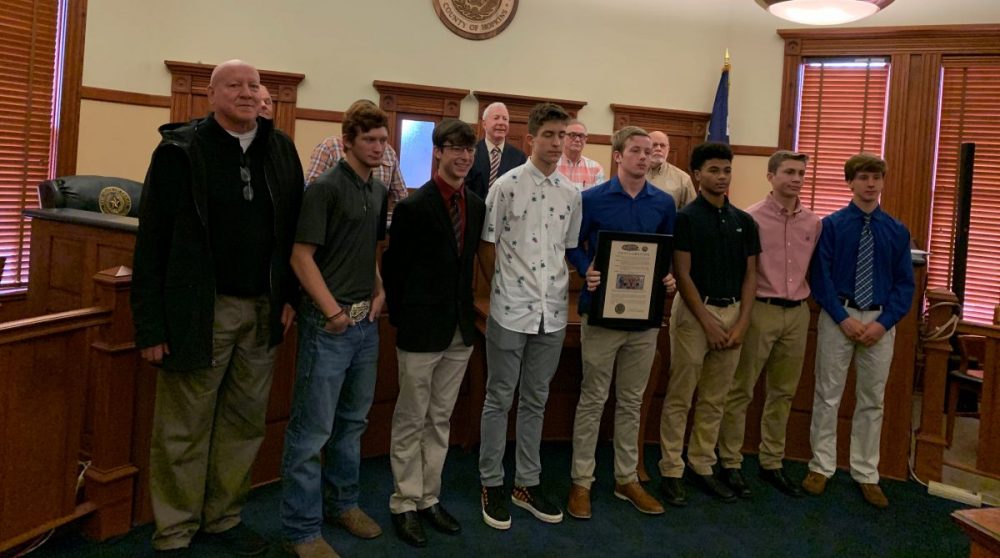 The Satlillo Boys Cross Country Team finished the 5K State 1A contest just behind MG, with a second place overall finish. Newsom noted the Lions attained the silver medal in the 5K "by focusing to accomplish goals with endurance and determination while promoting positive character toward others."
Hornet Garrett Tarver was commended for finishing just behind the top boys runners for an overall third place standing. The team also included Andrew Redburn, Dillon Beadle, Beckham Hoover, Jayden Holloway, Coy Collins and Gunner Tarver, with Bill Giles as coach.
Giles expressed extreme pride in the Lions' achievement, finishing just three points away for the championship. Giles said the Lions start their program in sixth grade, working in April toward the Nov. 9 contest, running every morning during the summer and fall. The team this year includes three freshmen, one fewer than MG's team. He commended Dillon Beadle for his leadership.
Newsom said schools in the 253 other counties in the state are wondering how Hopkins County earned so many first and second place champions and had top individual winners, which he called an "amazing things." Newsom said their achievements don't come easy, but through these outstanding young people's their perseverance and determination, which he noted, running in 90 and 100 degree temperatures during the summer and cooler temperatures this fall. He said that determination and perseverance will serve them well in life.
Precinct 1 Commissioner Mickey Barker noted that he often sees the MG athletes' determination as they are out at during the day running. He expressed appreciation for that and representing the county well.
Precinct 3 Commissioner Wade Bartley echoed that sentiment, noting he too has seen the Saltillo cross country teams out in the early mornings running along county road. He said he'd love to have employees all as dedicated to their work as the Lions are to improving daily in cross country running.
Barker expressed appreciation to the parents for motivating the students, steering them in the right direction.
Eighth Judicial District Judge Eddie Northcutt, also in attendance, both schools are special to him, because he graduated from Saltillo and taught at Miller Grove before going to law school.
"It's not just that though. When the judge says there's something going on in this county, this literally is the stuff that ESPN '30 for 30′ should come and do a documentary," Northcutt said.
The district judge noted that while the Miller Grove Girls, and MG and Saltillo Boys were recognized for gold and silver finishes, the way they did so is notable. The for Miller Grove and Saltillo boys teams "not only finished within three points of each other but, they both beat the previously standing state cumulative average time for the runners. The Saltillo and Como-Pickton Girls also competed at state as did an individual runner from Sulphur Bluff. Having so many from Hopkins County is amazing and wonderful, Northcutt said.
Northcutt applauded the youth for their individual accomplishments as well as their commitment and dedication helping to their team and to the sport. He thanked the commissioners and judge for "making this such a big deal, because it really is."
"I want to thank you, all you young men and women, and your parents and the teachers. We always see the negative side of things, so much in our line of work," Hopkins County Sheriff Lewis Tatum said. "So, it's wonderful to see y'all and know y'all are going to come up and take care of us in the future. I do want to let y'all know that Hopkins County is a wonderful place to live in. It's because y'all. We do appreciate it."
The commissioners and court presented proclamations to Jorja Bessonett and Isaiah Billingsley for their individual first place achievements as well as to the three top teams for their feforts as well. The county officials encourage community members to join them in applauding the students in their efforts and successes.