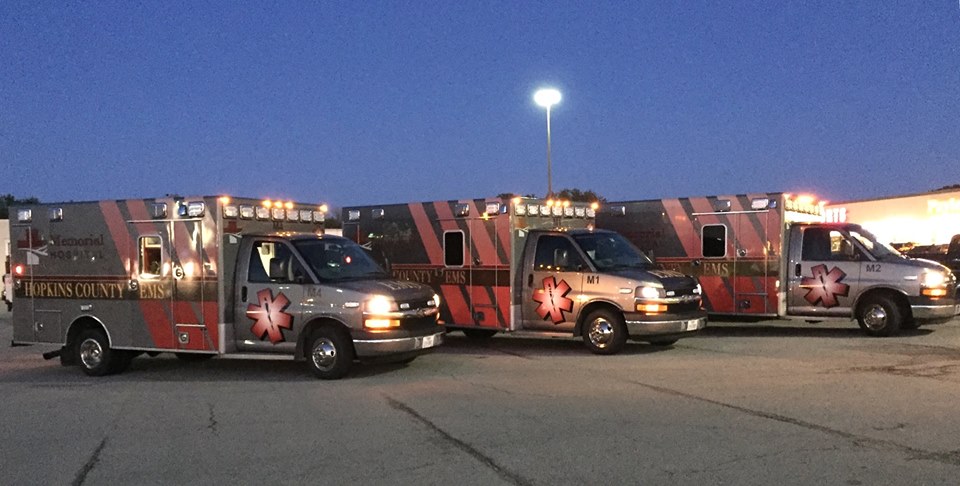 Hopkins County Hospital District Board of Directors Monday night approved purchase of two ambulances and a request to consider beginning the process to find a qualified architect to design a new EMS facility.
Ambulance replacement
Brent Smith, chief operating officer and director of EMS, asked that the hospital district board consider purchasing two demo ambulances as a reduced price instead of buying one ambulance to replace Medic 2. The ambulance was involved on Nov. 30 in collision with another vehicle and is expected to be considered a total loss.
"We got confirmation of that today that they agree you can't really put that one back together," Smith said of the insurance adjuster. "It sustained substantial damage.Part of that was because when it did roll over, it slid on its side. The impact was pretty high, as far as speed goes."
Smith said having one less truck in operation has "kind of put us into an operational issue." That leaves only one spare truck that can be put into service when others are being services or multiple transfers are needed in a short amount of time.
Purchasing two demo units that would mirror the current fleet's cab and chassis would save the hospital district $60,000-$80,000 long term, and provide an additional ambulance that would provide an additional spare vehicle that could be staffed when needed to "back-fill" when other units are tied up on other cars or multiple transports. The ambulances were quoted at $150,000 each, according to Smith.
Purchasing a new which would have to be built, wouldn't be ready until potentially May. If the demo units are purchased, the first ambulance could potentially be put online at the beginning of January and the other demo unit is expected to be available by the end of February, Smith reported.
Smith recommended applying $125,000 that'd been previously allocated for a remount project to be paired with the amount received from insurance on Medic 2 and applied to the purchase of the two demo trucks. The remount project then could be pushed back until next year's budget
Smith said with the notification that Medic 2 is totaled, EMS staff can begin stripping it down in readiness for its removal. They may be able to salvage a few things from it to reuse, such as lights and sirens.
The hospital district board approved the ambulance purchase request, with Dr. David Black noting it to be such a great opportunity that it might be worth looking at demo units available for purchase before making future purchases.
New Facility
The hospital district too agreed to a request to consider beginning the process of finding a qualified architect to to design a new EMS facility.
The new facility is to replace the current building, which is in need of numerous repairs and has outlived its originally intended lifespan.
Smith, during the June hospital district board meeting, explained that the building is made of four module trailers put together. The section between the trailer housing the director's office, crew and communications areas is separating and beginning to pull apart. So far, there's no leak, but the area is pulling apart, Smith told the board in June.
The building is also pulling apart from the foundation, where its deteriorating along the concrete. The underpinning on the north wall is pulling away. On that wall, stucco has come off, exposing the wood, which has become rotten. The whole piece along and under the back door is rotted needs to be replaced, according to Smith.
The west corner wall where utilities such as a fiber line and electricity come into the building, and where the breaker boxes for the EMS facility are located, is starting to take on water, Smith told the board in June.
The upper southeast corner of the building has a dark spot that looks like it's been burned. Smith said it has not burned, but there is a substance on it and a gap where it is coming apart, allowing water to enter the building. The stucco along that wall is coming off and the wood behind it is deteriorating.
The new building would be on hospital district-owned property near the current building, which would be removed.
After discussion Tuesday night, it was recommended that a survey be attained to determine whether the area near the current facility is feasible. Potential location of a pipeline, whether its in a flood plain and right-of-ways could prove the site unsuitable for a new EMS facility, it was noted at the Dec. 17 meeting. The board anticipates adding that to a future board agenda.
If the site is found suitable, Smith proposed constructing the new EMS facility that would include bays and housing for EMS on one side as well as an office big enough to host hospital district board meetings, conduct regular district business and potentially serve as a classroom for EMS training purposes on the other side.