With David Woody directing, the Christmas-time classic "A Christmas Carol" is brought to life in a unique adaptation by Tony Palmero of the 1843 novella by Charles Dickens. Palmero also composed and arranged the musical score. Fourteen actors of various ages will portray the voices of the characters as in a live radio broadcast. The radio-on-stage theater presentation is designed to enhance your family's Christmas celebration.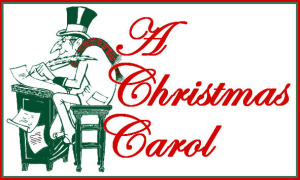 Delivering lines and speaking for effect is essential to the art of theater, and because of that, 'radio onstage' makes a perfect pairing for audiences. Mastering the English accent and inflections has been a learning curve for some new to the cast. Bob Cratchit, the abused and underpaid clerk, is portrayed by Marcus Reed, a theater student new to Main Street Theater. Reed also portrays a London businessman. Young Peter Cratchit is portrayed by Conner Curtis, a Middle schooler new to Sulphur Springs who also skillfully carries the role of Buck the Street Urchin. In addition to directing, Woody will depict Ebeneezer Scrooge, the villain who becomes the hero, moved by kindness to abandon his self-serving ways and open his heart to joy and the true meaning of Christmas giving. A sound effects table will be employed onstage to compete the effect necessary for the sense of live radio performed at microphones onstage.
Five shows are scheduled December 12-15, 2019. Catch evening performances at 7pm and afternoon performances at 2pm. Two shows will be held Saturday December 14. Reservations are encouraged. Tickets are $10 each. Phone 903-885-0107 or visit communityplayersinc.com. Main Street Theater at 225A Main Street in Sulphur Springs seats about 80 persons for each performance.